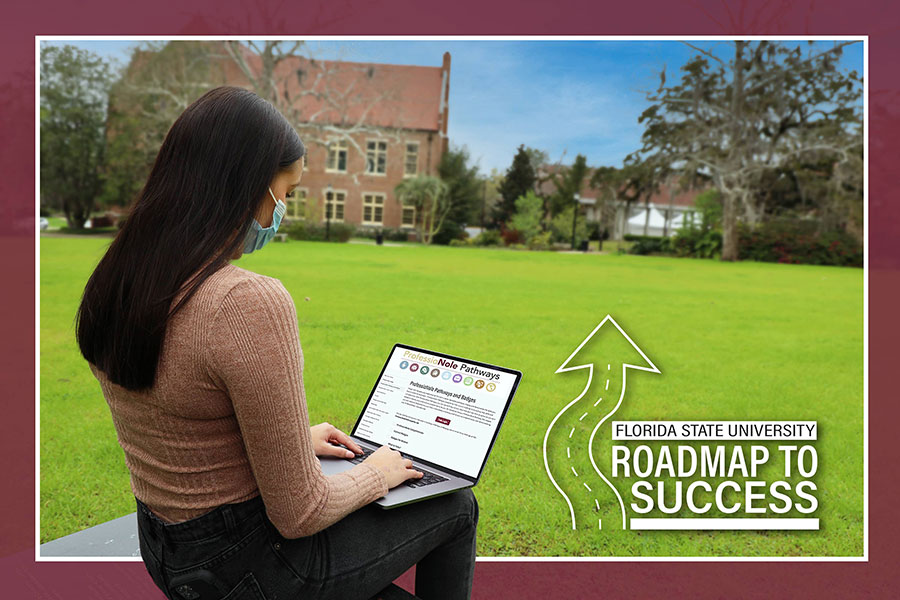 Florida State University understands that the success of students is ultimately determined by their post-graduation achievements. That's why when the university laid out its comprehensive strategic plan in 2017, it emphasized the importance of supporting career advising and professional development.
Already offering future-focused academic programs, real-world experiences and savvy career advising, the FSU Career Center quickly started planning initiatives for advancing the university's goal of student success.
"We believe that career services can play a key role in helping students understand the importance of the competencies that employers seek in college graduates, direct them toward experiences that help them develop and practice these competencies, and perhaps most importantly, help them learn to communicate these competencies in a clear and relevant way during their job search," said Myrna Hoover, director of the Career Center.
With the strategic plan in mind, the Career Center set out to incorporate more career-ready skills into courses, according to Erica Stallings, program director of Career Advising and Counseling at the Career Center.
"We know there are specific skills that industries look for, but there are also transferable skills that employers across the board find extremely important, so we want to measure and make sure that students are gaining these competencies," Stallings said.
Because courses are developed and instructed by each college, there was previously no way to measure job skills among students. This presented the opportunity for the Career Center to create something that any student, anytime, anywhere could participate in and that teachers could also incorporate into courses.
"That's where ProfessioNole Ready started, which was our first badge option/program," Stallings said. "It's a program that has three badges students can obtain. We've had great success incorporating it into courses and other professional development programs across campus."
The Career Center collaborated with entities across campus to define the career competencies that would comprise ProfessioNole Ready, a flagship online professional development series that aims to help students master the career-ready skills employers want to see in applicants.
Launched in Fall 2019, the program is comprised of self-guided modules based on the National Association of Colleges and Employers (NACE) career competencies. It features interactive activities, informative videos and module quizzes that help students develop career action plans, hone their skills and engage with Career Center resources, services and programs.
"Our goal was to create a university-wide, online career-ready badging program to teach students about the skills valued by employers and offer opportunities for them to demonstrate acquisition of those skills," said Emily Kennelly, senior assistant director of Career Advising and Counseling at the Career Center. "Career management is a lifelong process and ProfessioNole Ready teaches students about the steps involved for managing one's career now and in the future."
In ProfessioNole Ready, students can earn up to three badges by completing modules that incorporate competencies such as research and innovation, teamwork and cross-cultural collaboration, leadership, career management, communication and more. To hone in on these competencies, the modules focus on topics ranging from resume critiquing to interview skills to salary negotiations.
More than 2,800 students have enrolled in ProfessioNole Ready since it launched, and the program has been incorporated into 45 courses across campus. The program also received an honorable mention by NACE for the NACE 2020 Technology Excellence Award.
"Given the situation we found ourselves in with remote learning, it was almost like we had this fortuitous foresight." Stallings said. "It happened to be the perfect resource at just the right time."
Although both undergraduate and graduate students can enroll in ProfessioNole Ready, the Career Center recently created a badge specifically geared toward graduate students. It focuses on students' careers after receiving a master's or doctoral degree, helping them prepare for a job in academia or industry.
The Career Center expanded upon ProfessioNole Ready and created ProfessioNole Pathways and Badges, which allows students to build a customized "guided pathway" of competencies based on their needs.
"We sought out to develop ways that we could help students pinpoint the professional competencies they want to develop and how can they develop those," Stallings said. "And that's where the professional pathways and badge program came into play."
In addition to the ProfessioNole Ready badges, students can earn other badges by completing modules from programs like IBM Skills Academy, Salesforce Trailhead, Forage, Fiscally Fit, Master Microsoft Excel, CodePath iOS, Sustainability Pathways, Live Well Financially, FSUshadow and CodePath.org Android.
ProfessioNole Pathways is powered by Folio, a platform and network where students can display their achievements to potential employers, FSU peers and other Folio users. As students earn badges, they can display tangible examples of their work that provide proof of competence, skill development and mastery in academic and co-curricular work.
With Folio, students can also organize and display previous educational and professional content, including images, videos, PDFs, text documents and more. It's also connected to students' Canvas profiles, and there's an option to combine it to a LinkedIn profile.
"This gives students the opportunity to create a digital resume that holds all of their information and shows actual evidence and the scope, scale and depth of their experiences and skills," Stallings said.
In their initial plan, the Career Center set the goal to increase career competency education by 10 percent by 2022. They successfully surpassed that goal by the end of summer 2020.
"We know that employers are looking for these specific skills and a resume can only hold so much, so we use a depth and breadth approach instead of just that surface-level resume," Stallings said.
The Career Center now plans to focus on creating co-curricular pathways for every major, with the goal of completing 72 percent of all majors by 2022.
"We're seeing more opportunities for pathway development and additional badge options that bridge the gap of what students are doing from a co-curricular standpoint," Stallings said. "We plan to continue facilitating partnerships across campus and create co-curricular pathways and badge options so students can easily navigate their experience while also making that connection between learning a new skill and articulating it in a way that enhances marketability."
For more information, visit career.fsu.edu.