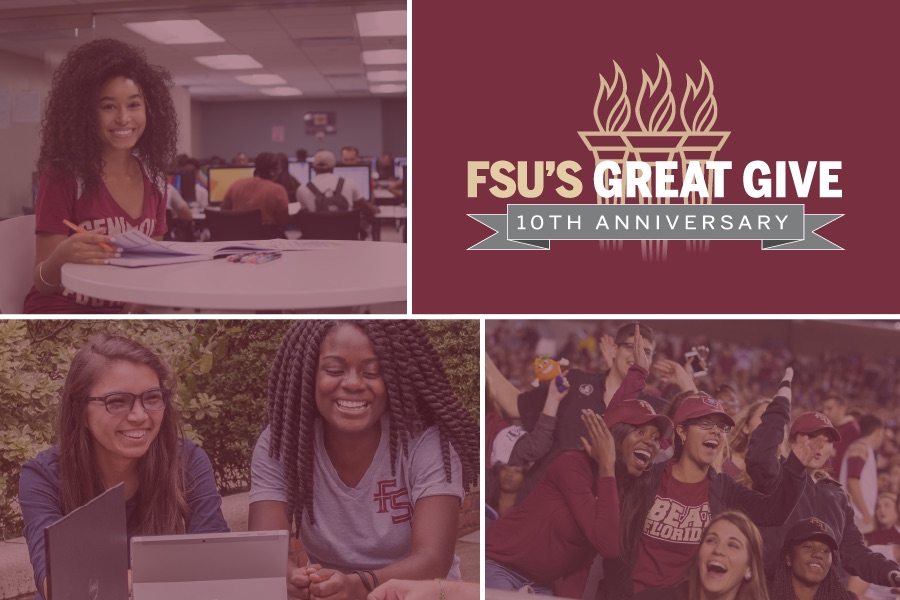 The Florida State University community will come together March 10 to celebrate the 10th anniversary of FSU's Great Give, the university's annual giving day. This year, organizers have set a goal of raising $1 million for academic projects, programs, scholarships and student activities at FSU.
If they reach their target, it will be the most funds raised in the history of FSU's Great Give. Gifts can be made online at
greatgive.fsu.edu
during the 24-hour event, which starts at 12 a.m. Wednesday, March 10.
Nora Clark, assistant director for digital and social giving for the Florida State University Foundation Office of Annual Giving, said she hopes Seminoles near and far will come together to reach their goal. 
"FSU's Great Give has only gotten better each year," Clark said. "We've seen steady growth with each campaign, which tells us just how much FSU means to our community. We know if we put the $1 million goal out there, our Seminole family will rally like never before. Just think of how much we can help our students when we reach that goal."
In 2019, the campaign raised $774,979, its highest total ever. Last year's Great Give pivoted its efforts toward supporting students in need due to COVID-19 and raised $438,544. 
Supporters can give online to various initiatives throughout the university—from student scholarships and emergency food services, to travel abroad and research opportunities. FSU colleges and units have created their own featured projects, which will be showcased using the sparkFSU crowdfunding platform.
Throughout FSU's Great Give, supporters may receive project updates, hourly incentive winner announcements and giving totals by liking FSU's Great Give on Facebook or by following FSU's Great Give on Twitter and Instagram. 
Those unable to make a gift online can do so by check or by phone in advance of FSU's Great Give. Please note that gifts should be earmarked for FSU's Great Give, and checks must be received by the FSU Foundation by 5 p.m. EDT, Wednesday, March 10. Donors may select any FSU Foundation fund for their contribution.