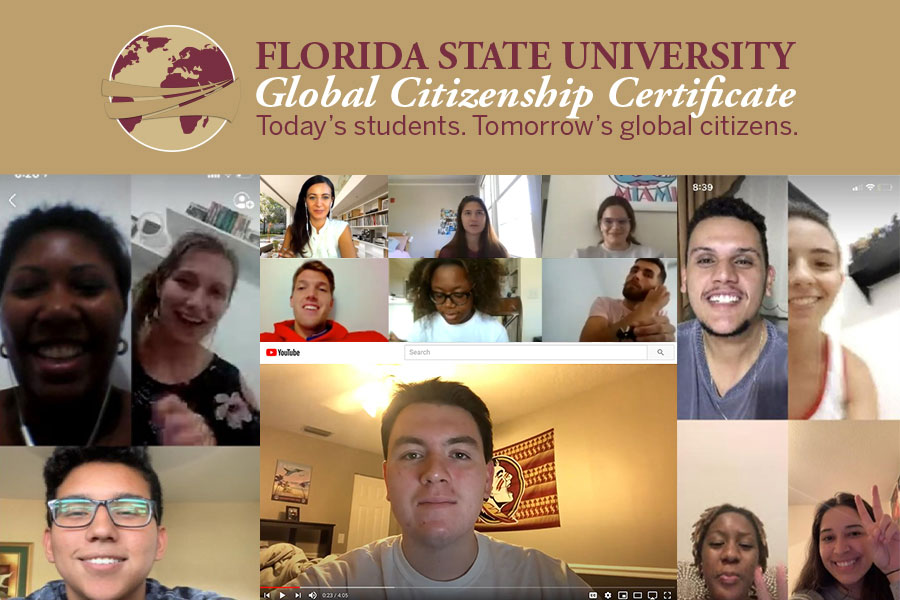 Florida State University doubled the number of students engaged in enhanced global learning through the Global Citizenship Certificate (GCC) this fall by expanding its Collaborative Online International Learning (COIL) partnership.
Already working with The Technology College of Americana (FATEC) in Brazil, FSU is now collaborating with two other FATEC campuses in São Caetano and Praia Grande.
The expanded partnerships allowed 80 FSU undergraduate students enrolled in three sections of the Global Perspectives course to benefit from active intercultural engagement and learning with the students they're paired with from Brazil this fall, a significant increase from the 40 students in Spring 2020.
GCC Program Director and Teaching Faculty Elcin Haskollar implemented the pilot program last spring.
"The course allows students to participate in a cross-cultural partnership with other college students in a different country," Haskollar said. "Students get to learn about a variety of global issues like race relations across borders, poverty and LGBTQ+ issues through hands-on research and active learning."
Through a combination of intercultural contacts and active reflection, the COIL initiative helps Global Perspectives students gain essential cross-cultural skills and global competencies while meeting several of FSU's liberal studies requirements.
Former students say that COIL was integral to gaining firsthand knowledge and understanding of another culture.
"Participating in COIL allowed me to gain valuable insights into another culture," said Augustin Smith, a junior studying real estate. "I now feel more educated about culture and am more capable of handling cross-cultural conflict."
Haskollar and GCC Teaching Faculty Tanu Kohli Bagwe are also conducting mixed-methods research to examine changes in students' intercultural skills as a result of participating in a COIL project with students from a different country. The results of this study will help to measure the effectiveness of COIL partnerships and inform researchers about how undergraduate students are acquiring intercultural skills and to what extent individual student characteristics impact their development of such skills.
FSU teaching faculty expect to continue COIL collaborations in Global Perspectives courses this spring. Students interested in taking this course should email globalcitizen@fsu.edu, indicating their interest to receive information about enrolling in the course when it's available.
Students who take Global Perspectives are also encouraged to enroll in the Global Citizenship Certificate, a collaborative program between the Center for Global Engagement and the College of Social Sciences and Public Policy designed to foster global readiness and increase critical skills needed to succeed in today's increasingly globalized workforce. Students earn a transcript notation and participation counts toward one engagement area for FSU's prestigious Garnet and Gold Scholar Society.
In addition to taking Global Perspectives, enrolled students choose three elective courses from a list of more than 500 approved liberal studies courses with a cross-cultural or global theme (one of which can be a language course), attend eight intercultural events and complete one sustained intercultural experience domestically or abroad.
FSU students interested in enrolling in the Global Citizenship Certificate can learn more by visiting cge.fsu.edu/globalcitizen.