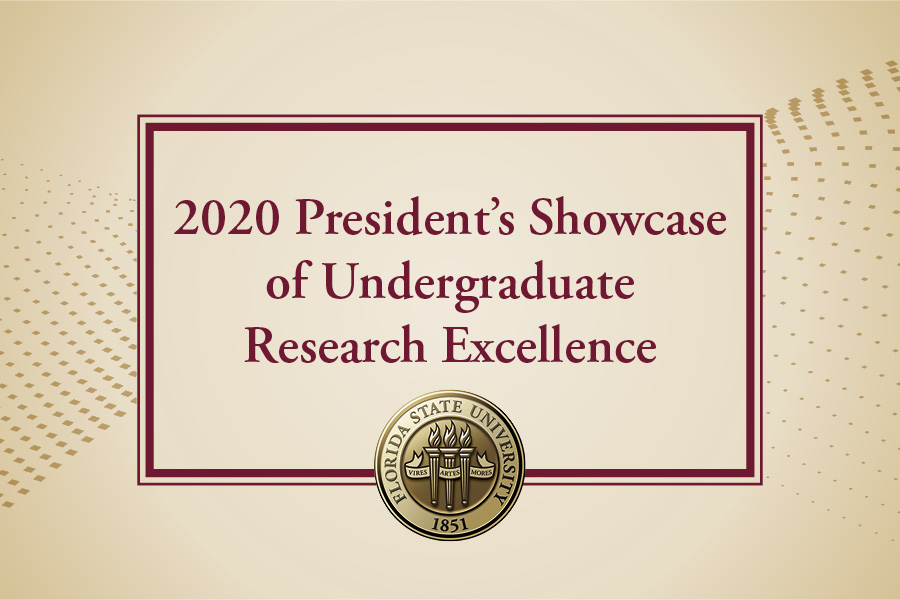 The COVID-19 pandemic has added a wrinkle to research projects, but Florida State University undergraduates have risen to the challenge.
More than 40 undergraduate students will present original research or creative work Thursday at the 2020 President's Showcase of Undergraduate Research Excellence. The annual showcase highlights research from IDEA Grant, Tech Fellow and iGEM award recipients completed under the mentorship of FSU faculty.
"As one of the nation's Top 20 public universities, we believe that involving our students in academic engagement at the highest levels is critical to our mission," FSU President John Thrasher said. "We value student success and transformational learning experiences, and undergraduate research is one way our students become more critical and capable thinkers."
The showcase is typically held in person, but organizers moved to a virtual event this year. The event will be divided into two sessions, and each session has several Zoom "rooms" that will host research projects. The researchers behind each project will take turns explaining their work to the attendees in the room.
When the COVID-19 pandemic reached the United States, students had already submitted applications for research grants and were laying the groundwork for their projects.
"They had to make huge changes to accommodate for COVID over this time," said Latika Young, director of the Center for Undergraduate Research and Academic Engagement. "Many of them were planning to go abroad or travel domestically to do their research, and they all had to come up with contingency plans under the mentorship of their faculty mentors. They've all done a great job of making changes."
For example, seniors Morgan Hawkins and Benton Jaco received a team IDEA grant to research the interactions of starfish and compound ascidians on the seagrass plains of St. Joseph Bay. Their project would normally have seen them spending lots of time in the King Life Sciences Building. Because of the pandemic, they had to find another way to complete their work. Their solution was to create their own lab in the living room of Hawkins' home.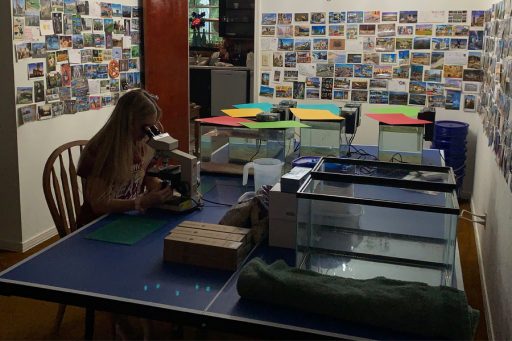 The pair borrowed tanks from their adviser, Associate Professor of Biology Janie Wulff. They bought filters and heaters and set up their lab on a ping-pong table.
"We were mixing our own saltwater, making sure to check the salinity every day, and making sure that when the salt leaked out of tanks that we were there to clean it up," Hawkins said. "It was definitely a learning experience as well, just maintaining the tanks in general."
Their lab work was part of a series of studies into the seagrass ecosystem of the bay, which is located about 80 miles southwest of Tallahassee. The inspiration for their project came during a field trip to the site for an invertebrate zoology class. They saw a significant amount of compound ascidians, often called sea squirts, clinging to seagrass, and they saw that starfish were eating those ascidians. That sparked their interest in learning more about how the starfish might abate the ascidian population.
"It's a pretty unique opportunity to present our research in front of not only scientists who are familiar with our field but also with a varied group of people," Jaco said. "It not only gives us a chance to highlight our research as scientists, but it also lets us draw attention to something that's really important and local."
Beatrice Dain, a senior majoring in international relations and anthropology, was awarded the David B. Ford Undergraduate Research and Creative Activity Award to research the work that the Hebrew Immigrant Aid Society (HIAS) did to help Jews escape persecution in Europe in the 1930s and 1940s.
She planned to spend a month in New York City at the archives of the Center for Jewish History, but the pandemic stopped that plan. While the organization is digitizing the records she needs for further research, she is using available records, such as meeting minutes and testimonies of people helped by HIAS, and she will present what she has uncovered so far at the showcase.
As a freshman, Dain participated in FSU's Undergraduate Research Opportunity Program, working with a doctoral student who was conducting research in Nicaragua on how to create an open online course that taught artisans to sell their goods internationally.
"That was really my first introduction to what I would call formal research, understanding how faculty and graduate students began their research and how they went forward with that," Dain said.
She later studied in Guatemala, where she investigated the reasons people migrate from that country to the United States. It was her introduction to archival work. When she returned to Tallahassee, she looked for another opportunity to work with archives and started volunteering with the Institute on World War II and the Human Experience. The institute's director, G. Kurt Piehler, approached her about doing an honors thesis related to World War II, and she settled on the idea of researching HIAS, which combined the topics of World War II, Latin America and immigration.
"I was extremely interested," Dain said. "I've been wanting to do an honors thesis for quite a long time. It seemed like a really interesting project to blend all my interests together and really use all my skills at one time and on one project."
Amid a pandemic, these researchers have adapted to keep their work moving forward.
"I don't think I can overstate how proud we are of the students, especially this year with all the changes they've had to make," Young said. "Keeping up with all their classes and all the other things they've had to do and then doing these really monumental research and creative projects on top of all that is really astounding."
The 2020 President's Showcase of Undergraduate Research Excellence will take place at 5 p.m., Thursday, Nov. 19. Visit cre.fsu.edu for links to watch.
Applications for next year's research awards are due Feb. 1, 2021, and are available at the Center for Undergraduate Research and Academic Engagement website.