Florida State University will recognize its first-generation students and their accomplishments during a week of events expanding upon the nationwide First-Generation College Celebration, which will take place Sunday, Nov. 8.
Florida State's Center for Academic Retention and Enhancement (CARE), which provides first-generation and underrepresented students the necessary resources and support network they need to flourish in the collegiate environment, is nationally recognized for its efforts in this area.
"We decided to really spread that celebration out over a week so that we can fully celebrate the accomplishments of our students and bring more awareness on campus of this particular student population," said Lisa Jackson, interim director of CARE. "In fact, FSU — CARE specifically — is recognized as a national leader with a long history of institutional commitment to first-generation student success."
This year's celebration will mark the 55th anniversary of the signing of the Higher Education Act of 1965, which has helped millions of first-generation and underrepresented students persist to degree completion.
Over the past several years, Florida State has virtually eliminated disparities in retention rates among its diverse undergraduate population, which includes nearly a third who are Pell Grant recipients and first-generation college students. This year, CARE students outperformed FSU's general student population in freshman retention rate — 96.2 percent to 95 percent.
It is the fourth year that the Council for Opportunity for Education (COE), in partnership with the Center for First-generation Student Success, an initiative of NASPA – Student Affairs Administrators in Higher Education, and The Suder Foundation, has organized a nationwide First-Generation College Celebration.
This summer, the Center for First-generation Student Success designated FSU as a First-gen Forward Advisory Institution — one of just 11 schools nationally to earn the distinction. As such, FSU serves as a cohort leader for the Southeast region.
FSU will kick off the weeklong celebration by co-hosting a virtual training session from 10 a.m.-12 p.m. Thursday, Nov. 5, for institutions throughout the Southeast about serving students who are the first in their families to pursue a college degree.
Faculty, staff and students are invited to participate in this free dialogue, which will include a presentation about understanding and supporting students, a panel of first-generation students discussing their experiences and a conversation focusing on institutional considerations for improving support on campuses for this population.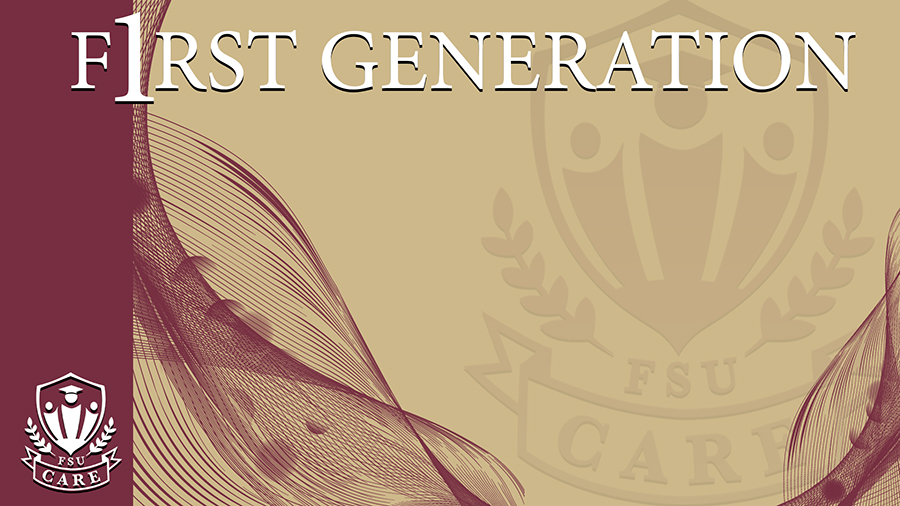 "We provide guidance to several different institutions across the Southeast, who are well-versed in this work," Jackson said. "Our cohort is passionate about finding creative and impactful strategies for building campus awareness and support at our respective institutions in a fashion that celebrates first-generation students' strengths and accomplishments."
The week also will feature a virtual FGEN FSU Faculty Panel from 4-6 p.m. Thursday, Nov. 12, hosted by CARE and the Center for the Advancement of Teaching. Several FSU faculty will share their stories of becoming the first in their family to complete a college education.
Jackson said it is important for current first-generation students to interact with faculty who have faced some of the same challenges.
"Many first-generation students have a certain degree of hesitation to engage with faculty because there's a sense of intimidation," Jackson said. "It's important to have them recognize that some faculty were also first-generation students who have persisted all the way through the academy. We also think it's going to be extremely helpful for other faculty on campus to realize that some of their colleagues were first-generation students."
Jackson said motivating current first-generation students during their collegiate journeys is important because it changes the landscape for future generations.
"Down the road, they'll realize that getting a degree went on to help their own children and grandchildren," Jackson said.
All FGEN staff, faculty and students are encouraged to use a special First Generation Zoom background during Florida State's FGEN Week, Nov. 5 – 13. The background is available through your FSU Zoom account in the virtual backgrounds settings or it can be downloaded here.
For more information on the Center for Academic Retention & Enhancement, visit https://care.fsu.edu/ or email care@fsu.edu.