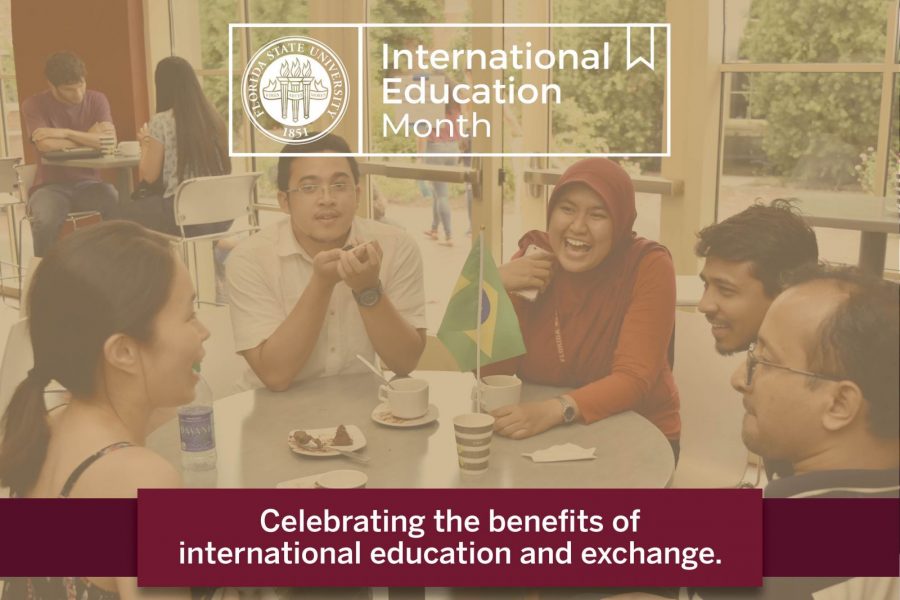 November is International Education Month at Florida State University. For the next four weeks, international students, faculty and programs will take center stage as the university celebrates the international influences that both shape FSU and help FSU shape the world. 
This year, in-person gatherings will give way to virtual events during the monthlong celebration, which builds off International Education Week, a joint effort by the U.S. Department of State and the U.S. Department of Education, that is observed each November. 
From the scores of international faculty and thousands of international students who come to FSU, to the numerous programs that send domestic students and faculty around the world, opportunities for global experiences and perspectives abound at FSU. 

Spurred by a No. 19 ranking among national public universities by U.S. News & World Report, FSU's reputation for academic excellence is raising its global profile among prospective international students. This fall, 352 international students from 70 countries began their studies with FSU. Of these newly admitted international students, 171 began studying from their home countries due to the COVID-19 pandemic.
Anwer Al-Kaaimakchi, from Baghdad, Iraq, earned a scholarship through the Iraqi government to study in America. He forged his first impression of Florida State when he met a former FSU professor at a conference in Azerbaijan. 
"That was my first time meeting a professor from the U.S., and she just made my day — I was so fortunate," he said, before adding that he had some fear about the opportunity of studying in America. "I was afraid. It was the first big move in my life but once I came to Tallahassee, that fear was gone."
Al-Kaaimakchi earned his master's degree from FSU and is now just months away from graduating with a doctorate in civil engineering. He said a key to his smooth transition at FSU was the abundance of programs he found aimed at helping international students, including many at the Center for Global Engagement. 
The CGE offers orientation, immigration advising and support to over 2,500 international students and their families, as well as 300 international scholars and faculty. The center offers a host of educational, social and cultural programs throughout the year and is often the first stop international students and faculty make when they arrive on campus.

Al-Kaaimakchi said the CGE made the transition to a new country a smooth one and it continues to be part of his life. 
That's a sentiment shared by Yang Li, a second-year doctoral student from China who is earning her degree in higher education. Li has taken the typical CGE experience a step further by working for the center as part of her graduate assistantship. Li said it's a choice she's glad she made. 
"I have made most of my friends through the CGE and enjoy many research opportunities," she said. "My research interest is international student success in the United States, and I am exposed to so much of the international student experience here on campus. I feel lucky to work there."
Opportunities for travel and culturally immersive experiences are offered through FSU programs such as Global Scholars,  Global Exchanges, Beyond Borders, the Moellership Program and International Programs. 
International opportunities are also found in classrooms across campus. One example is at the College of Law where students can take a class in international human rights. The course includes about 30 students, 15 of them domestic and 15 from schools of law around the world, said Terry Coonan, an instructor in the course and the director of FSU's Center for the Advancement of Human Rights.
"It's a dynamic experience in which we are working with superb law schools around the world to confront human rights issues that are worldwide," he said. "For our FSU students, especially, it's a great reminder on a weekly basis of how international the field of human rights is. It's one of the great classes I am so fortunate to teach."
FSU's Global Citizenship Certificate is another opportunity for students to plug international learning and experiences into their classes. The certificate requires students take four courses with a global or cross-cultural theme and engage in intercultural experiences to help them learn to meet the "new challenges of living and working in the global society of the 21st century."
Henna Awad, a senior from Jacksonville, Florida, said the certificate helped her build her cross-cultural knowledge in profound ways. 
"I had the opportunity to travel a lot before I came to FSU and I could maybe identify a different culture but not how or why it was different," she said. "Like the perspective on time can be different between cultures. The certificate program improves your critical thinking skills. It's just been a really great opportunity."  
FSU women's soccer player Gabby Carle, a native of Levi, Quebec, Canada, didn't have international experiences on her mind when she chose to take her talents to Tallahassee over offers from other American universities.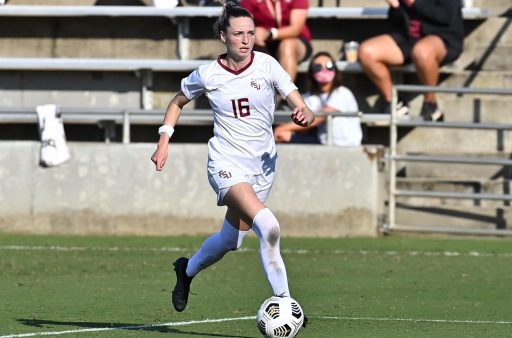 Carle, whose first language is French, is set to graduate next spring with a degree in exercise physiology. 
"The biggest concern for me was I was looking to play soccer at the highest level," she said, before adding that she accomplished that goal and much more. "I plan to play soccer professionally either here or in Europe. Then, post soccer, I plan to go to medical school and become a doctor."
Carle said the experience of being an international student at FSU was unquestionably a positive one and while her teammates hail from England, Venezuela, Costa Rica, Japan, Ireland and Finland to name a few, she said the international influence at FSU is everywhere. 
"One time, I was in biology lab and was paired with some classmates. We started sharing stories and four out of five of us were from different countries," she said. "I think when you walk on campus the diversity is everywhere. Maybe sometimes you can't see it, but when you sit down and talk to your classmates, there's a lot of diversity here at Florida State."  
For more information about International Education Month, visit global.fsu.edu/iem.