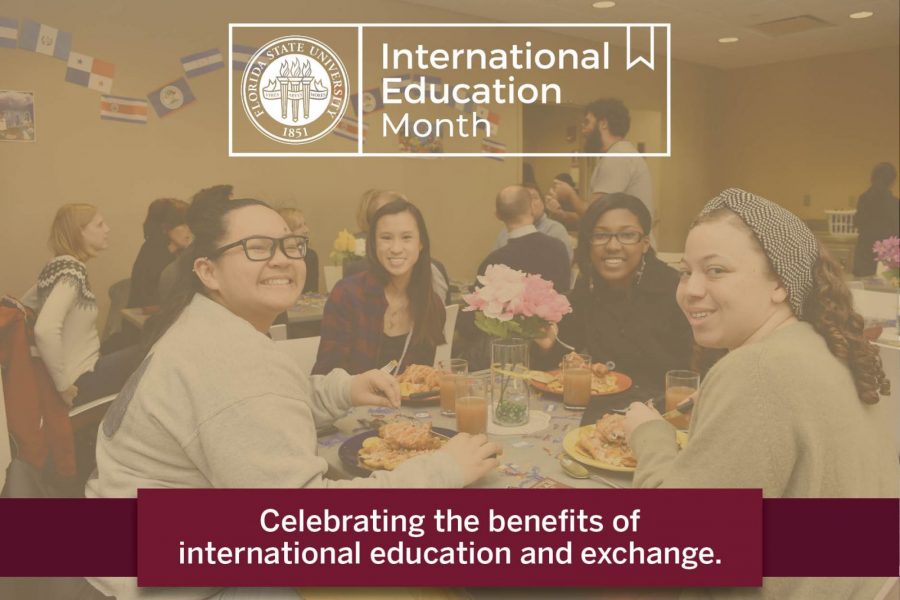 Florida State University will observe International Education Month during November to highlight its internationalization and global awareness efforts.
The monthlong celebration expands upon International Education Week, a joint initiative led by the U.S. Department of State and the U.S. Department of Education, which is held across the nation during the third week of November.
"While these are unusual times, international education continues to be a priority," President John Thrasher said. "We know that providing opportunities for global engagement and nurturing a rich multicultural environment are key to both student and faculty success."
FSU is a national leader in campus internationalization, winning the 2018 Platinum Level Institutional Award for Global Learning, Research & Engagement from the Association of Public and Land-grant Universities (APLU) and the 2017 Senator Paul Simon Award for Campus Internationalization awarded by NAFSA: Association of International Educators. The awards honor FSU's excellence in integrating international education throughout all facets of the university.
Events will begin Nov. 5 and run throughout the month of November. Featured events include:
THURSDAY, NOV. 5
Global Africas: Congolese Literature, Music, and Art in the 21st Century
10 a.m.-1:30 p.m. | Register for Virtual Event
"Global Africas" examines the cultural, linguistic, political, and historical realities of Francophone regions of Africa from a range of academic and artistic perspectives.
Reaching Out to the World: Faculty Experiences with Fulbright Awards
4 – 5 p.m. | Zoom ID: 953 4740 4409
A panel of FSU faculty members will share their Fulbright experiences and answer questions. Learn how FSU can support faculty in applying for these awards.
FRIDAY, NOV. 6
Going Global: Student Experiences FlipGrid
12 – 1 p.m. | More Information
The 14th annual Going Global Showcase will feature students' international experiences around the world, including international students currently studying at Florida State. This year, the event will be hosted through Flipgrid, giving students the opportunity to create a video to highlight significant components of their experience abroad to share with FSU faculty, staff and students.
TUESDAY, NOV. 10
Virtual Concert & Conversation, presented by the Center for Global Engagement and Afro-Nyota: FSU Contemporary African Ensemble
7-8 p.m. | More Information
Join Afro-Nyota's Director Alaba Ilesanmi and other ensemble members as they explore the African continent's rich diversity of music.
MONDAY, NOV. 16 – THURSDAY, NOV. 19
"Amazonia Now: Perspective In a Region In Crisis"
Multiple days & times | More Information
The Amazon region is increasingly under threat due to climate change, socio-environmental conflict, and the rhetoric of hostile governments. Academics and researchers of Amazonia, Amazonian indigenous and social movement leaders and other experts on the region will address these and other ongoing issues and threats in the region.
For more information, visit global.fsu.edu/iem.