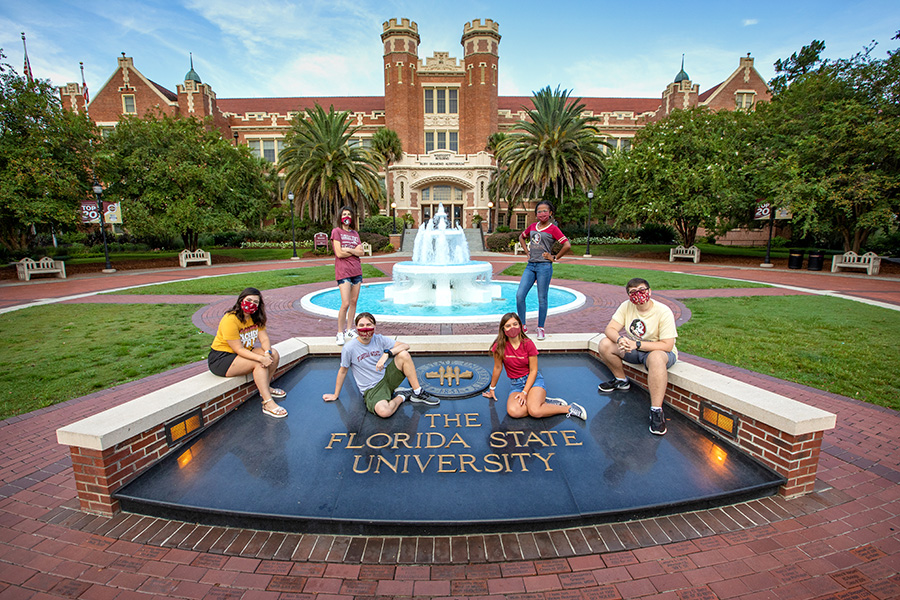 Florida State University will begin a new academic year Monday, Aug. 24, with many students returning to campus for the first time since March when the university transitioned to remote learning due to the coronavirus pandemic.
"While the past few months have been challenging, the new academic year always brings a sense of energy and hope to campus," said FSU President John Thrasher. "We're thrilled to welcome one of our brightest freshman classes and a record number of graduate students."
About 6,000 first-year students make up one of the most academically talented freshman classes in school history.
More than 64,000 first-year students applied for admission to FSU for the summer and fall 2020 semesters. Of those first-year students who were accepted into the university for the summer and fall semesters:
The average high school grade point average was 4.3 with an average 1330 total SAT score and ACT composite score of 30.
The group includes students from 66 Florida counties, all 50 states and 45 nations. After Florida, the states with the most new, accepted freshmen are Georgia, New York, New Jersey and Illinois.
Women make up 60 percent of the new freshman class, while 40 percent of students are male.
The top five majors selected are biological science, exploratory/undecided, business, engineering and chemistry/biochemistry.
Graduate enrollment also is at an all-time high after FSU received 14,225 graduate school applications for the fall term. This year's graduate student cohort will be FSU's largest with more than 3,700 new students — a 65 percent increase over last year.
FSU administrators, faculty and staff have prepared for months in anticipation of students returning to campus. The university is now putting those plans into action as it strives to provide a healthier and safer campus environment and mitigate the spread of COVID-19.
"This year may look and feel a little different, but Florida State University is committed to continuing our tradition of academic excellence," Thrasher said.
Other notable items for the upcoming academic year include:
The fall semester will end Dec. 11 as previously scheduled, but no face-to-face classes will be held after the Thanksgiving break.
FSU will offer face-to-face classes for selected lab, experiential and other selected courses; both synchronous and asynchronous distance learning courses; and hybrid classes that are a mix of both face-to-face instruction and remote learning.
Each year, FSU presents "

Welcome FSU

," a week of engaging events to promote student involvement and inclusion on campus. This fall, the Division of Student Affairs revised the traditional week of events to keep students safe and socially distant. The reimagined Welcome FSU aligns with Student Affairs' "

Return to Student Life Guide

," which outlines plans to offer innovative, creative and safe measures to maintain community health and wellness. Activities run through Aug. 28.
Only 25 to 50 percent of classroom space will be used at any given time so students, faculty and teaching assistants can practice proper social distancing.
FSU has created

Nole2Nole

, a new peer mentoring program for first-year students who are not physically on campus. About 2,300 freshmen will be matched with upperclassmen who are serving as peer guides. Nole2Nole guides serve as an extra resource for students, helping them connect with many of the resources that now have a virtual and easily accessible space.
The university rolled out a new program,

Transfer Genius

, to help transfer students adjust to life at FSU. First-semester transfer students are partnered with undergraduate volunteers who provide peer outreach and support to new transfer students.
FSU will continue to provide support services, community engagement, wellness and resources to students virtually through the Division of Student Affairs' 

Virtual FSU

.