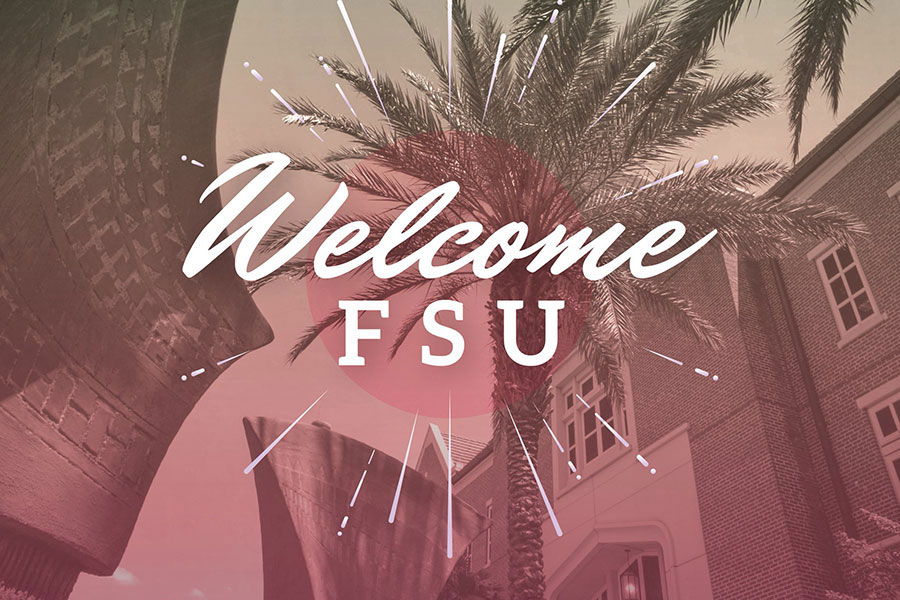 Each year, Florida State University presents "Welcome FSU," a week of engaging events to promote student involvement and inclusion on-campus.
This fall, due to the COVID-19 pandemic, the Division of Student Affairs revised the traditional ways to foster a sense of community to keep students safe and socially distant. The reimagined Welcome FSU aligns with Student Affairs' "Return to Student Life Guide," which outlines plans to offer innovative, creative and safe measures to maintain community and health and wellness.
"We hope that all of our students, whether on-campus or not, will feel connected to and supported by Florida State University," said Amy Hecht, vice president for Student Affairs. "The FSU Experience is one of the reasons why our students are so successful. While this health crisis has changed the way in which we can deliver that experience, we have found creative ways to connect, engage, support and empower our students."
Welcome FSU began as students started moving in Wednesday, Aug. 12, and will offer an array of virtual and socially distant activities through Friday, Aug. 28.
New undergraduate first-year and transfer students who are living away from Tallahassee and taking classes remotely will still be able to take advantage of programs and services that will connect them to the university through Florida State Anywhere. Remote students and those on-campus are both encouraged to utilize Virtual FSU, an online hub of virtual programming and events aimed toward students.
FSU's 54 fraternities and sororities will conduct Rush Week virtually, and students will be introduced to the six Student Government Association agencies and more than 700 student organizations during the Involvement Fair, which will also be taking place virtually. Although limited, Intramural Sports with no or low contact and a low number of players, such as tennis singles or 2-on-2 sand volleyball, have been approved for open recreation.
Campus Recreation facilities are open, but reservations are required at the Fitness & Movement Clinic, Leach Recreation Center and the Leach Center Pool. The Main Campus Fields, Westside Courts and Rez Lakefront Park & Retreat Center do not require reservations, but activities are limited. To make a reservation and view hours, visit campusrec.fsu.edu.
Students Affairs has created several daily events for students:
Join Sustainable Campus, Campus Recreation and University Housing on a self-guided bike tour of Tallahassee.
Residence Hall staff will be available to welcome students, answer questions and provide information on welcome events.
Play an online quiz to test your knowledge of academic success strategies and resources at FSU.
Other events include:
Make the Most of Your College Experience
11 a.m. – 12 p.m. Friday, Aug. 21
Peer leaders from across campus will lead games focused on how students can make the most of their college experience and learn about academic engagement opportunities and success tips for starting the semester strong.
Esports at Florida State University has partnered with the Athletics Department to host an online Madden NFL 20 event called the "Seminole Madden Challenge." The event is free and open to all FSU students with valid FSU student email addresses and will be livestreamed on the FSU Esports Twitch page. Participants will be playing Madden NFL 20 on Xbox. Registration is open until August 21.
3 – 5 p.m. Sunday, Aug. 23 and 10 a.m. – 2 p.m. Monday, Aug. 24
Current students will be available via Zoom to answer questions, provide insight and help new students have a successful first day of classes at FSU.
Monday, Aug. 24 and Tuesday, Aug. 25
Students can celebrate their first day (or last first day) of classes at FSU with a "First Day Photo" by taking a picture with one of Student Affair's signature signs and sharing the photo on social media using the hashtags #WelcomeFSU and #FSUFirstDayPhoto.
The Involvement Fair occurs every fall, spring and summer semester and serves to display the opportunities that FSU has for students to find community, explore interests and develop a diverse set of skills. This virtual Involvement Fair experience will take place on FlipGrid and Discord.
ESTONKO: A Cultural Welcome Celebration
4 – 5:30 p.m. Thursday, Aug. 27
Estonko is a Seminole Creek word offered in greeting and serves as the namesake of our cultural welcome celebration. Working with the Seminole Tribe of Florida, we wish to welcome you to campus via Zoom and introduce you to members of the FSU community as you begin your journey at Florida State.
To learn more about Welcome FSU and view the full list of events, visit welcome.fsu.edu. For more information about virtual resources for students, visit studentaffairs.fsu.edu/virtualfsu.