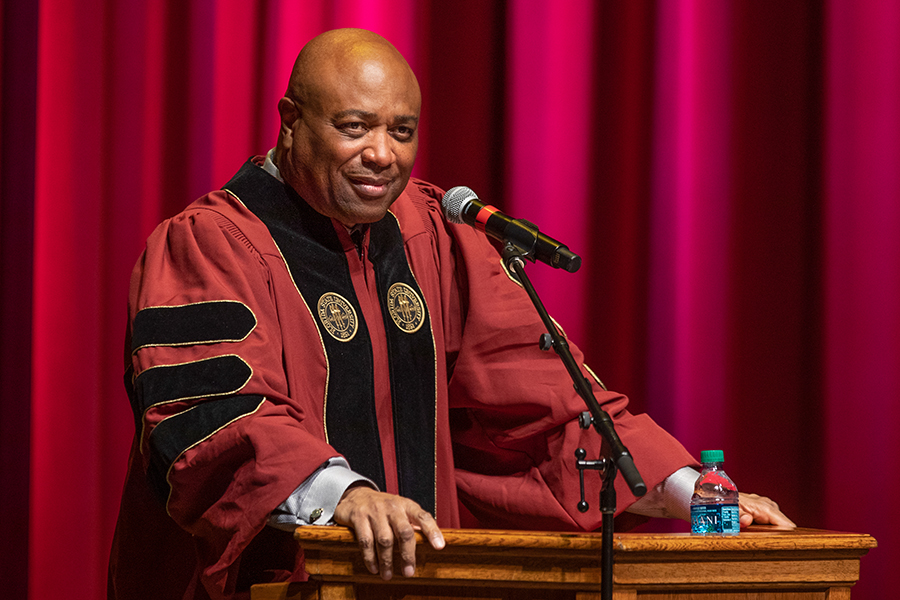 While the nation grapples with both a global pandemic and social unrest, Florida State University men's basketball head coach Leonard Hamilton urged summer graduates to put in the extra effort, learn how to communicate with others, and be part of the solution. 
Hamilton delivered the commencement address at Friday's virtual commencement ceremony. President John Thrasher presided over the ceremony, which took place at Ruby Diamond Concert Hall and was streamed on the university's website, Facebook and YouTube channels.   (For more information, visit https://commencement.fsu.edu/.)
"I wish more than anything that we could be together," Thrasher said. "I said this in the spring, and I'll say it again today — the Class of 2020 will go down in history as one that sacrificed so many of our cherished traditions so that we would all be safer."  
Instead of celebrating the milestone in the Donald L. Tucker Center, summer graduates, along with their friends and families, gathered online in accordance with social distancing practices due to the coronavirus pandemic. The spring ceremony held in May also took place online because of health and safety concerns.  
Florida State awarded degrees to 2,510 graduates this semester: 1,696 bachelor's degrees, 611 master's degrees, 165 doctorates, 2 juris doctor degrees and 36 juris master's degrees.  
Thrasher told graduates that while the future is uncertain, they'll be counted on to go out into the world and solve society's toughest challenges.   
"That's what Florida State has prepared you to do, and we need you now more than ever," he said. 
While virtual, the event offered many of the customs of a traditional, on-campus commencement ceremony including an opening processional featuring "Pomp and Circumstance," the playing of the National Anthem, the official conferring of graduate and undergraduate academic degrees, and the turning of tassels on the graduates' caps.   
Hamilton, who led the Seminoles' men's basketball team to the program's first-ever Atlantic Coast Conference regular season championship in March, is the all-time winningest coach in school history. In his address to graduates, Hamilton talked about how the lessons we learn from sports can also teach us a lot about how to succeed in life. 
Over his 18 years at the helm of FSU, Hamilton took a program that consistently finished at the bottom of the Atlantic Coast Conference standings and turned it into one of the top teams in the best men's basketball league in the country.  
"Our games are usually decided by four points or less, so you have very little margin for error," he said. "It's similar when you approach life after Florida State. You have to be extremely competitive, and those fundamentals that you learned early on will serve you very well as you move through your career." 
Hamilton shared with graduates the same advice he gives his players. 
"Don't ever let anyone outwork you," he said. "You can't control the outcome or the circumstances, but what you can control is your effort and your work ethic." 
He told graduates that a little extra effort will give them a competitive edge in life. 
"There's an old saying that at 211 degrees, water will boil, but at 212 degrees, it creates steam," Hamilton said. "Steam creates power, and that power can run locomotives. There's no doubt that one extra degree can make the biggest difference in your life."  
Hamilton also spoke about the importance of having a sound, moral compass during a time of social unrest and a global pandemic.  
"The opportunity for you now is to be a part of the solution and not part of the problem," he said.  
Hamilton closed by challenging graduates to get to know people of different races, origins and backgrounds and to learn how to communicate with them. 
"Let's cut the nets down on social injustice and hatred, let's cut the nets down on racial inequality, let's work hard to improve our healthcare, let's work to cut the nets down on police brutality," he said. "Let's raise the banners of respect, let's initiate trophies for unity and let's have a championship for love." 
"Let's cut the nets down on social injustice and hatred, let's cut the nets down on racial inequality, let's work hard to improve our healthcare, let's work to cut the nets down on police brutality," he said. "Let's raise the banners of respect, let's initiate trophies for unity and let's have a championship for love." — Leonard Hamilton
Provost and Executive Vice President for Academic Affairs Sally McRorie, Dean of Undergraduate Studies Joe O'Shea, Dean of the Graduate School Mark Riley and Dean of the Jim Moran College of Entrepreneurship Susan Fiorito also participated in the virtual ceremony.  In addition, Ed Burr, chair of the FSU Board of Trustees, and 2020-2021 Student Body President Jonathan Levin delivered brief remarks via video.  
Chastity Wofford, a student-veteran who graduated Friday with a master's degree in corporate and public communication from the College of Applied Studies at the FSU Panama City Campus, also participated in the ceremony via video to lead the Pledge of Allegiance. 
While watching the graduation ceremony from his home in Miami, Bradley Hupf celebrated his newly earned doctorate in statistics and reflected on how unlikely it once seemed that he'd ever attend FSU.  
Growing up in the shadow of the University of Miami, Hupf was a diehard Hurricanes' fan with an intense dislike of all things FSU. After spending one year at UM, Hupf eventually earned his undergraduate degree at another FSU rival, the University of Florida. He was as surprised as anyone that the next step in his education would take him to Tallahassee.  
"With the rivalry, I had my doubts about coming here and when I got here, I got flak from both sides, from UF for being a traitor and here for being a Gator," Hupf laughed. "But it's been five great years, and FSU and Tallahassee have grown on me. That hatred has been replaced with love." 
Hupf will continue his work with a pharmaceutical company in Boston and said what stands out most about his FSU experience are the friends he's made.  
"The camaraderie within our cohort has been amazing," he said. "When you spend five years working essentially on closely related questions and going through the gamut together, those bonds are different than any friendships I've had before." 
"The professors here have so much drive and passion that it really rubs off on you. Just going through our department, you can feel the passion here," he said before adding, "I'm now a Nole." 
The recipient of a newly earned bachelor's degree in statistics, Tampa native Arnel Garcesa said his love of FSU football meant there was never really a doubt where he'd go to college.  
"As far as college, all I thought about was FSU," he said. "FSU apparel was all I wore in middle school." 
Garcesa, who earned a bachelor's degree in mathematics in 2013, went right to work in Tampa following his first commencement ceremony. When his job brought him back to Tallahassee, the pull of FSU drew him in for another undergraduate degree.  
"I was so fortunate to learn the value of a great education when I earned my first degree; it was so impactful on me that I wanted to do it again," he said. "FSU has led me to a good career, and it's done so much more. On top of all the top-notch academics, at the end of the day, the other invaluable component is that it helped me develop into the person I want to be." 
Garcesa is now considering coming back to FSU to pursue a doctoral degree. In the meantime, he said he'll carry FSU with him every day. 
"I know one thing; I'll never lose my love for FSU." 
Tallahassee native Carlecia Collins also is now a two-time FSU graduate. Collins' parents both earned degrees from FSU in the 1980s, but it was her keen interest in politics that prompted her to stay close to home for college, first as an undergraduate and then for graduate school. 
A senior legislative aide at the Florida Senate, Collins officially earned her Master of Applied American Politics and Policy degree Friday. She hopes to advance her career in government and politics with her new degree in tow. 
"After my undergraduate, I knew it made sense to do the master's program because it was so applicable to my current field," she said. "I truly enjoyed the learning process at FSU. I got to know the teachers, and I enjoyed being on campus so much."