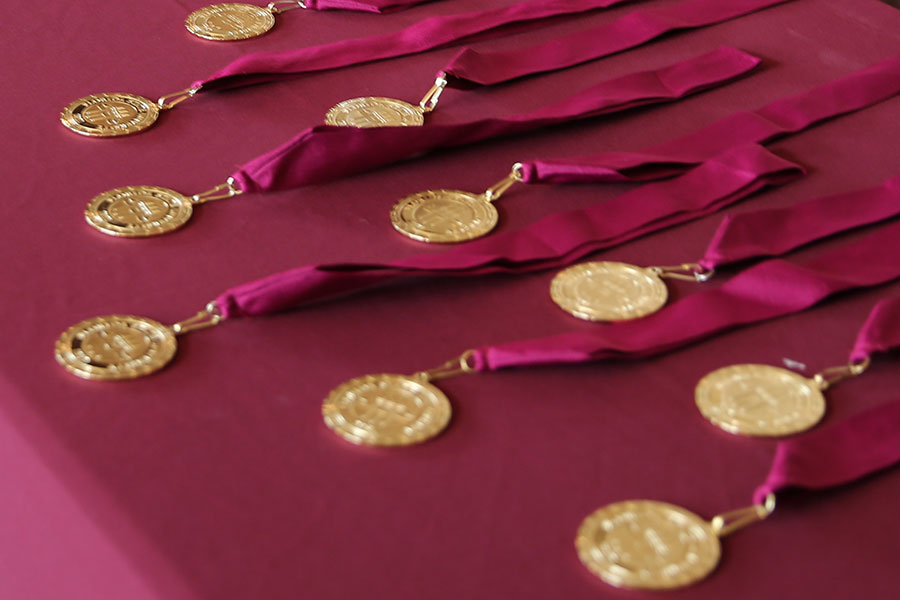 Florida State University awarded honors medallions to 27 high-achieving graduates during a virtual ceremony on Thursday, July 30.
The FSU Honors Program supports the efforts and talents of the university's most intellectually curious students who have the potential, dedication and drive for creating change.
The virtual ceremony included remarks by Provost Sally McRorie, Dean of Undergraduate Studies and Assistant Provost, Joe O'Shea and Annette Schwabe, associate dean of Undergraduate Studies and director of the FSU Honors Program.
"Whether you are going on to grad school or joining the workforce, or even taking time to pursue additional internships or enrichment opportunities — I hope you take with you the same passion and determination that you demonstrated as an FSU honors student," McRorie said.
The breakdown of the honors awardees is as follows:
16 graduates, University Honors Program
Earned at least 18 Honors points in fulfillment of the FSU honors program requirements.
6 graduates, Honors in the Major Program
Completed an honors thesis in fulfillment of the requirement for the distinction "with Honors" in their major department.
2 graduates, Dual Honors
Completed both the University Honors Program and the Honors in the Major program.
3 graduates, Outstanding Senior Scholar
Completed the University Honors Program and the Honors in the Major program and graduated Summa Cum Laude, having a GPA of 3.9 or higher.
For more information about the FSU Honors Program, visit honors.fsu.edu.
The honors medallion recipients, along with their hometowns, academic majors and award designations, are listed by state and city below. Designations are: HON – University Honors, HITM – Honors in the Major, DUAL – dual honors, OSS – dual honors with a 3.9 GPA or higher.
ALABAMA
Spanish Fort, AL
Anna Miller, Literature, Media, and Culture, HON
FLORIDA
Clearwater, FL
Shannon Drizin, Computer Science, HON
Cooper City, FL
Jessica Meyer, Criminology, HON
Jacksonville, FL
Madeline Bryant, Family and Child Sciences and Psychology, HON
Kristie Dick, Biological Science, DUAL
Jacksonville Beach, FL
Isak Syverud, Computer Science, HON
Jupiter, FL
Megan Masterson, Psychology, HON
Miami
Nicholas Ordieres, Political Science and Business Management, HITM
Carlos Talledo, Exercise Physiology, DUAL
Milton, FL
Ashlyn Williamson, Editing, Writing, and Media, HON
Mount Dora, FL
Bridget Nievinski, International Affairs and French, OSS
Osprey, FL
Jack Fitzgerald, Economics and Political Science, HON
Palm Beach Gardens, FL
Alitza Fisch, Biological Science, HON
Pembroke Pines, FL
Cameron D'Orio, Biological Science, HITM
Ponte Vedra Beach, FL
Alexander Wallace, Biological Science, HON
Dominique Hoffman, Political Science and International Affairs, HITM
Port Charlotte, FL
Romy Aiken, Cell and Molecular Neuroscience, HITM
Santa Rosa Beach, FL
Lucy Miree, Humanities and English – Creative Writing, OSS
Tallahassee, FL
Emma Taylor, Family and Child Sciences    HON
Tampa, FL
Jonni Shell, Accounting, HON
Wesley Chapel, FL
Shae Machlus, Physics, OSS
LOUISIANA 
New Orleans
Cecilia Bourg, Psychology, HON
MARYLAND 
Chesapeake City, MD
Stephen Lemerand, Family and Child Sciences, HON
OHIO 
Perrysburg, OH
Hannah Pauley, Biological Science, HON
TENNESSEE
Memphis, TN
Lauren Schaeffer, Exercise Physiology, HON
COLOMBIA
Bogota, Colombia
Paula Velasco Montenegro, Political Science and International Affairs, HITM
Bucaramanga, Colombia
Valentina Rangel Angarita, Environmental Chemistry and Statistics, HITM