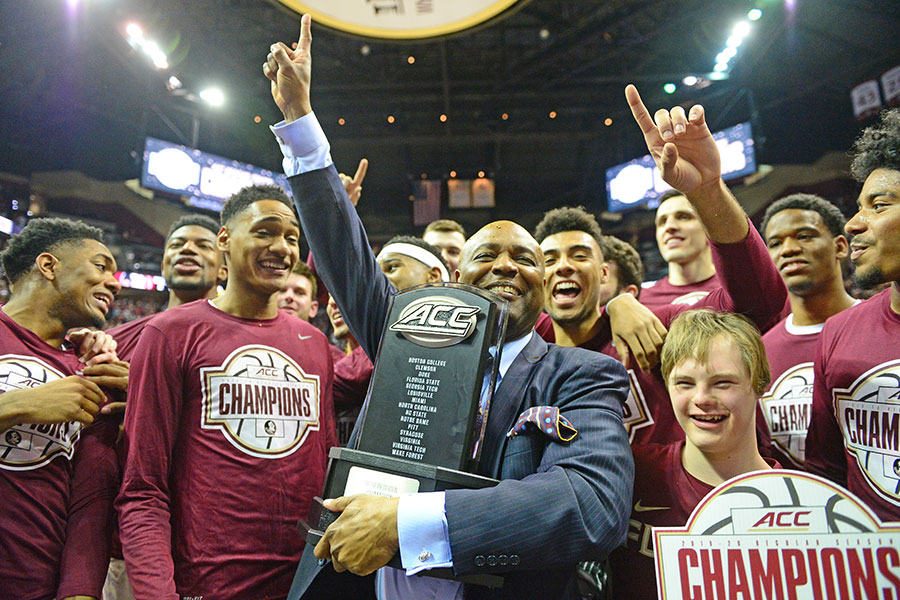 Florida State University men's basketball Coach Leonard Hamilton will headline FSU's virtual summer commencement ceremony as the keynote speaker Friday, July 31.
President John Thrasher will preside over the ceremony, which will be streamed on the university's website, Facebook and YouTube channels and simulcast locally on 4FSU (Comcast Channel 4). The ceremony will begin at 7:30 p.m. Eastern time.
The decision to hold a virtual ceremony is in line with a directive from the State University System of Florida to develop alternative commencement plans in recognition of health guidelines that limit gatherings.
"Although we cannot be together at this time, the FSU community can still celebrate our graduates through the shared experience of our virtual ceremony," Thrasher said. "Our graduates have worked hard to finish their degrees despite the challenges of a global pandemic, and I'm exceptionally proud of their dedication and resilience."
Hamilton recently completed his 18th season as FSU's men's basketball coach, leading the Seminoles to their first-ever Atlantic Coast Conference regular season championship. In March, he was named ACC Coach of the Year for the third time in his career. The all-time winningest coach in school history, Hamilton also is a noted advocate for cancer research — a disease that has touched him throughout his life.
"I'm excited that Coach Hamilton will deliver the commencement address this summer," Thrasher said. "He and his team had an incredible season with an abrupt ending due to the COVID-19 pandemic. He is a wonderful ambassador for FSU with an unwavering commitment to the university's academic mission, and I know he'll have an interesting perspective to share on overcoming adversity."
The virtual ceremony will incorporate many of the traditional customs associated with the usual on-campus commencement exercises, such as an opening processional to "Pomp and Circumstance," the playing of the National Anthem, the Pledge of Allegiance, the official conferring of graduate and undergraduate academic degrees, and the turning of tassels on the graduates' caps.
Thrasher and Hamilton will be joined at the virtual ceremony by a few university administrators in full academic regalia. Provost and Executive Vice President for Academic Affairs Sally McRorie, Dean of Undergraduate Studies Joe O'Shea, Dean of the Graduate School Mark Riley and Dean of the Jim Moran College of Entrepreneurship Susan Fiorito will participate in the ceremony while observing social distancing guidelines.
Ed Burr, chair of the FSU Board of Trustees, and 2020-2021 Student Body President Jonathan Levin will deliver brief remarks via video.
Just like the virtual spring commencement ceremony held in May, no graduates or guests will be present in order to ensure the health and safety of the participants. Graduates and their family members and friends should remain at home and not come to campus.
Graduates' names will be read aloud by their colleges in separate videos to be posted at commencement.fsu.edu on July 31. Names will briefly appear at the end of the virtual ceremony and can be found in the digital commencement program that will be posted online at commencement.fsu.edu prior to the ceremony.
Florida State will award degrees to 2,631 graduates this semester: 1,769 bachelor's degrees, 620 master's degrees, 207 doctorates, 5 juris doctor degrees and 30 juris master's degrees. These totals include graduates at FSU Panama City and the university's campus in the Republic of Panama. The university will recognize students who have earned academic honors as well as student-veterans and members of the Garnet and Gold Scholar Society.
The virtual summer commencement ceremony will be streamed at 7:30 p.m. (ET) Friday, July 31, via the following websites and social media platforms:
live.wfsu.org
YouTube.com/floridastate
Facebook.com/floridastate
The ceremony also will be simulcast locally on 4FSU (Comcast Channel 4), and it will be archived online for future viewing on demand at www.learningforlife.fsu.edu/fsu-graduation/.