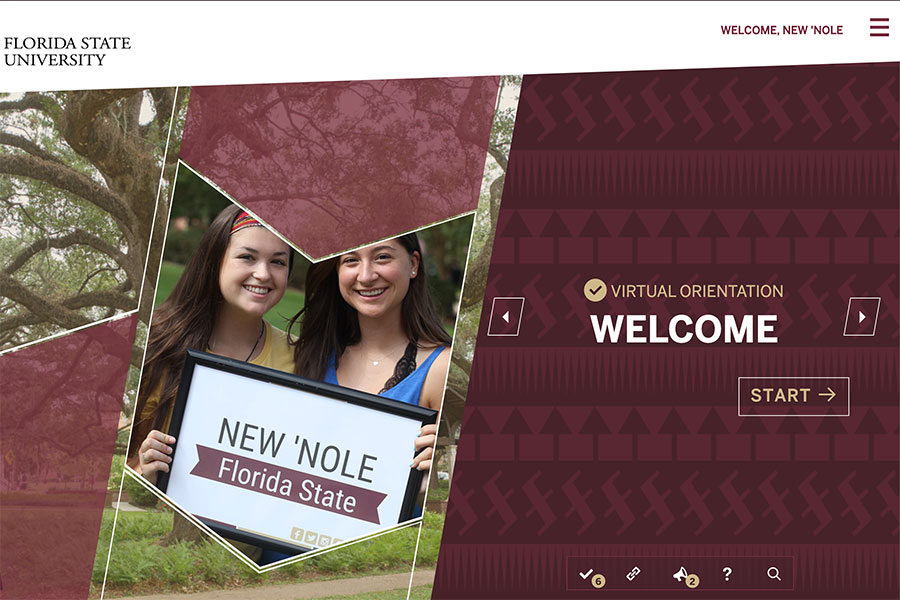 This week, thousands of incoming Florida State University students and their families will begin orientation as they prepare for collegiate life and the Summer C and Fall 2020 terms. There's just one change — sessions are being held virtually to maintain a safe and healthy environment for all.
"Orientation is an essential part to student success," said Amy Hecht, Vice President of Student Affairs. "We strive to help students prepare for their coursework, college schedule and meet other students. This year, orientation will be offered completely online and will include all the important components traditionally delivered in-person."
As the main opportunity for incoming students to acclimate to FSU before the start of classes, Virtual Orientation will still offer plenty of chances for active engagement. The New Student & Family Programs office within the Department of Student Support & Transitions is working with a variety of campus partners to make sure that incoming students will have the chance to connect with current FSU students, faculty and staff throughout the session.
"Using technology, students will get their course schedules, learn about important aspects of college life and connect with other FSU students," Hecht said.
Virtual Orientation also will offer small-group time with Orientation Leaders, the opportunity for students to meet with their academic adviser and a virtual Q&A session. Students can begin connecting to campus through Ignite Your 'Nole Experience sessions, where they have the chance to learn about different community groups on campus like the Black Student Union, Transfer Student Services, the Marching Chiefs and more.
Once face-to-face instruction resumes, the Division of Student Affairs will have a variety of programs available during Welcome FSU to help students adjust to their new home and get connected. In the meantime, student engagement continues with Virtual FSU.
Director of New Student & Family Programs, Alison Hughes, said the best advice she can give students during this time is to ask for help.
"If something doesn't make sense or if students don't get all their questions answered, I hope that they will reach out and let us know how we can help," Hughes said. "We have a wonderful team of Orientation Leaders and an incredible group of staff and campus partners ready to help new students and their families transition to campus and join the FSU community. We're here for them, and we'll get through this together."
The Department of Student Support & Transitions is currently working to process refunds for the housing and dining charges associated with attendees' orientation registration and will notify attendees once all refunds have been processed.
For more information, visit dsst.fsu.edu.