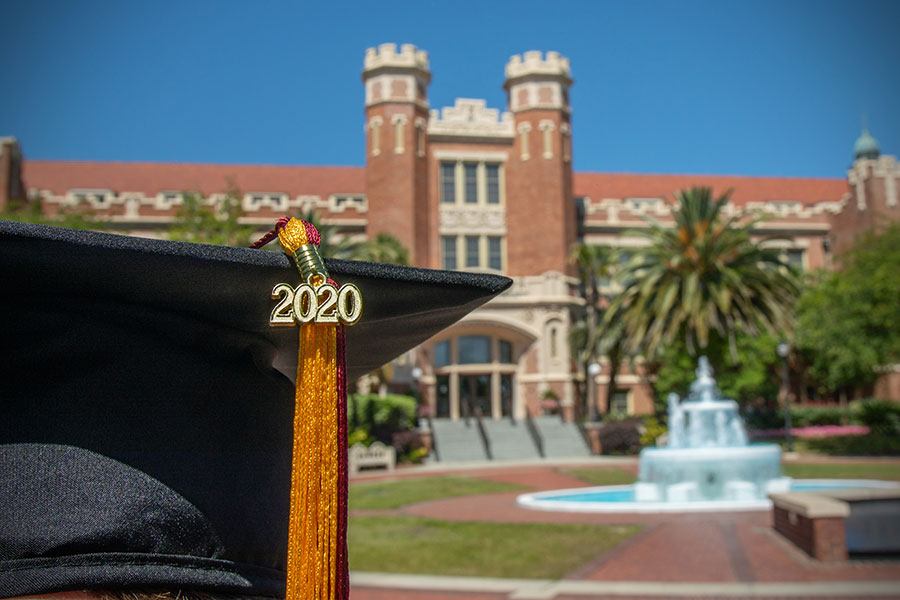 COMMENCEMENT PROGRAM | PHOTO GALLERY | COLLEGE MESSAGES & READING OF NAMES
Newly minted Florida State University graduates around the globe gathered Saturday for a spring commencement ceremony unlike any before it.  
 Instead of striding through the Donald L. Tucker Center as university tradition dictates, the Class of 2020 convened online as the social distancing practices necessitated by the coronavirus pandemic continued.  
 President John Thrasher presided over the ceremony, which took place at Ruby Diamond Concert Hall and was streamed on the university's website, Facebook and YouTube channels.  
Florida State awarded degrees to 6,957 graduates this semester: 5,634 bachelor's degrees, 1,127 master's degrees and 196 doctorates. 
In his remarks to the graduates, Thrasher struck a hopeful tone, while acknowledging the difficulty of the circumstances for everyone. 
"The Class of 2020 will go down in history as the one that sacrificed so many of our cherished traditions so that we may all be safer," he said. "I hope you will look back upon this day with pride, knowing that you played a vital role in our response and eventual recovery."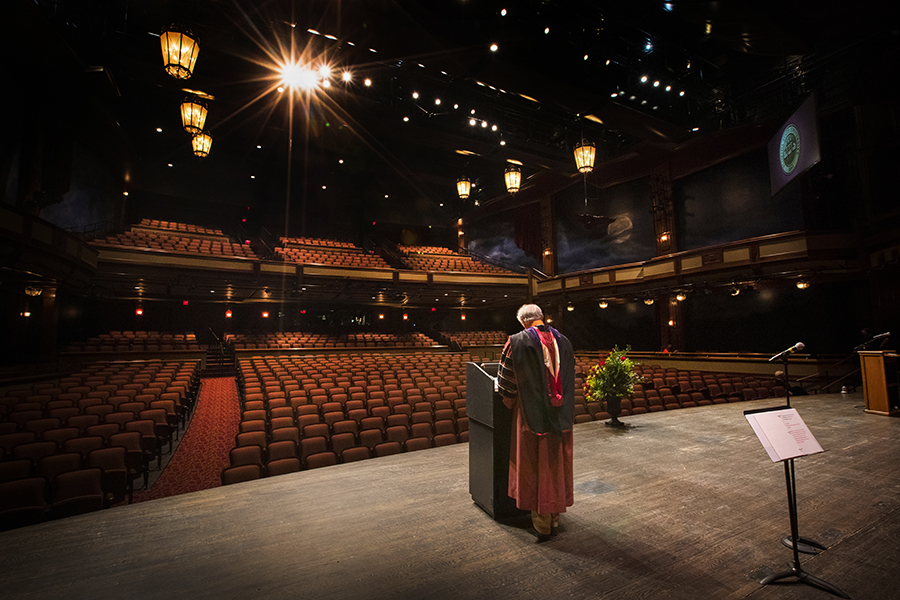 On a day that typically defines excitement for the beginning of a new chapter in the lives of graduates, Thrasher said that life after FSU might seem more uncertain than it has for other graduating classes. But the expectations are still the same.  
"We are counting on you to go out into the world and solve society's toughest challenges," he said. "That's what Florida State has prepared you to do, and we need you now more than ever."  
Mark Zeigler, an alumnus and teaching professor in the School of Communication, has played a role in nearly every FSU commencement ceremony since 2009. Normally, Zeigler announces graduates' names as they walk across the commencement stage. In Saturday's ceremony, he served as commencement speaker. 

"My goal today is to thank you for FSU," he said. "To express appreciation for what you have brought to our school and to ask you to stay in the family. You receive your degree today, but your relationship with Florida State will last for the entirety of your lives."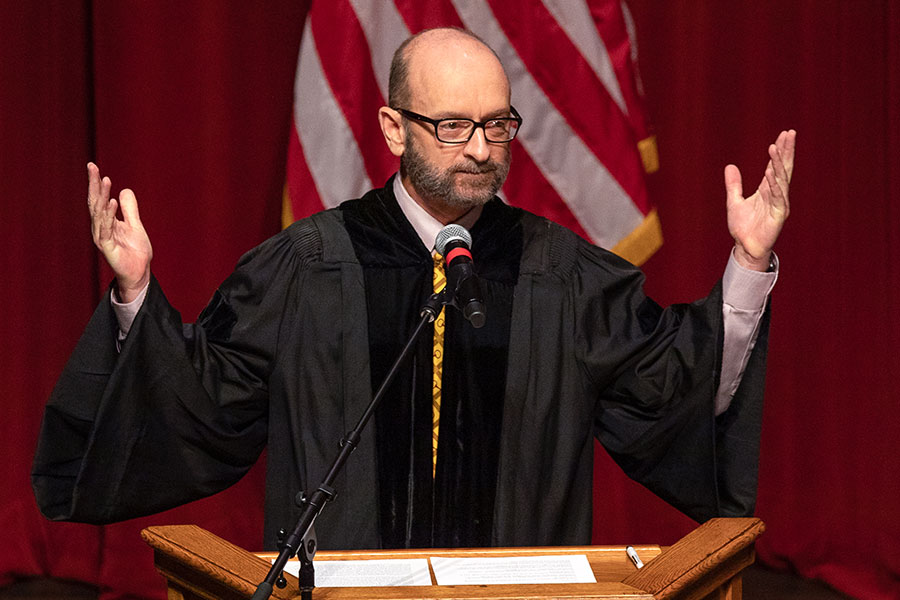 Zeigler, who has earned numerous awards and recognitions during his 27 years teaching at FSU, including the Distinguished Teaching Award,  wove a narrative  about what it means to be a student at FSU — from studying and researching with celebrated teachers to singing the fight song at sporting events to laughing loudly on Landis Green. 
"The gratitude our school has for you is endless, but there is also now a responsibility," he said. "Please take this degree and find ways of making the world a better place. Develop the  immunization and argue the important court case, write the new symphony or novel, teach the new third–grader and counsel the suffering. And be kind. Always be kind — to everyone — always." 
Zeigler said he learned many lessons from FSU, and he knew graduates have as well. 
"If you can reach the realization that the best way to live life is to focus on those around you, to build them up, encourage them … then my lesson is you can make it, you can survive, you can thrive, you will succeed," he said. 
SPRING 2020 COMMENCEMENT
BY THE NUMBERS
6,957 total degrees
5,634 bachelor's degrees
1,127 master's degrees
196 doctorates
380 earned an Honors Medallion
316 Garnet & Gold Scholar Society inductees
101 Student Veterans and Military Members
59 posted a perfect 4.0 GPA
Graduates were from 47 states, 76 different countries, Washington, D.C., and Puerto Rico
While virtual, the event  offered many of the customs of a traditional, on-campus commencement ceremony including an opening processional featuring "Pomp and Circumstance," the playing of the National Anthem, the Pledge of Allegiance, the official conferring of graduate and undergraduate academic degrees, and the turning of tassels on the graduates' caps. 
Provost and Executive Vice President for Academic Affairs Sally McRorie, Dean of Undergraduate Studies Karen Laughlin, Dean of the Graduate School Mark Riley, Dean of the Jim Moran College of Entrepreneurship Susan Fiorito also participated in FSU's first-ever virtual ceremony.  
In addition, Ed Burr, chair of the FSU Board of Trustees, and 2019-2020 Student Body President Evan Steinberg delivered brief remarks via video. 
"This is a challenging time, but I'm confident with future leaders such as yourselves,  our country will be stronger, better and kinder," Burr said. "Never are the values of Florida State more important than today — strength, skill and character."  
Steinberg encouraged his fellow graduates to cherish and remember that sense of home they experienced at FSU. 
"As you leave this place that we hold so near and dear, you'll always have that intangible feeling of home when you think of FSU," he said. 

While graduates could not celebrate together during a traditional commencement ceremony, they did gather with their families and roommates to mark the significant milestone in their lives.  
Graduating honors student Paris Gilstrap, from Orlando, watched commencement with a handful of fellow graduates from her apartment in Tallahassee.   
She earned two bachelor's degrees — one in international affairs with a concentration in political science and another in art history and a minor in museum studies.   
Gilstrap credited opportunities like participating in FSU's Study Abroad Program for deepening her education. She spent the summer before her junior year in Florence, Italy, and embarked on a  research trip through Denmark, France and England prior to her senior year.  
"Traveling on your own, you really learn a lot about yourself," she said. "Talking to artists and researchers from other countries you just learn a lot about the world."  
Gilstrap's FSU journey will continue this fall when she begins pursuing a master's degree in art history.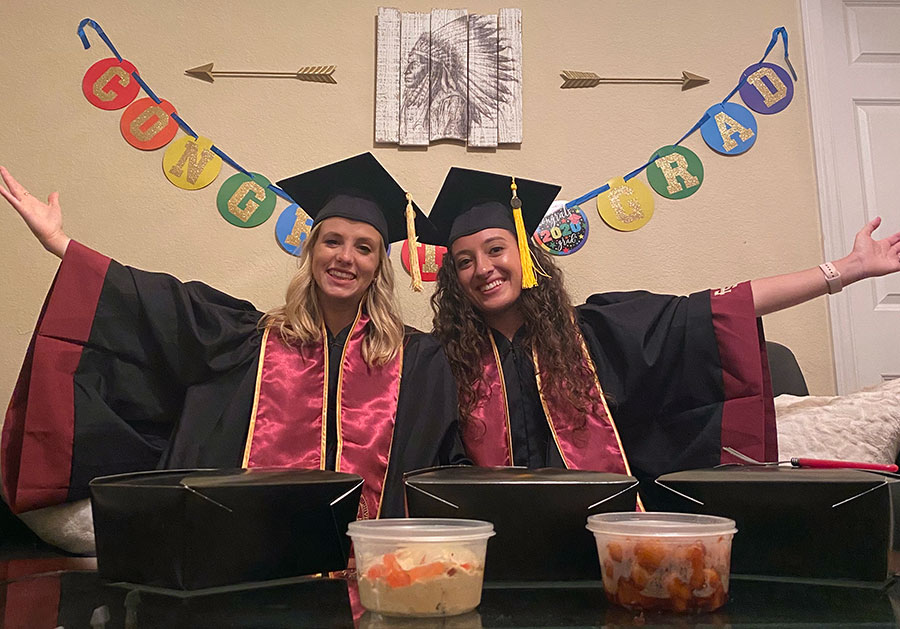 New graduate Ashley Sanders, of Jupiter, Florida, watched the ceremony decked out in her cap and gown. Sanders, who earned degrees in hospitality and management from the Dedman School of Hospitality and in marketing from the College of Business, said she's been looking forward to this day for a long time.  
"My dad, my aunt, my uncle, my older brother: they all went to FSU," she said. "It was ingrained in me."   
As a freshman, Sanders joined the FSU Flying High Circus, where she put earlier dance training to use — and suspended any fear of heights — while soaring 20 to 30 feet in the air.   
"It was something unique that not everyone gets to do," she said of joining the circus, of which she served as president.    
Sanders, who is set to take a job with an events company in Atlanta, said even though COVID-19 upended commencement, her FSU experience lived up to her expectations.   
"It's hard because there were so many things that everyone instantly lost," she said. "I lost all the circuses for the year. All the seniors did not get that closure and were not be able to say goodbye before moving away."   
While acknowledging the hardships inflicted by the coronavirus throughout the world, Sanders added she and her fellow graduates are fortunate.   
"You kind of come to terms with it; it's reality and we are all so lucky," she said. "We have the opportunity to come back here and that has made it so much easier to accept what's happening right now."  
Carlos Falsiroli watched the virtual commencement from the comfort of the couch with his brother Alejandro. Carlos was celebrating his dual business degrees in finance and marketing, while Alejandro was celebrating a business degree in sales to go with a biology degree earned two years ago.   
The Falsiroli family emigrated from Venezuela to Miami when Carlos was 12 years old, and his journey in Tallahassee began without ever having visited the city before.  
"I had never been here before — never!" he said with a laugh. "I barely knew who the Seminoles were, but I took the gamble and it paid off."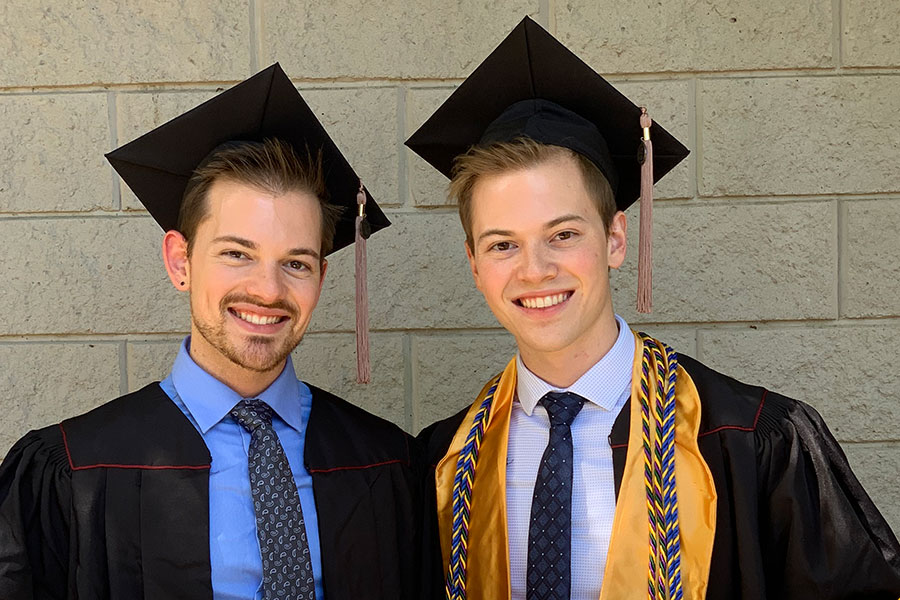 As a sophomore, Falsiroli saw a notice for a meeting of the school's chapter of the American Marketing Association.   
"After the first meeting, I fell in love with it," he said. "I went up to the chapter president right after the meeting and told him I want to be president. I want to take your spot."  
Now, as the outgoing president of the AMA at FSU, Falsiroli said he's ready to take the next step in his life in a full-time job with Meltwater, a media monitoring and business intelligence software company.  
"I wouldn't change this experience for anything," he said. "I am so very happy. My Seminole pride is through the roof, and I can't wait to come back and to be part of the amazing alumni base that FSU has."