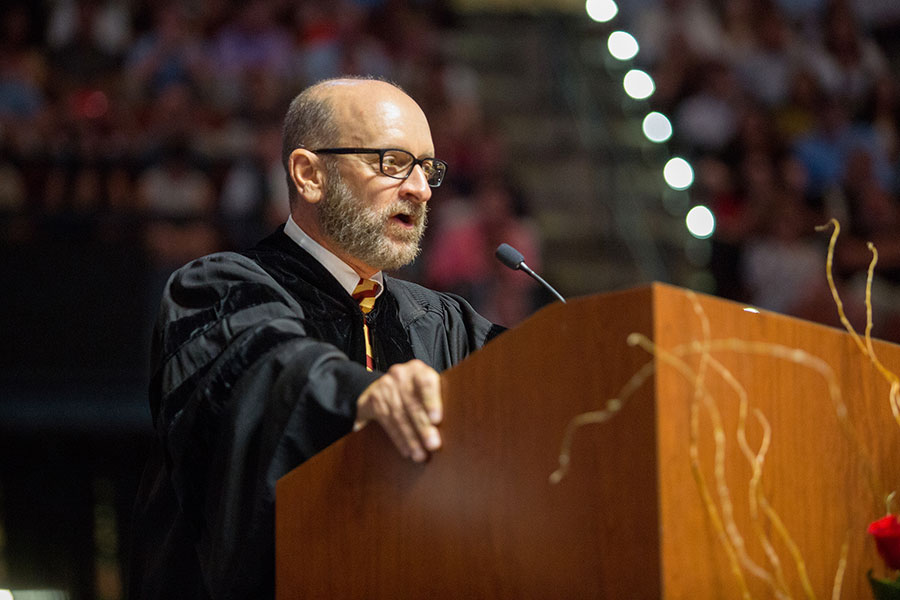 Mark Zeigler has been teaching the skill of public speaking to Florida State University students for more than 20 years. Now, he will get to practice what he preaches when he  delivers the keynote address for FSU's Spring 2020 virtual graduation.
Florida State's traditional commencement ceremonies were moved to a virtual format amid the COVID-19 pandemic. FSU will stream the ceremony for its spring graduates at 2 p.m. Saturday, May 2, on the university's website, Facebook and YouTube channels.
While Zeigler has been an integral part of FSU commencement ceremonies since 2009, it will be his first time directly addressing the graduates.
"I never would have dreamed of being the commencement speaker at FSU," he said. "It is a daunting invitation, but I hope to rise up and do my best."
Zeigler, who was inducted into the FSU Alumni Association's Circle of Gold in recognition  of his contributions to the university, normally has the task of announcing graduates' names during the commencement ceremonies.
That means calling more than a thousand names in about two hours, without stopping. Zeigler describes the job as a great honor but "physically excruciating."
"No good deed goes unpunished," he said, with a laugh. "In 2009, the guy who had been doing it retired and the graduation office called and asked if I wanted to give it a shot. They put two of us up there, and the first guy got through College of Arts and Sciences and sat down and said he couldn't do it anymore, and I just kept going. It's still excruciating, but it's like running a marathon and I'm in shape for it now."
Zeigler won't run that name marathon this semester due to the pandemic. Graduates' names will not be individually announced during the virtual ceremony. Even without  students present, Zeigler estimates that reading the names would translate to a 4 or 5- hour virtual ceremony.
"I'm bummed," he said. "Not for me but for the students, because it's such an important rite of passage, and it's important for parents, particularly for those who are the first-generation in college. Those students represent the dreams of an immigrant or of someone from a different socioeconomic status who's always dreamed their child would go to college. It breaks my heart for those folks."
Names will briefly appear at the end of the virtual ceremony and can be found in the digital commencement program that will be posted online at commencement.fsu.edu prior to the ceremony.  In addition, individual colleges will read the names of their graduates in separate videos to be posted at commencement.fsu.edu on May 2.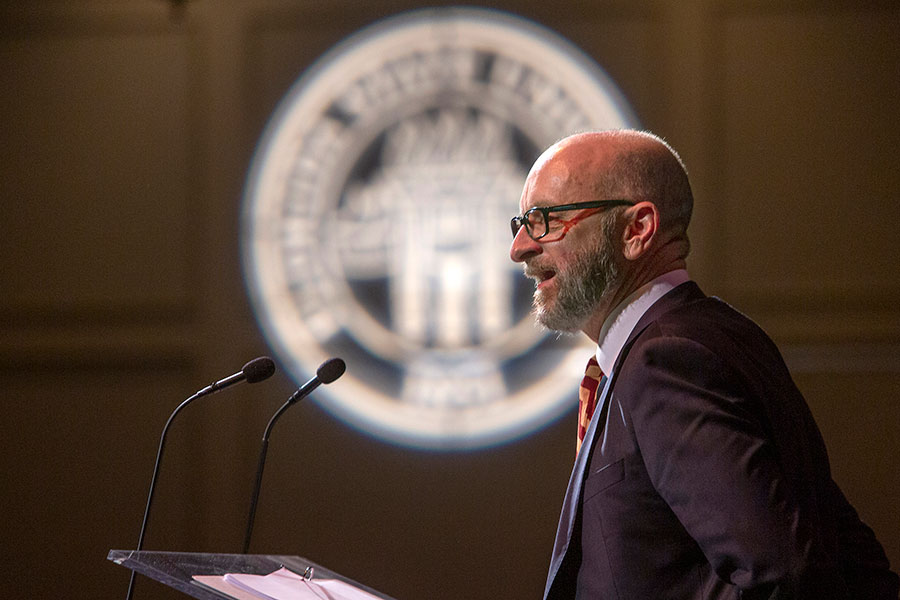 A nontraditional commencement ceremony is one of the many changes FSU has had to make since shifting to remote learning on March 23.
Zeigler is teaching two courses, Fundamentals of Speech and Public Speaking, to 481 students in multiple sections this semester.
He said that for classes that typically require face-to-face interaction, like public speaking, remote learning  is not a replacement for the in-person experience, but students are still able to learn the skills.
"Public speaking online is not public speaking, but under this situation, it's working out relatively well," Zeigler said.
Teaching public speaking online presented a unique challenge to Zeigler, a teaching professor in the School of Communication  since 1993.
"When you're in a classroom, you can pay attention to all the channels, and particularly with a lot of experience, you're in control of that space," he said. "In this online space, you have a lot less control over how people are receiving it and how they're responding to it."
Zeigler has been keeping to his class schedule, logging on for each session and trying to keep the same hours. To accommodate all students, he's also recording and posting each class to Canvas, FSU's learning management platform. This way, he said, students who excel with a schedule will still have that option, whereas students who like to have more flexibility can tune in on their own time.
"It gives an option for people who want to maintain a normal schedule, and those who want to sleep until three in the afternoon can come to class later and that's fine," he said.
One of Zeigler's students is Benjamin Linkous, a sophomore studying interdisciplinary medical studies. Struggling with spotty internet speeds and  a family member who was diagnosed with COVID-19, Linkous praised Zeigler for his compassion and support.
"It's a hard time for everyone at the university, but he's doing a great job making sure we're all taken care of outside of the class," Linkous said. "He reaches out to us at least two or three times a week just to check up on us and make sure that we're doing okay. He's turned this whole thing into a very positive experience."
Freshman Nia Alexander approaches public speaking from a unique perspective as an acting major. Even though she gets on stage and acts every day, giving a speech is different from delivering a monologue.
"When I'm acting, I'm fine, but when I'm myself I get really nervous," Alexander said. "Zeigler's class has helped me with fostering connections and has helped me be able to be myself."
Alexander said she prefers delivering speeches via Zoom.
"I can see everyone's faces, and even if my classmates are zoning out, at the very least I know that I have Zeigler's attention," Alexander said.
Zeigler has even found a silver lining to teaching via Zoom.
"Students have the ability to go back to their Zoom meetings and watch their speeches, so they're getting information there that they weren't getting when we were meeting  in  the classroom," he said.
Moving forward, Zeigler emphasized that the most important virtue to employ right now is empathy.
"The number one value in classes right now is compassion, but I don't think you have to tell FSU professors that," he said. "By nature, our institution gets folks that have that as a value already and we don't have to teach that. We already have the right value system for a nurturing education."
To stream the ceremony, visit commencement.fsu.edu.