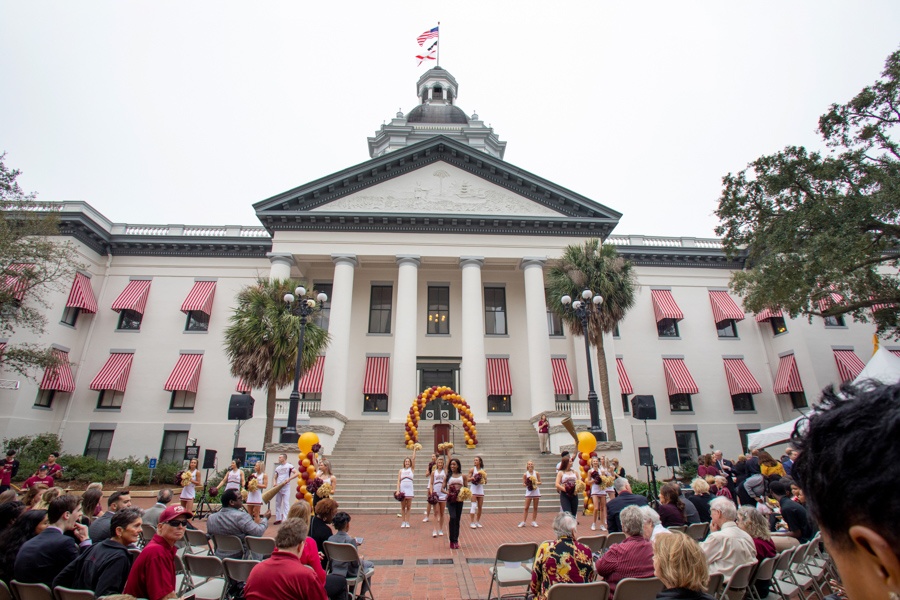 The Florida Capitol was decked out in garnet and gold Feb. 12 as lawmakers and hundreds of FSU alumni and friends gathered to celebrate Florida State University's academic and athletic achievements at FSU Day.
Lawmakers from both the Florida House of Representatives and Florida Senate honored the university for its achievements in resolutions naming Feb. 12 FSU Day throughout the state. Booths representing FSU's colleges and programs lined the first three floors of the Capitol Rotunda, and a pep rally featuring remarks from President John Thrasher, FSU Board of Trustees Chair Ed Burr, Head Football Coach Mike Norvell and Florida Chief Financial Officer Jimmy Patronis, an FSU alumnus, was held in the Capitol courtyard.

The outdoor festivities featured music by the FSU pep band, Seminole Sound, and performances from the FSU Cheerleaders, Golden Girls and Flying High Circus.
The speakers highlighted FSU's rise in the U.S. News and World Report's rankings to the 18th best public university in the nation.
"When I became president at FSU, we set a goal to be ranked as one of the Top 25 universities in the country," Thrasher said. "We have shattered that goal. We are now ranked 18th. There's never been a better time to be a Seminole."
Thrasher also praised Seminole Athletics with all 10 of the currently competing spring teams ranked in the Top 25, and he noted the excitement about the future of FSU Football under Coach Norvell.
With a few student-athletes by his side, Norvell shared his coaching philosophy with the enthusiastic crowd.
"With a new-age approach and old-school values, the foundation for FSU Football is being rebuilt," Norvell said. "We are working hard to represent FSU the way it deserves to be represented."
FSU alumni who currently serve in the Florida Legislature were acknowledged at the event.
FSU Day at the Capitol is an important opportunity for communication between FSU and the Florida Legislature.
"We want to thank our legislators for their commitment to our success and for providing the support to help us reach even higher," Thrasher said. "We think Florida State provides an incredible return on investment, and the evidence of our world-class programs is on display all around the Capitol today."