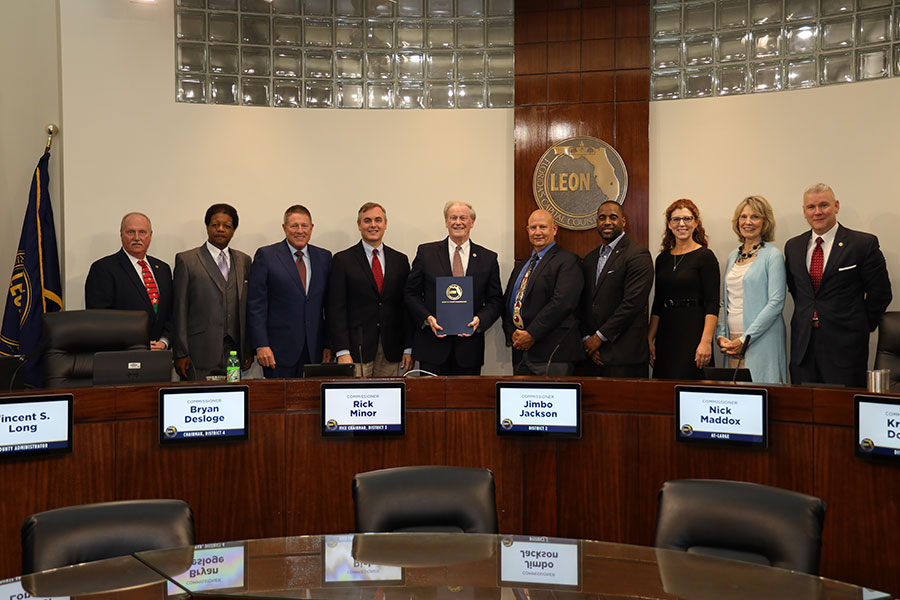 The Leon County Board of County Commissioners recognized Florida State University's contributions to higher education in the state of Florida with a proclamation during the board's regular public meeting Dec. 10.
The proclamation acknowledged Florida State's rise in the national rankings, record number of admissions applications, all-time high graduate student enrollment rates, best four-year graduation rate in the state of Florida and its record research funding in the 2019 fiscal year. It also highlighted Florida State's focus on student success, status as a Diversity Champion and overall impact on higher education learning in Florida.
President John Thrasher accepted the county's proclamation on behalf of the university.
"This is very meaningful coming from you all, and I will make sure that I share it with all of our staff, faculty and students at Florida State University to know that their local county government appreciates this great university," Thrasher said. "We're looking forward to the next year with great enthusiasm and look forward to working with you all to continue the great work at Florida State University and the greatness of this county."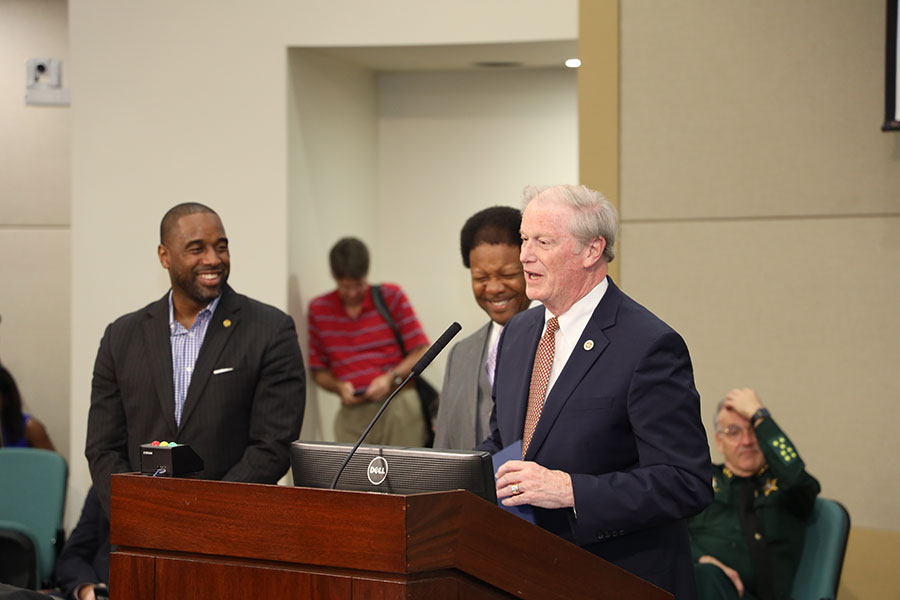 During the meeting, Commissioner Bill Proctor and Commissioner Nick Maddox, an FSU graduate and former running back for the Florida State Seminoles, took turns reading the proclamation, which states:
"Whereas, over the years we recognized the influential, cultural, economic and intellectual impact FSU represents to Leon County and all of Florida.
Whereas, a record-breaking 60,555 first-year students applied for admission to the 2019 summer and fall semesters, a 20 percent increase over last year. The increase in demand for an FSU education led to the largest freshman class in university history.
Whereas, graduate student enrollment is at an all-time high after Florida State University received more than 10,000 graduate school applications.
Whereas, Florida State's four-year graduation rate of 72 percent ranks among the top 10 public universities in the country and number one in Florida.
Whereas, for the sixth straight year Florida State University received "Insight into Diversity" magazine's higher education in diversity award and was named a Diversity Champion for the fourth consecutive year.
Whereas, Kiplinger Personal Finance ranked Florida State University No. 9 on its annual list of best values in public colleges. Florida State University is among the two most affordable universities in the top 20 public universities as measured by U.S. News & World Report.
Whereas, Florida State University's researchers received a record $233.6 million in funding from federal, state and private sources in the 2019 fiscal year to support studies in areas such as health sciences, high energy physics and marine biology.
Whereas, in 2019 Florida State University is now ranked No. 18 in the nation among public universities by U.S. News & World Report. Florida State University is one of the fastest-rising universities in the country and has jumped 25 spots since placing No. 43 among public universities in 2016. This can be attributed to the university's focus on student success, including hiring more faculty to reduce class size and improving the faculty-student ratio.
Therefore, be it resolved by the Board of County Commissioners of Leon County, Florida, find it fitting and appropriate to recognize Florida State University for its outstanding contribution for higher education in the state of Florida."