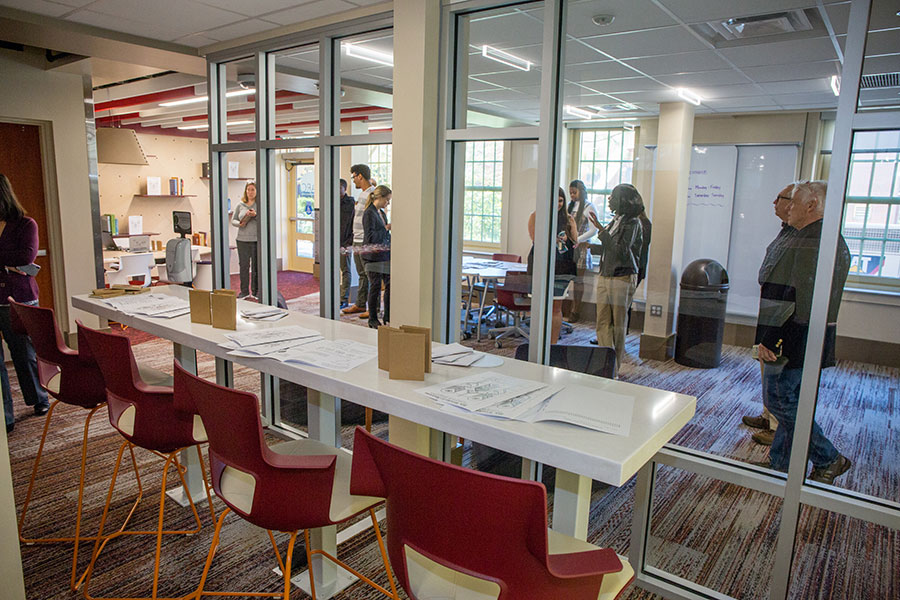 Through the transformation of everyday spaces, Florida State University is helping students find and maintain a balance between working and living.
Florida State University Housing, in partnership with the Academic Center for Excellence, the Division of Student Affairs and the Division of Academic Affairs, debuted the Academic Resource Center during a grand opening ceremony Monday, Nov. 18.
The Academic Resource Center (ARC) is a convenient space for students living on-campus to study, collaborate and excel academically. Whether studying alone or working on a group project, the ARC provides an on-campus space meant to support communal and individual learning. Housed in the ground level of Jennie Murphree Hall, the ARC serves as a supplement to other on-campus study centers, such as University Libraries and the Academic Center for Excellence.
"We're really excited about being able to take this space and reimagine it into something that's productive for our students," said Shannon Staten, executive director of University Housing. "The purpose is to help all of our students continue to succeed so that we continue growing and know that our students are getting the best possible support they can."
The ARC is an alternative to study spaces across campus for the 328 students who reside in Jennie Murphree Hall, which was built in 1921, renovated in 1993 and converted from a women's hall to co-ed housing in 2015. Although the ARC is housed in Jennie Murphree Hall, it is open to all residential students for use.
"For a long time, our campus has been very focused on enhancing the academic culture for students," said Sara Hamon, associate dean of Undergraduate Studies. "We've been longtime partners with University Libraries, but housing also has a lot of space on campus, and it is really exciting to see some of this space developed into learning spaces that I know our students are very hungry for."
Cydney Colins, a freshman majoring in nursing and the Jennie Murphree Hall vice president, said she expects the ARC to have a positive impact on students reaching their full potential.
"This space was created with the academic achievement of students in mind," Colins said. "Even the furniture in this space assists with multiple learning styles and provides many levels of comfort. As a student of Jennie Murphree, I look forward to utilizing the Academic Resource Center for individual and group study."
In addition to providing space for students to study, the ARC also features amenities such as a wireless projector and individual cubicles. The ARC also will employ students through a new, paid peer-assistance program. Students hired through this program will be known as Academic Trainers and work part-time in the ARC assisting other students who are utilizing the space, thus creating a communal learning environment amongst peers.
"We want to make this a space that you can do a lot of things in and connect with each other," Hamon said. "We find out over and over again that students learn best when they study together and help each other, so we hope that this will be a great place for those connections with peers."
The ARC in Jennie Murphree Hall is open from 8 a.m. – midnight Monday through Friday and 12 – 8 p.m. Saturday and Sunday. Another ARC is set to open in Landis Hall Thursday, Nov. 21, but unlike the ARC in Jennie Murphree Hall, the second ARC will only be open to students residing in Landis Hall.
The opening of the ARC was made possible by FSU Facilities, Gilchrist Ross Crowe Architects and Childers Construction.
For more information about the Division of Student Affairs and University Housing, visit studentaffairs.fsu.edu. For more information about the Division of Undergraduate Studies and the Academic Center for Excellence, visit ace.fsu.edu.