Florida State University's annual Three Minute Thesis competition is an opportunity for doctoral students to practice explaining their work to a non-specialized audience, whether that's a group of business executives, legislators who want to know more or a student's curious grandparents at Thanksgiving dinner.
"It's critical that all of us do a better job at explaining what it is we do," said Mark Riley, dean of The Graduate School, which sponsored the event held Nov. 19 at the College of Medicine.
Three Minute Thesis, developed by The University of Queensland in Australia, challenges doctoral students to distill years of study and original research of complex questions into an easy-to-understand presentation that's just three minutes long.
Judges selected Alyssa Henderson, a doctoral student in the Department of Physics, and Sara Jones, a doctoral student in the Department of Biomedical Sciences, as this year's first-place winners. They each earned a $1,000 prize and advance to a regional competition. It is the first time dual winners have been selected at the competition, which The Graduate School has organized since 2014.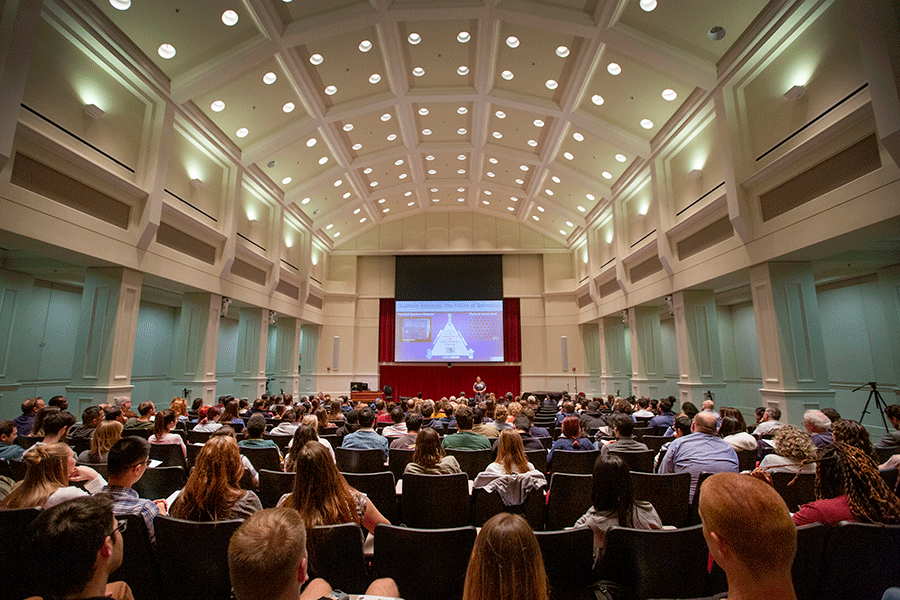 Henderson explained her work developing quantum materials, which are substances that behave differently than normal materials and for which quantum mechanics — the physics that govern subatomic particles like protons, electrons and others — are essential to understanding their properties.
From the centuries-old creation of bronze to the inventions of today that build solar panels, spaceships and more, "Humans are always making better materials," Henderson said. "That's what I do."
She works with materials in which the arrangement of atoms has a special geometry that gives them unusual qualities.
"I am working to develop and truly understand these materials, so we can improve current technology and inspire future technology," she said. "I believe with these materials, we will go to infinity and beyond."
Jones explained her research on how the artificial sweetener aspartame could cause anxious behavior that fathers may pass down to their offspring. She studies how exposure to aspartame affects whether certain genes are turned on or off, and how those changes are passed to descendants, a concept known as transgenerational transmission.
"I hope this research gets us thinking about that concept," she said. "It has global implications for today and for generations to come."
The experience of translating her research into simple language is something she expects will be helpful in her future.
"I've learned a lot about public speaking," she said. "Hearing people's understanding and opinions on my research has been really interesting as well."
Bryan Keller, a doctoral student in the Department of Earth, Ocean & Atmospheric Science, won second place for his presentation on how sharks use the Earth's magnetic field to navigate. He received a $750 prize.
Grace Kennedy, a doctoral student in the Department of Psychology, claimed the "People's Choice" award and a $500 prize for her presentation about weight stigma in anti-obesity campaigns.

Other finalists in this year's Three Minute Thesis competition included:
Abigail Cullen, Nutrition, Food, and Exercise Sciences
Yourri-Samuel Dessureault, Industrial and Manufacturing Engineering
Joseph Harmon, History
Shar'Dane Harris, Family and Child Sciences
Peipei Hong, Family and Child Sciences
Feilin (Falina) Lai, Geography
Mohammadreza Paraan, Molecular Biophysics
Seyedahmad Rahimi, Educational Psychology & Learning Systems
Renee Richardson, Earth, Ocean & Atmospheric Science
Hila Sharon David, Educational Psychology & Learning Systems
Kirsten Tucker, Chemistry & Biochemistry
Master's degree students also will have an opportunity to translate their research into a presentation for general audiences, and they get a whole extra minute to work with. The Graduate School will host the "Master's in Four" competition during the spring semester. The registration deadline is Jan. 13, 2020. Visit www.gradschool.fsu.edu/Mi4 to register.