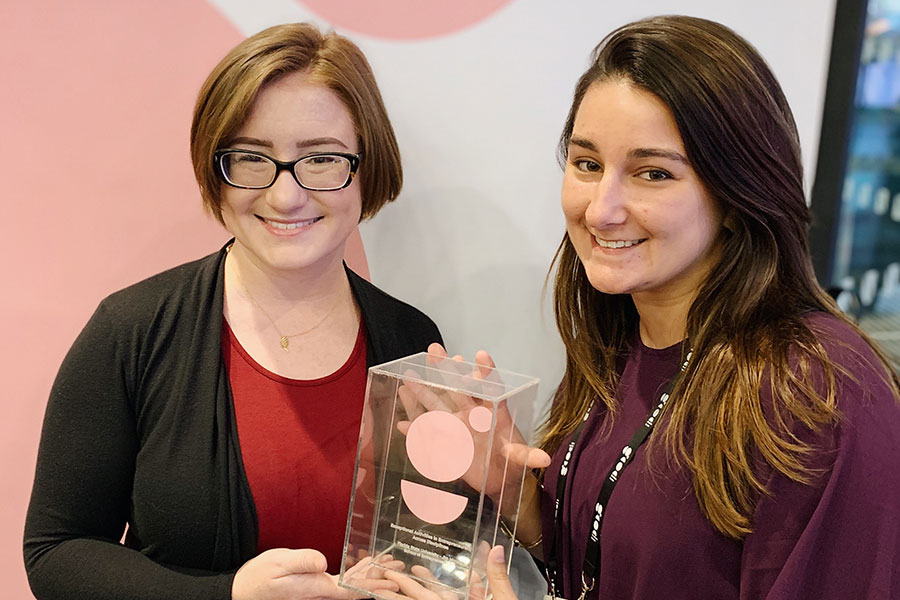 Florida State University's Jim Moran School of Entrepreneurship won an international award in recognition of its interdisciplinary focus across campus.
Staff members Kirsten Frandsen and Kaitlin Simpson accepted the award in the Exceptional Activities in Entrepreneurship Across Disciplines category during the Global Consortium of Entrepreneurship last month in Stockholm, Sweden. The school beat out entries from 100 universities from around the world.
"The Jim Moran School of Entrepreneurship was built upon the shoulders of great leaders, Jim and Jan Moran, Dean Emeritus Dr. Melvin Stith, President John Thrasher and Provost Sally McRorie," said Susan Fiorito, director of the Jim Moran School of Entrepreneurship. "The faculty, staff and students are appreciative for the opportunities that they have given us to promote interdisciplinary entrepreneurship, campus-wide to all students at Florida State University."
The award honors a center or school dedicated to creating, advancing and enabling entrepreneurship education opportunities to multiple audiences across their respective campus.
The Jim Moran School has developed over 50 unique courses in entrepreneurship that spread across various disciplines, including Themed Experiences, Mechatronics, Intrapreneurship, Biomedical Innovation and Entrepreneurship and Music Entrepreneurship. During the 2018-2019 academic year, 21 percent of all FSU undergraduate students took an entrepreneurship course offered through the Jim Moran School. That number included students from 124 different majors across campus.
The selection criteria for the award included creativity of multidisciplinary approach, measured impact across campus and diversity of partners and stakeholders.
For more information on the Jim Moran School of Entrepreneurship, visit https://jimmoranschool.fsu.edu/.