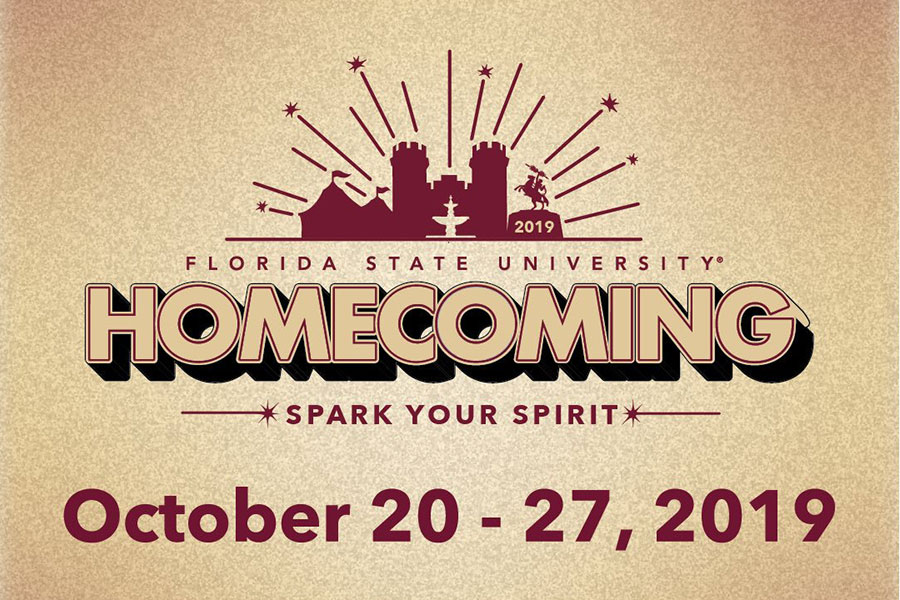 Florida State University will celebrate Homecoming Week with this year's theme "Spark Your Spirit" from Sunday, Oct. 20, through Sunday, Oct. 27.
A Homecoming concert kicks off a week of festivities that include alumni events, a street parade and the annual Pow Wow pep rally. The week is highlighted by the FSU-Syracuse football game at 3:30 p.m. Saturday, Oct. 26.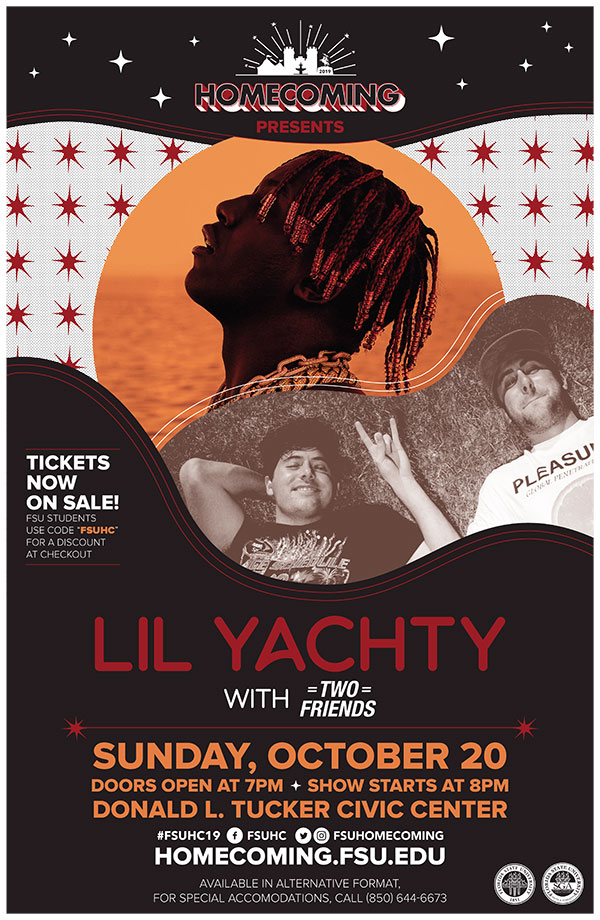 SUNDAY, OCT. 20
• This year's Homecoming Concert will feature artist Lil Yachty at 8 p.m. at the Donald L. Tucker Civic Center. Tickets are available at https://www.tuckerciviccenter.com/.
FRIDAY, OCT. 25
• The annual Homecoming Parade organized by the Student Alumni Association will begin at 2 p.m. The parade will head north along Martin Luther King Jr. Boulevard, turn west along College Avenue and south onto Copeland Street. FSU Head Softball Coach Lonni Alameda will serve as grand marshal. The parade features President John Thrasher and First Lady Jean Thrasher, the Marching Chiefs, FSU cheerleaders and floats made by different student organizations. The event also will be livestreamed at http://www.facebook.com/fsualumniassociation.
• The Alumni Awards Gala will award deserving alumni who have made tremendous contributions in their careers and on behalf of Florida State University. This year, the association is proud to honor seven FSU graduates who have gone on to do amazing things. The gala will take place at 5:30 p.m. in the FSU Alumni Center Courtyard and Ballroom. For details and event registration, visit https://alumni.fsu.edu/gala.
• Pow Wow, FSU's largest pep rally, starts at 8 p.m. at the Donald L. Tucker Civic Center. The event includes performances by comedian and actor Pete Davidson and special guest Ricky Velez. The Homecoming Chief and Princess will also be announced. The event is free for student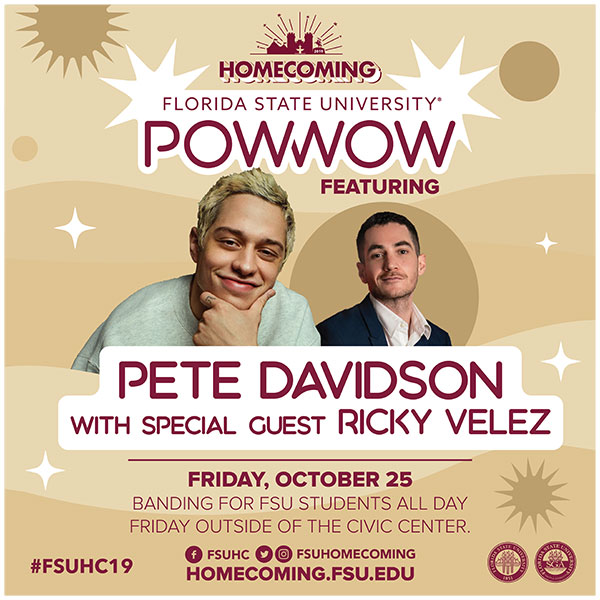 s with a valid FSU ID, and tickets are available for the general public at https://homecoming.fsu.edu/events/pow-wow. Students can get their Pow Wow ticket by getting a wristband in front of the Civic Center between 10 a.m.-1 p.m. and 4 p.m.-7 p.m.
SUNDAY, OCT. 27
• The Emeritus Alumni Society will host the Emeritus Class of 1969 Induction Brunch & Emeritus Alumni Society (EAS) Awards Ceremony to welcome their newest members. The brunch will take place at 10 a.m. in the Alumni Center Grand Ballroom. For event registration and a list of other Emeritus-related events happening during Homecoming, please visit https://www.eventbrite.com.
• The FSU National Black Alumni Awards Brunch will be held to bring alumni together to socialize, network and link the accomplishments of the past with a direct focus on enhancing the future at FSU. The brunch will take place at 11:30 a.m. in the Black Student Union. For additional details and event registration, go to https://www.eventbrite.com/.