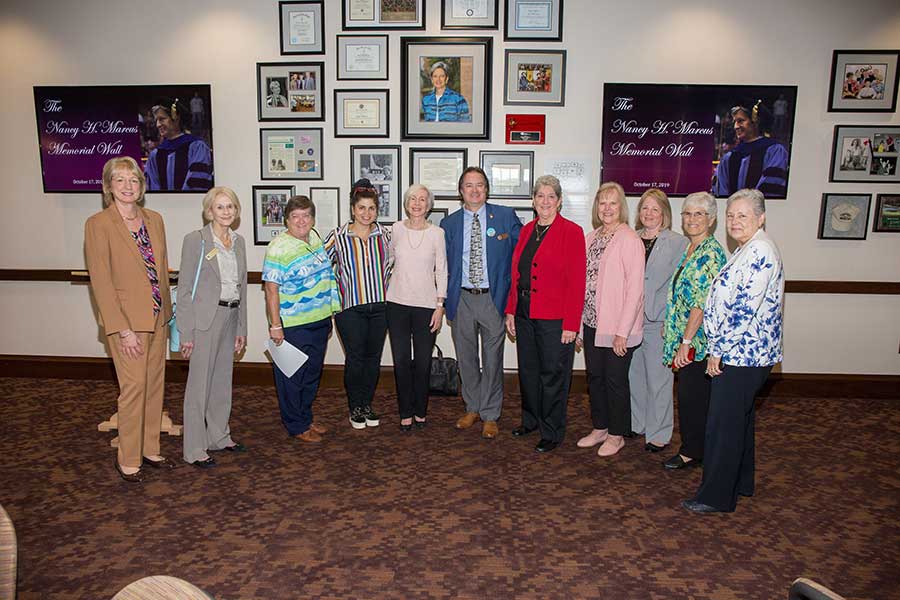 When Florida State University students walk into the Nancy H. Marcus Great Hall in the Honors, Scholars and Fellows Building, they won't have to wonder about the woman who the room is named after. They will have pictures, awards and write-ups honoring Marcus' legacy thanks to a new memorial wall unveiled Thursday, Oct. 17.
The Nancy H. Marcus Wall is a tribute to the esteemed oceanographer, longtime educator and former dean of the FSU Graduate School. The wall was showcased as part of an open house for the Honors, Scholars and Fellows Building, which Marcus was instrumental in creating.
FSU administrators, students and friends of Marcus attended the event. Mark Riley, dean of the Graduate School Dean presided over the program.
"Is this awesome or what?" Riley said. "What Nancy achieved at Florida State and what she did to propel the graduate experience and the whole experience at FSU forward is beyond epic. To those who knew her Nancy was a hero, and her contributions were simply extraordinary. Everything she touched she transformed for the better."
Riley, who succeeded Marcus as dean after her 12-year tenure, highlighted some of her many accomplishments. She previously served as chair of the Department of Oceanography, as well as director of the FSU Coastal and Marine Laboratory and the FSU Women in Math, Science and Engineering program. 
In 2001, Marcus was named the Robert O. Lawton Distinguished Professor, the highest honor FSU faculty can bestow upon a colleague.
"We wanted Nancy to be in the room when all you young people are having fun in here and deciding how to move forward not only with your own research and education, but also just getting to know people — because it's all about community," he said.
The Honors, Scholars and Fellows House was designed to promote a sense of community among FSU's best and brightest students. Karen Laughlin, FSU's Dean of Undergraduate Studies, was a part of the team that initiated the building, along with Marcus. In her remarks Laughlin shared some of her fondest memories with Marcus and even a confession.
"I always got to sit next to Nancy at commencement because of the order in which the deans are seated," she said. "Commencement is long. So, we'd look at all the interesting shoes and comment on the amazing footwear everybody was wearing. Nancy and I had a few good giggles about that."
Laughlin also talked about the importance of community in their vision to create a space where undergraduate and graduate students could interact.
"I think it's such a wonderful tribute to Nancy, to all of the vision and all that she contributed to graduate education, but also the university as a whole," Laughlin said. "I'm honored to be a part of this celebration. I just want to say how much I hold the memory of Nancy and the privileges I had to interact with her, and how nice is it now to have this more expansive tribute to her beyond her name on the door."
Lilian Garcia-Roig, professor in the Department of Art, talked about Marcus' role in getting student art displayed throughout the honors building and how she helped raise scholarship funds for those students.
"I know that meant a lot to Nancy, because although she was primarily a scientist she was always trying to find ways to have the humanities and visual arts included," Garcia-Roig said. "She really understood that the sciences get a lot more money than art, so this was her way to help give the visual artists a little bit more recognition that they do deserve in this lovely building."
Garcia-Roig also expressed her gratitude for the opportunity to help design the memorial wall and discussed its importance for the future.
"I think it is important when you walk into a place that you don't just see a name on a wall, because a generation from now it's just a name but this wall is forever," she said. "People will be able to come here and learn a little bit about the specific life of Nancy Marcus and really connect with something and be inspired by it and for that I'm very grateful to be a part of this."
Marcus' partner Cecile Reynaud thanked attendees for their support and said she was so pleased with everything the Graduate School and Dean Riley had done to honor Marcus.
"It's really been tremendous," Reynaud said.
She closed her remarks with the announcement of a gift in Marcus' honor to create a stained glass window for the Graduate School in FSU's historic Heritage Museum.
Overwhelmed with emotion, Riley closed the program by inviting guests to study the wall and to visit it again and again.
"We get by standing on the shoulders of giants," he said. "Nancy was a giant. She's here and I truly believe she'll keep inspiring all of you and future generations that come to this room for a long, long time."