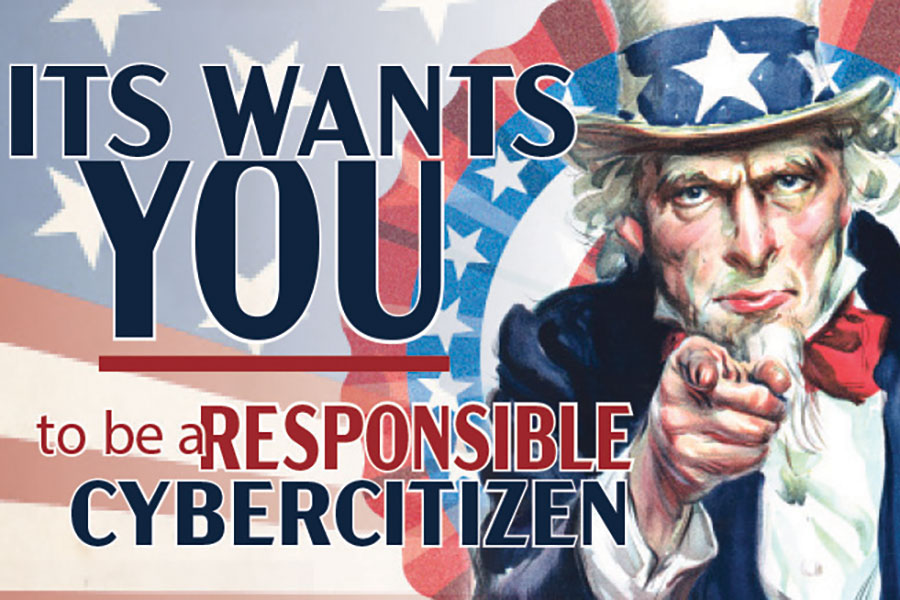 Join the cause and sign the Cyber Pledge to help keep Florida State University secure.
October is National Cybersecurity Awareness Month, and this year Uncle Sam, Rosie the Riveter and other iconic American figures are encouraging FSU students, faculty and staff to join the cause and be responsible cybercitizens.
Information Technology Services (ITS) is hosting a Cybersecurity Boot Camp campaign to enlist Noles in the war against cyberthreats and educate and spread the word about data privacy, phishing scams and social media security.
Keeping the FSU community safe online is one of the highest priorities for ITS. However, cybersecurity is a team effort. It is up to everyone at the university to do their part and help keep FSU secure.
"Ensuring the security of FSU data falls not only on the shoulders of ITS, but the FSU community as well," said Bill Hunkapiller, chief information security officer. "That is why we host our annual Cybersecurity Awareness Month — to spread awareness and knowledge on how to keep yourself and others safe in this digital world."
As part of the campaign, ITS is encouraging the entire university community to pledge to be a responsible cybercitizen by signing the FSU Cyber Pledge. All current FSU students and employees who sign the pledge will be entered into a grand prize drawing for one of four $500 tuition scholarships (students) or a 32GB iPad (employees). The Cyber Pledge giveaway runs October 7-18.
ITS will also host training events with tech giants Cisco, Symantec and LinkedIn Learning throughout the month. Students, faculty and staff are invited to come connect with other recruits and learn about online security. A full list of training sessions is available on the ITS website at its.fsu.edu/cybersecurity.
For more information or to sign the Cyber Pledge, visit its.fsu.edu/cybersecurity.
About National Cybersecurity Awareness Month 
Held every October, National Cybersecurity Awareness Month (NCSAM) is a collaborative effort between government and industry to raise awareness about the importance of cybersecurity and to ensure all Americans have the resources they need to be safer and more secure online. For more information, visit staysafeonline.org/ncsam and www.dhs.gov/national-cyber-security-awareness-month.