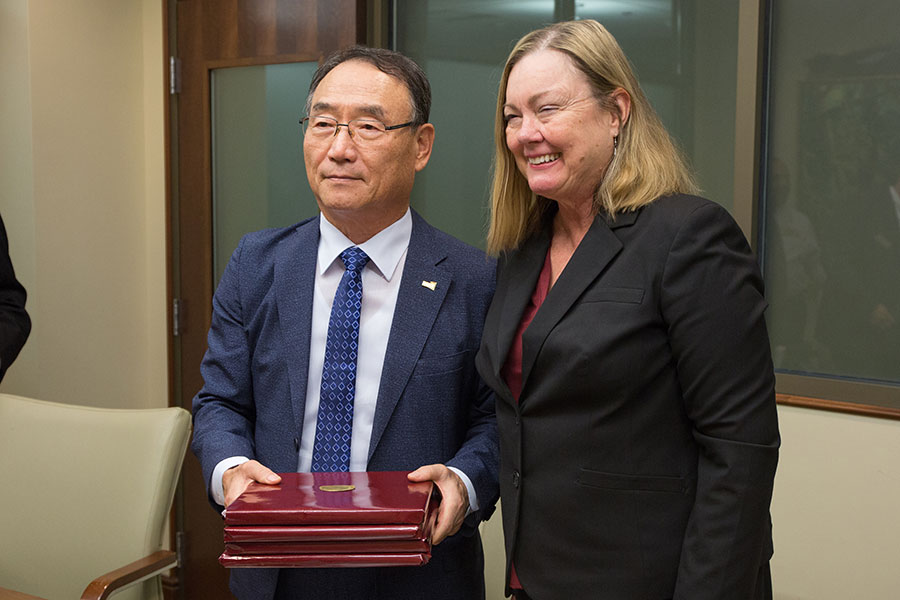 Florida State University welcomed a delegation from Kyonggi University in South Korea for a campus visit Friday, Oct. 4.
President In Kyu Kim led Kyonggi's delegation. Kim is a long-time television news reporter and former head of the Korean Broadcasting System.
During the visit, Kyonggi University representatives met with Provost Sally McRorie, faculty members, staff from the Center for Intensive English Studies and the FSU Center for Global Engagement and two Korean journalists who are visiting scholars at FSU this year.
Kim and McRorie also signed a memorandum of understanding, providing an avenue for collaboration and cooperation between the two universities.
Kyonggi University (KGU) is an accredited, private higher education institution, established in 1947, KGU has more than 17,000 students on two campuses in Seoul and Suwon. The university has actively established internationalization through sister-university relationships with 270 colleges of 41 countries around the world, including 48 universities in the United States.
More than 1,500 international students are enrolled at KGU. The university has 300 outbound exchange students and 150 inbound exchange students with more than 100 sister universities.