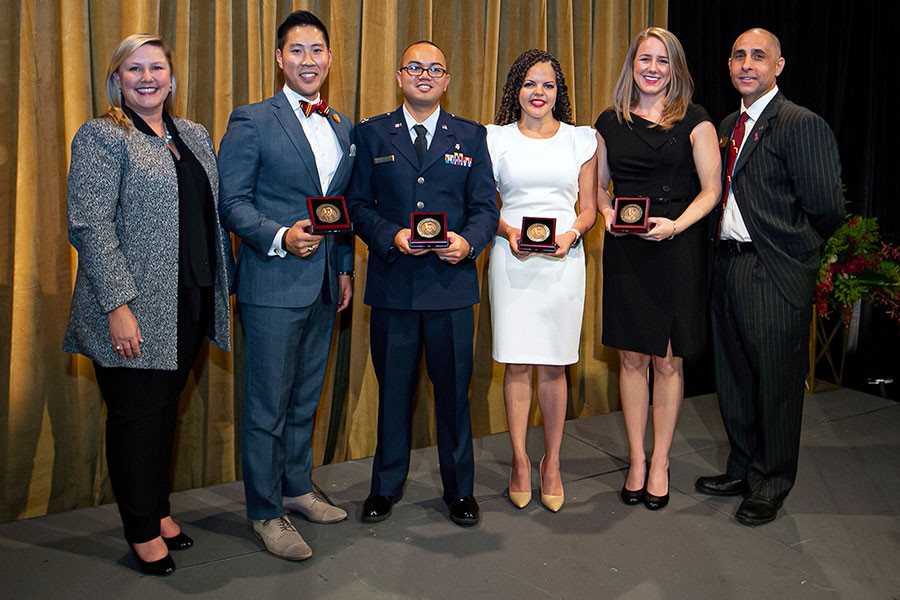 The Florida State University Alumni Association recognized 22 young alumni for their significant contributions to their professions, communities or alma mater at the eighth annual Young Alumni Awards Dinner Friday, Sept. 20.
The Notable Noles program recognizes the outstanding accomplishments of FSU's alumni age 35 or younger who have made exceptional achievements and significant contributions to his or her profession, community/society or the university through traditional channels or innovative approaches.
"This year, the Alumni Association received hundreds of nominations for the Notable Noles Young Alumni Award," said Julie Cheney, president and CEO of the FSU Alumni Association. "The 22 alumni selected have truly attained outstanding success in the short time since they graduated from Florida State and we are so proud of them."
Four Notable Noles were also presented with the Reubin O'D. Askew Young Alumni Award, the highest honor bestowed upon young alumni by the FSU Alumni Association. Named in honor of former Gov. Askew, this award recognizes his contributions to the state, nation and university. These young alumni continue Askew's legacy of outstanding accomplishments built on the foundation of their education from Florida State University.
The 2019 Reubin O'D. Askew awardees are:
Capt. Danilo Belarmino (B.S.N. '08) of Schertz, Texas, is currently serving on active duty as an ER/trauma nurse in the United States Air Force. He has received multiple awards and decorations including an Air Force Achievement Medal, an Air Force Commendation Medal, and Company Grade Officer of the Quarter on three separate occasions. He was elected treasurer to the Company Grade Officer Counsel and was one of five registered nurses to be selected for the highly competitive ER/Trauma Nurse Fellowship.
Zach Heng (B.S. '07) of Washington, D.C., is a vocal business leader educating and partnering with various Fortune 500 companies through his involvement with Ascend Leadership, the largest nonprofit organization for Pan Asian business professionals in North America. He was awarded the High Impact Leader of the Year at Ascend's regional conference in 2018 for his contributions to the Washington, D.C. community and was elected president of the chapter in 2019, becoming the youngest national leader in the organization's history.
Aurélie Mathieu (B.A. '12) of Washington, D.C., currently serves as an assistant attorney general for the District of Columbia and as a trial attorney in the Commercial Division, where she helped the District save millions in property taxes last year by defending the District's property tax assessments. She also helps the underserved Haitian community in the Washington, D.C. area by hosting pro bono immigration clinics with prominent Haitian attorneys and local immigration lawyers for Haitians currently under temporary protected status.
Ashley Russell (B.S. '11, M.S. '13, Ph.D. '17) of Washington, D.C., continues to fight for justice for those who cannot fight for themselves as senior consultant at Booz Allen Hamilton. Her most recent project includes starting up a human trafficking capacity building center through the Department of Justice. She also volunteers with the International Justice Mission, where she currently serves as project coordinator for a study of online sexual exploitation of children in the Philippines.
The remaining 2019 Notable Noles are:
Kevin Albaum (B.A. '11), Lakeland, Florida
Attorney, Clark Campbell Lancaster and Munson, P.A.
Austin Burch (B.S. '17), Miami, Florida
Director of Operations, Papa, Inc.
Sean Compton (B.S. '08), Chattanooga, Tennessee
President, Southern Spear Ironworks, LLC
Dan Daley (B.S. '10), Coral Springs, Florida
State Representative, State of Florida
Sarah Gates (M.S. '17), Pasadena, California
Assistant Director of Game Operations, University of Southern California – Department of Athletics
Jason Hendrix (M.S. '11), Tallahassee, Florida
Director of Communications, Florida Sports Foundation
Fahad "Sunny" Ilyas (B.S. '14), Tallahassee, Florida
Owner & Operator, Vale Food Company
Chris Land (B.S. '11), Cheyenne, Wyoming
General Counsel, Division of Banking, State of Wyoming; Research Fellow, Northwestern University Pritzker School of Law
Colin O'Connor (B.S. '11), Tampa, Florida
Chief Operating Officer, ReliaQuest
Kevin Patterson (B.S. '11), Oviedo, Florida
Teacher, Oviedo High School, Seminole County Public Schools
Jamie Leigh Price (B.S. '12, M.P.A. '14), Alexandria, Virginia
Mitigation Investment Lead, Federal Emergency Management Agency
Trent Reichling (B.S. '06), Ft. Myers, Florida
Assistant United States Attorney, United States Attorney's Office – Middle District of Florida
Rachel Rossin (B.F.A. '09), Brooklyn, New York
Multimedia Artist
Georgia Thompson (B.S. '07), Washington, D.C.
Senior Program & Policy Analyst, Nemours Children's Health System
Briana Toole (B.A '10), Brooklyn, New York
Post-Doctoral Fellow, Department of Philosophy, Baruch College
Thomas Whitley (Ph.D. '16), Tallahassee, Florida
Chief of Staff, Office of the Mayor, City of Tallahassee
Siri Wilson (B.S. '06), Atlanta, Georgia
Foodborne Disease Epidemiologist, Georgia Department of Public Health
Matt Zobel (B.S. '16), Alpharetta, Georgia
Client Marketing Manager, Element Sports Group
For more information on the Young Alumni Awards, visit alumni.fsu.edu/young-alumni-awards.