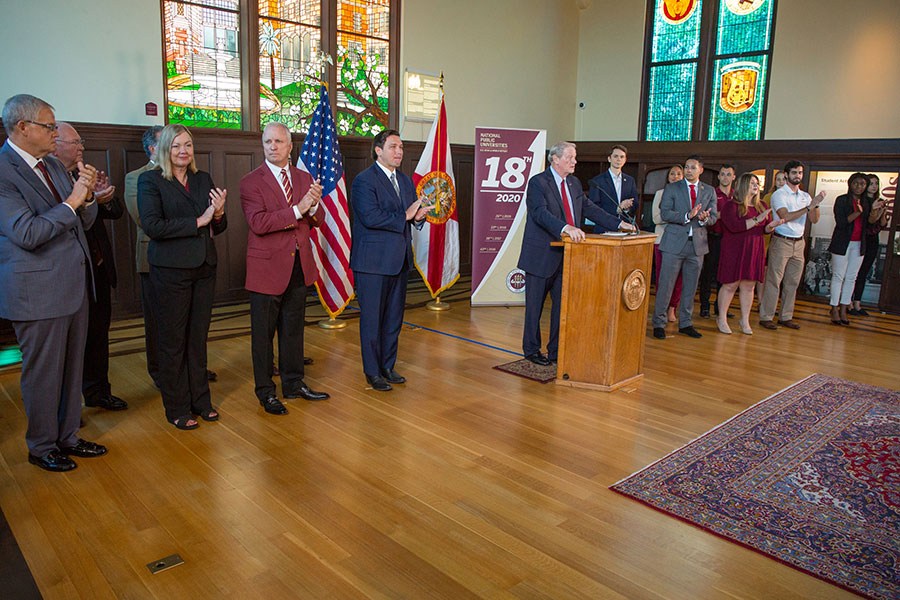 Gov. Ron DeSantis and other state officials joined President John Thrasher, longtime faculty, key administrators and staff members, and high-achieving students at Florida State University's historic Dodd Hall Monday morning to celebrate FSU's ascent to No. 18 among national public universities in the latest U.S. News & World Report rankings.
FSU vaulted eight spots in the U.S. News Best Colleges 2020 rankings, not only meeting its goal of joining the Top 25, but cracking the Top 20. It's the greatest single-year improvement in university history.

"We're one of the fastest rising universities in the nation — and that's because our faculty, staff and students demonstrate a commitment to academic excellence every day," said President John Thrasher.
DeSantis, a champion of higher education, along with Florida Chief Financial Officer Jimmy Patronis and state Sen. Bill Montford, recognized FSU's rapid rise of 25 spots over the past five years.
"When you see the improvement, it's very, very dramatic," DeSantis said. "To go from 26 to 18, that is a remarkable ascent. From John (Thrasher) and his team and the administration to the faculty and the alumni and the Board of Trustees — everyone who's been involved, as Governor, I want to salute you for your efforts."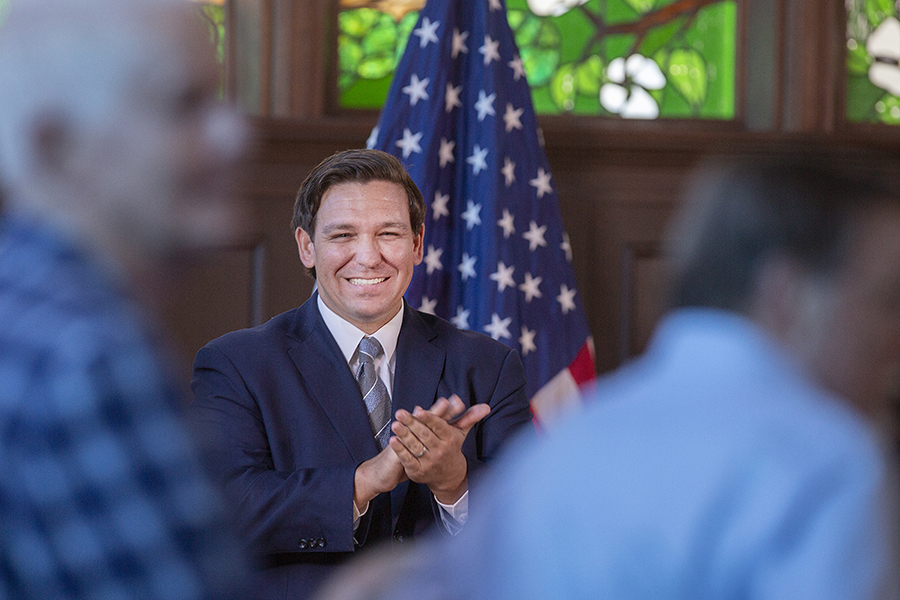 FSU Board of Trustees Chairman Ed Burr said that five years ago when the university selected Thrasher as president, he was the only candidate who understood how important it was for FSU to break into the Top 25.
"He took that job and a commitment to get us there, really, against all odds," Burr said. "Many people, especially academics around the state, said we'd never get to the Top 25."
Burr said that FSU accomplished the feat by investing state funding wisely in resources that would make a difference in student success and credited Provost and Executive Vice President for Academic Affairs Sally McRorie for her leadership.
McRorie thanked her entire team "for keeping an ever-watchful eye on the many, many metrics and doing what it takes to help us implement high-impact practices that will better serve our students."
"This rise in the rankings reflects our focus on student success, which has always been a hallmark of Florida State," McRorie said. "I've been here for 25 years, and one of the things that made me fall in love with this university was its student-centered approach to higher education." 
McRorie also praised the university's enrollment management team that includes representatives from offices across campus, such as advising, admissions, institutional — even parking services.
"This data-driven approach has allowed us to very carefully and strategically allocate the resources the Legislature has entrusted us with," McRorie said.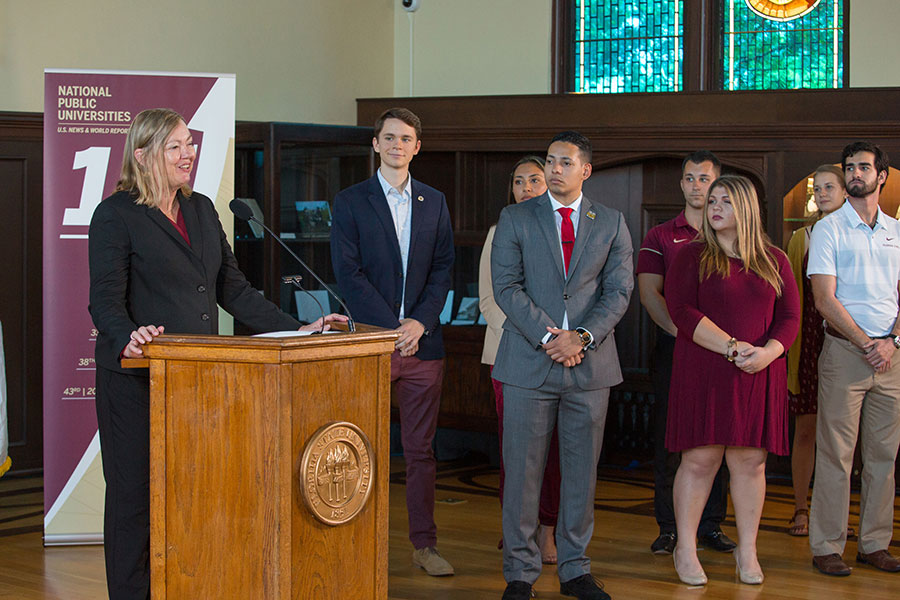 Professor of History Kristine Harper, who is president of the FSU Faculty Senate and a member of the Board of Trustees, spoke on behalf of the faculty. She noted the ranking reflected a lot of work from faculty and staff in every corner of the university.
"Reaching No. 18 has been a team effort, and here at FSU, everyone is on the team working to give our students the opportunity to reach their full potential in a special community of scholars that's pushing the boundaries of knowledge and expanding our vision of the world," she said.
Evan Steinberg, president of the Student Government Association and a member of the FSU Board of Trustees, commended the university for doing everything possible to help students succeed in their chosen areas of study, their future careers and in life. 
"We are pushed and encouraged to participate in experiential learning, to engage in transformative opportunities," Steinberg said. "Today's news is evidence of how deeply our  faculty members and administration care about the well-being and success of our student body. On behalf of the FSU student body, we can't thank you enough."
Marshall M. Criser III, chancellor of the State University System, expressed his pride in the entire university system. Criser, who is a University of Florida graduate and son of a former UF president, lauded FSU for its dedication and commitment to student success. 
"I've only said these two words two other times," Criser said. "The first time was when John was installed (as president). The second time was when you broke the ceiling on four-year graduation rates. So what I'd like to close with is 'Go Noles!'"