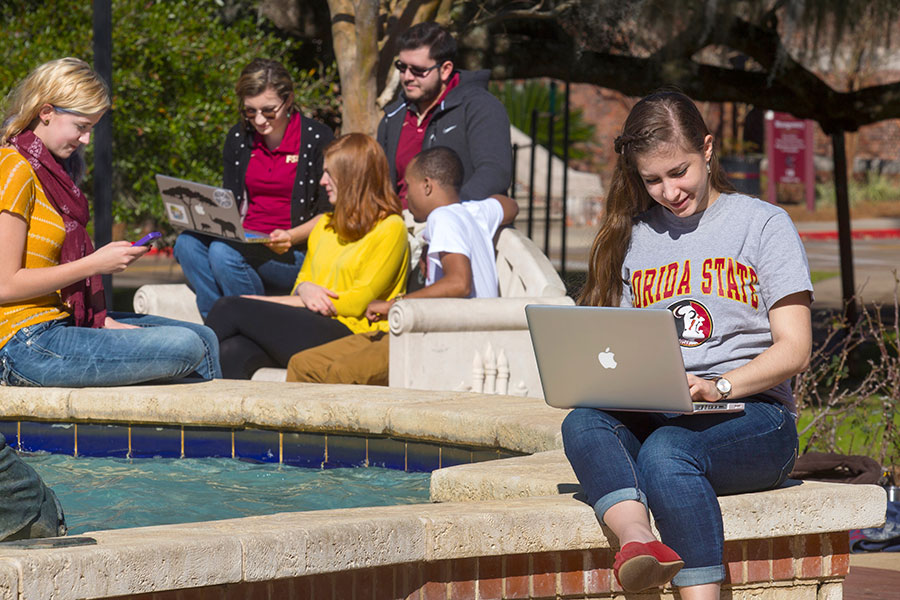 More than ever, students are pursuing college-level courses in high school, allowing them to finish their undergraduate degrees in record time.
Now, Florida State University is offering these high-achieving students an opportunity to participate in "More in Four," a new program for those who want to maximize their four-year college investment by graduating with a bachelor's degree in three years and then advancing into one of FSU's 120-plus graduate programs.
"Our research indicates that students who challenge themselves with a rigorous curriculum in high school are better prepared for the rigor they will face at Florida State," said John Barnhill, associate vice president for Enrollment Management. "They have higher GPAs, and they graduate in four years or less. More in Four recognizes their hard work in high school and provides them a unique opportunity to leave the university with more than a bachelor's degree."
FSU admits a large number of first-year college students who have earned college credit in high school through Advanced Placement (AP), International Baccalaureate (IB), Cambridge AICE Diploma Credits (AICE) or dual enrollment in state or community college programs. Some students have even earned an associate degree before arriving at Florida State.
And, enrolling these high-achieving students is one reason why Florida State University just set a record for the best four-year graduation rate in State University System of Florida history.
"FSU is committed to providing a challenging and formative educational experience for all of our students," said Assistant Provost Joe O'Shea. "Increasingly, students are coming to FSU with significant levels of college credit from high school, and More in Four is designed to ensure they have opportunities to take full advantage of that credit by building in graduate education as part of their FSU experience."
Taking courses at the graduate level can enrich a student's educational experience, sharpen their research skills, improve their resume and help them move toward their post-graduation goals.
Students who participate in the More in Four program are offered specialized advising and support through the Graduation Planning and Strategies Office while they work toward a bachelor's degree and explore their best options for graduate study. In addition to master's programs, FSU also offers graduate certificate programs that are a good option for helping students achieve their career and professional goals.
More in Four participants also receive degree program plans and priority registration through their participation in the Degree in Three program, allowing them to register for courses in the earliest registration window.
Most importantly, More in Four participants can take full advantage of their financial aid benefits, such as Bright Futures, to help with graduate school tuition. And, earning a master's degree means they'll be able to enter higher-salaried positions that require advanced degrees sooner.
Students who receive a master's degree can expect to earn about $400,000 more in lifetime income than those with only a bachelor's degree, according to Georgetown University's Center on Education and the Workforce. In addition, graduate school provides students the opportunity to dive deeper into the subjects they are passionate about and network with professionals in their field.
Affordability and the opportunity to accelerate her career are what attracted aspiring social worker Avory Billman to pursue More in Four. Billman, a native of Lawrenceburg, Indiana, arrived at Florida State in 2017 as a first-time college student who had earned an associate degree in high school. This summer, Billman graduated with her bachelor's degree in social work, and now she's studying for her Master of Social Work.
"I was paying out-of-state tuition at first, so it was a big deal for me to get my bachelor's degree as quickly as I did," Billman said. "Also, I really want to be in the field, and I can't do that without my education. This is giving me a jumpstart because I'm really close to being able to practice."
For more information on More in Four, visit https://gps.fsu.edu/more-in-four.