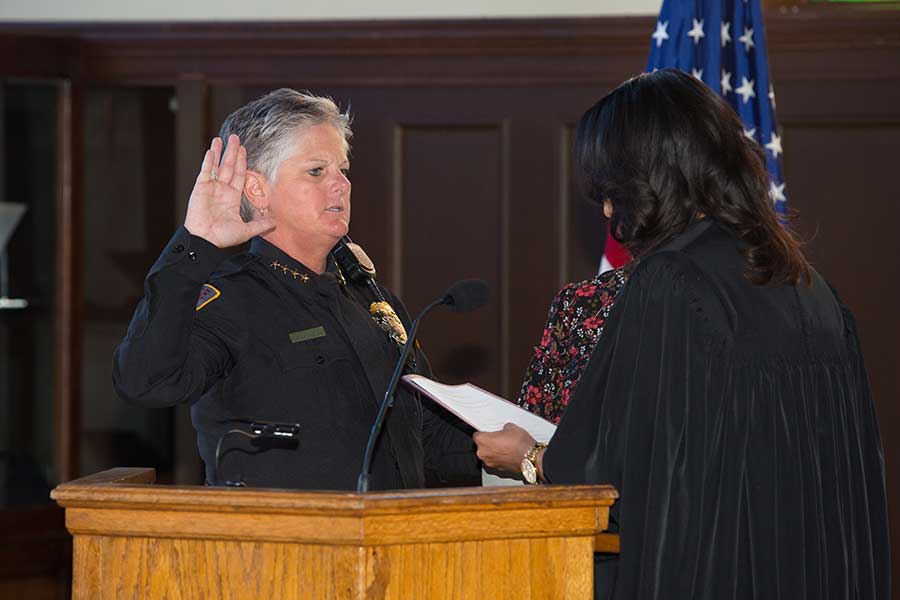 In the picturesque and historic Dodd Hall, longtime Florida State University police officer Terri Brown was sworn in as FSU's first female chief of police.
In front of dozens of family, friends and FSU supporters, FSU President John Thrasher opened the Sept. 6 event thanking Brown for taking on her new role.
"She has the knowledge, the experience and the respect of the entire department and of the campus and law enforcement communities," Thrasher said.
Brown has spent her entire career with the Florida State University Police Department and had served as Deputy Chief of Police since 2018. She is a 2014 graduate of the FBI National Academy, and earlier this year she was honored with the Florida Police Chiefs Association's President's Award.
Those accolades were shared with attendees by Kyle Clark, FSU vice president of finance and administration. Clark called Brown a positive and collaborative professional, with a passion for community building.
"Chief Brown has great ideas about how to move the department forward through proactive engagement and communication, and I could not be more excited about the future of the department," Clark said.
The Honorable Nina Ashenafi Richardson, judge of the 2nd Judicial Circuit of Florida, swore in Brown. She offered her own congratulatory remarks before starting the formal proceedings.
"I feel the spirits of the first women who went to Florida State smiling and cheering you on now that we have the first woman chief of the FSU Police Department," Ashenafi Richardson said. "I'm honored to be here to swear you in. It's a privilege."
With her wife Jackie by her side, her hand on the Bible and right hand lifted, Brown repeated the oath.
"…and that I will well and faithfully perform the duty of chief of police for the Florida State University Police Department on which I am now about to enter so help me God."
Following her swearing-in, Brown briefly addressed the audience, thanking the administration, her family and supporters for their presence. She reminisced on her own journey to the role of chief, working full time and driving back and forth for months to attend the police academy in Marianna.
"I graduated top of my class, began my career at FSUPD and never looked back," Brown said.
The new chief said she was proud of the men and women both sworn and non-sworn who would work under her leadership. She thanked them for their commitment to serve the FSU community with pride and professionalism, and pledged to strengthen the department's relationships with staff, students and community partners.
"I want to keep FSU a safe place to live, work and study," Brown said.
She called her new role an honor.
"I understand the significance of the decision to serve as chief," she said. "If I can inspire other women or serve as a role model to other women in the field of law enforcement and beyond, then that is an opportunity I will forever cherish."
Brown, who has twice been named FSU Officer of the Year, was appointed to the office on August 31. She replaced David Perry who resigned from the position after 13 years in the role. Clark joked about her whirlwind first week on the job.
"Her first week here we only had to prepare for a Category 5 Hurricane and move a football game in 48 hours," Clark said.  "I can't wait to see what you'll do for the rest of the month."
FSUPD Captains Justin Maloy and Jason Trumbower closed the program congratulating their new leader with a plaque marking the occasion.
The FSU Police Department is a fully accredited law enforcement agency employing approximately 80 sworn officers and is responsible for law enforcement, campus access and security services, and emergency management on campus properties.