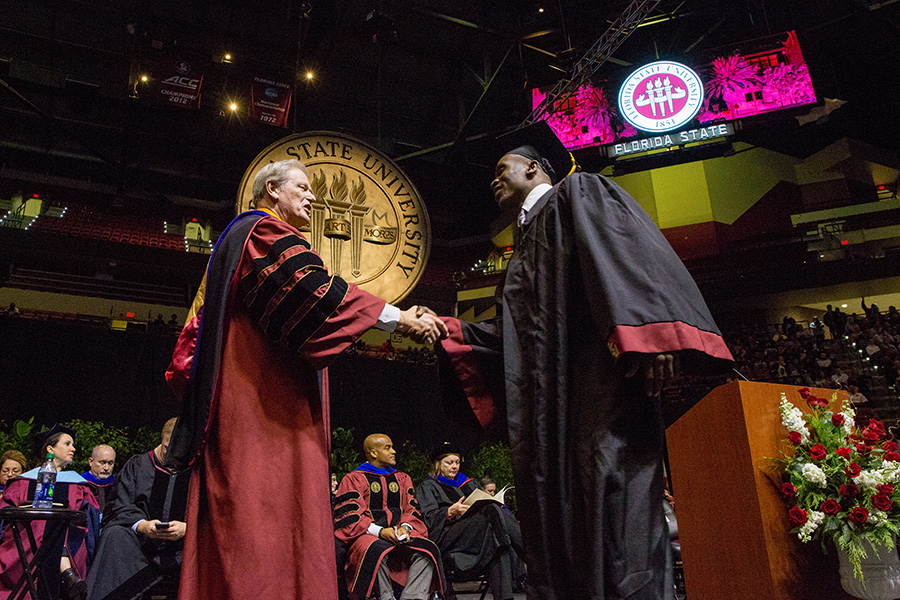 Florida State University will host summer commencement ceremonies Friday, Aug. 2, and Saturday, Aug. 3, at the Donald L. Tucker Civic Center.
Allan Bense, a former chair of the FSU Board of Trustees and former Speaker of the Florida House, will deliver the keynote address Friday evening.
Retired Lt. Col. John Crowe, who served as a U.S. Air Force pilot for 28 years and later led a paper manufacturing company, will be the featured speaker Saturday morning.
Florida State will award degrees to 2,673 students this summer, including 1,783 bachelor's degrees, 682 master's and specialist's degrees, 177 doctorates, 9 Juris Doctor degrees and 22 Juris Master and LL.M. degrees. More than 1,400 students are expected to participate in the two ceremonies.
The ceremonies will take place at 7:30 p.m. Friday, Aug. 2, and 9 a.m. Saturday, Aug. 3.
Florida State will livestream the ceremonies at www.learningforlife.fsu.edu/fsu-graduation/.
For more information, visit https://registrar.fsu.edu/graduation/.