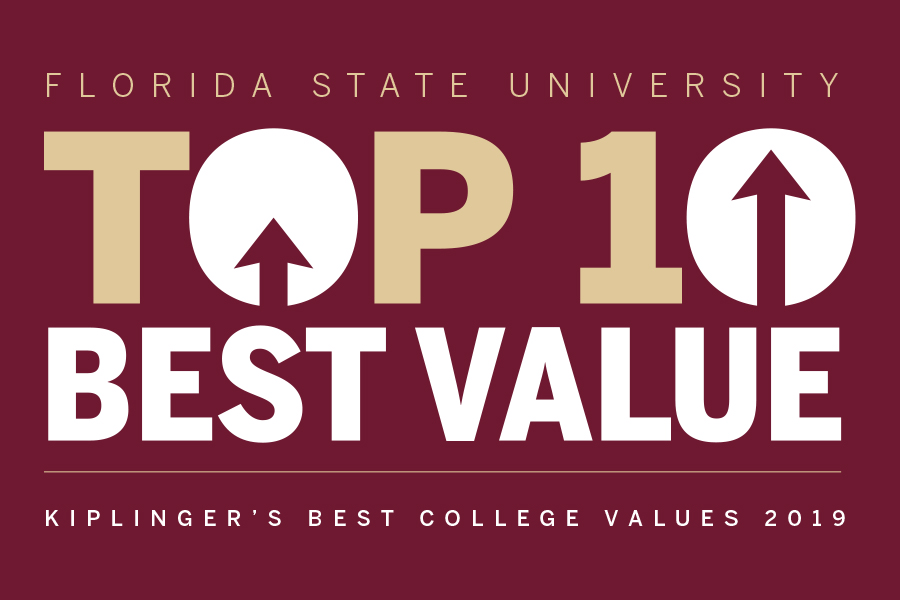 Florida State University offers a high-quality education at an affordable price, according to Kiplinger's Personal Finance, one of the nation's leading publications in personal finance and business forecasting.
Florida State cracked the Top 10 of Kiplinger's annual list of Best Values in Public Colleges, moving up five spots to No. 9 from the publication's previous rankings.
"We are thrilled to be recognized as one of the best value colleges in the nation," said Provost and Executive Vice President for Academic Affairs Sally McRorie. "Florida State's continued upward trajectory in these rankings reflects our commitment to high standards of academic excellence and our dedication to affordability, accessibility and success for all of our students."
FSU also climbed one spot to No. 3 on Kiplinger's list of best values among public institutions for out-of-state students, joining the University of North Carolina and University of Florida in the top three.
Introduced in 1998, Kiplinger's Best College Values list combines public and private universities and private liberal arts colleges into a single, comprehensive list of 400 institutions. Kiplinger also ranks the best values in private universities, private liberal arts colleges and public colleges.
The analysis is based on objective measurements of academic quality and affordability, such as student-faculty ratios, admission rates, graduation rates, cost and financial aid.
The full rankings are available online at kiplinger.com/links/colleges.
The Florida Board of Governors uses Kiplinger's in-state public ranking as part of its criteria in determining the state's preeminent university designations.