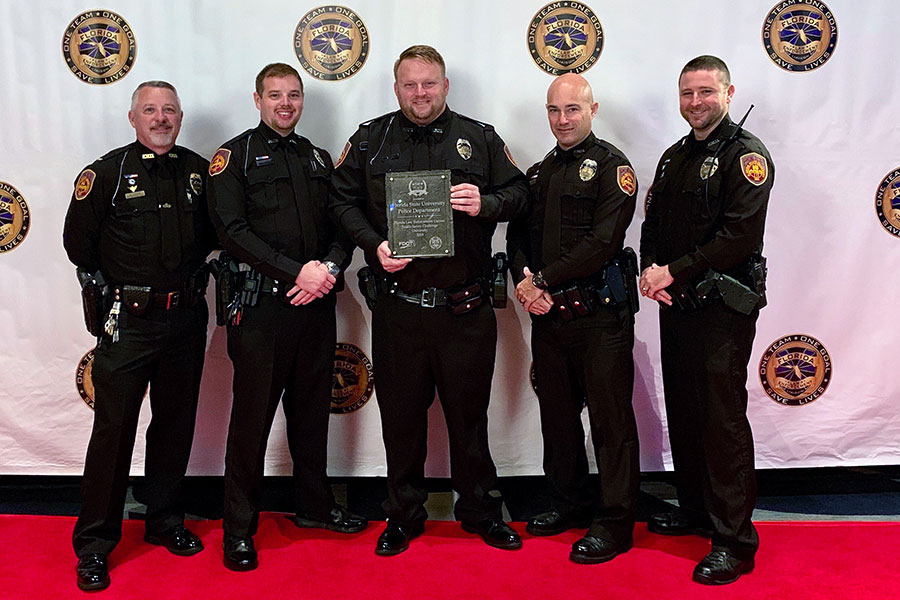 The Florida State University Police Department has been recognized for its commitment to traffic and pedestrian safety.
FSUPD placed first in traffic safety in the University Police Division of the 2019 Florida Law Enforcement Challenge, a Florida Department of Transportation program rewarding agencies that are leaders in traffic safety. The challenge supports the goal of encouraging increased statewide enforcement of traffic safety laws to reduce traffic crashes, serious injuries and fatalities.
The award recognized FSUPD's efforts in several areas including safety belt usage, distracted driving enforcement, impaired driving enforcement, motorcycle violations, occupant protection enforcement, pedestrian and bicycle enforcement, and speed and aggressive driving enforcement, as well as the department's training of officers in these areas. Effectiveness is also considered and measured by traffic crash data from the previous year and the reporting year as it relates to each of these categories.
Lt. Hank Jacob, along with Officers Patrick Westman, Adam Walker, Steve Black and Ryan Bailey, accepted the award at the 2019 Florida Law Enforcement Traffic Safety Challenge Training and Recognition Event. Jacob supervised all specialized traffic enforcement during the year 2018. Black is responsible for submitting statistics to FDOT and acts as the liaison between FSUPD and FDOT. Bailey, Walker and Westman were the top three traffic producers for FSUPD during the year 2018.