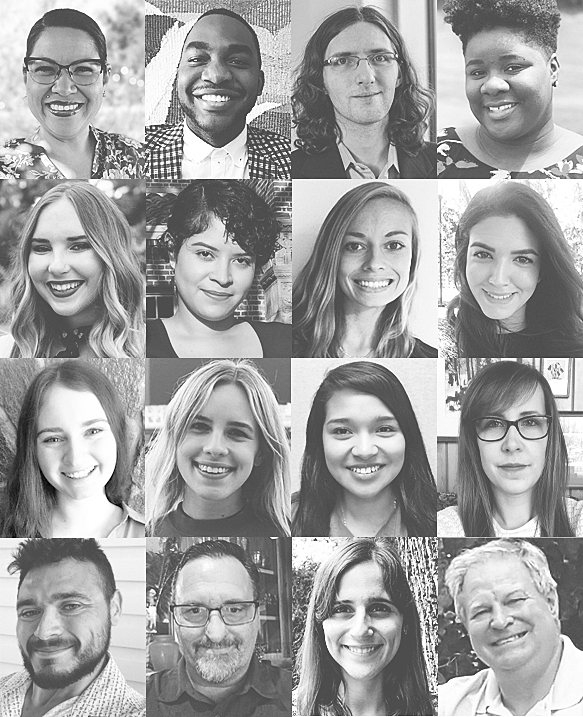 Florida State University's Institute for Justice Research and Development (IJRD), housed within FSU's College of Social Work, recently launched a Post-Master's Fellowship designed to prepare social work professionals to work and conduct research with formerly incarcerated individuals and their families.
A first of its kind, the Post-Master's Fellowship is the only fellowship in the nation that provides master's level social workers in-depth, hands-on training opportunities with criminal justice-involved individuals and families. Fellows develop specialized and highly sought-after skills that provide an excellent foundation for the next steps of their career.
"We are excited to welcome this inaugural group of fellows who are passionate about working with individuals leaving incarceration and looking to deepen their clinical and research skills," said Carrie Pettus-Davis, IJRD founder and executive director. "We chose to focus on recent graduates in social work because we are committed to training the next generation of workers and thought leaders on smart decarceration approaches to the transformation of our criminal justice system that is on the horizon."
The IJRD will provide fellows with intensive training, workshops and resources over the course of three years to help them develop professionally as both clinicians and researchers.
The inaugural class of 16 fellows, who hail from 12 universities from across the country, started working with IJRD on Monday. The fellows were selected from a pool of nearly 100 applicants.
Bill Rone, who graduated with a master's degree from the Brown School of Social Work at Washington University in St. Louis in May, is among the first cohort. He identifies as a recovering addict and was incarcerated three times over the course of his lifetime for drug crimes. Rone recently celebrated nine years of sobriety.
"I am interested in working with justice-involved adults because I am one," Rone said. "I want and need to help those going through what I went through and I see a part of me in each and every person I work with. The Post-Master's Fellowship will allow me to help individuals get out and stay out of the incarceration cycle. Honestly, words cannot adequately describe how that feels to me."
The inaugural class of Post-Master's Fellows will work on the 5-Key Model for Reentry project, helping test an innovative re-entry intervention with incarcerated men and women as they leave prison and transition back home to their families and communities.
The 5-Key Model was built by formerly incarcerated individuals, practitioners and researchers and was grounded on a review of thousands of program evaluations conducted with criminal justice-involved and non-criminal justice involved study samples.
The five keys to re-entry success are: healthy thinking patterns, meaningful work trajectories, effective coping strategies, positive social engagement and positive interpersonal relationships. The 5-Key Model focuses on the strengths and psychological well-being of formerly incarcerated individuals to ensure they can reach their fullest potential after release from prison.
Post-Master's Fellows may pursue either a clinical practice or a research track.
Clinical Practice Fellows are prepared to lead and engage in intervention work with criminal justice-involved populations. Clinical Practice Fellows will spend the majority of their time providing individual and group intervention sessions, crisis intervention, service delivery and outreach to currently and formerly incarcerated individuals.
Research Fellows are developed as social work researchers, administrators and leaders. Research Fellows enroll criminal justice-involved individuals into research studies, conduct face-to-face personal interviews with participants to administer behavioral health measures and clinical assessments, engage study participants in long term research involvement, identify policy barriers to success and strive toward policy innovations.
The fellowships are supported with the help of the Charles Koch Foundation.
Learn more about each of the incoming Post-Master's Fellows below.
Clinical Practice Fellows                                   
DeVont'e Arrington, MSW
Keyasia Downs, LSW
Leticia Martinez, MSW
Steven Pepper, MSW
Bill Rone, MSW
Taylor Russell, BSW
Bianca Schindeler, BSW
Solomon Shepherd, MSW
Sydney Smith, MSW
Research Fellows
Connie Conway, MSW
Kimberly Furcron, BSW
Francis Furmanek, MSW
Sara Julian, MSSW
Sara Moegenburg, MSW
Silvia Obregon, MSW
Nicole Thompson, MSW