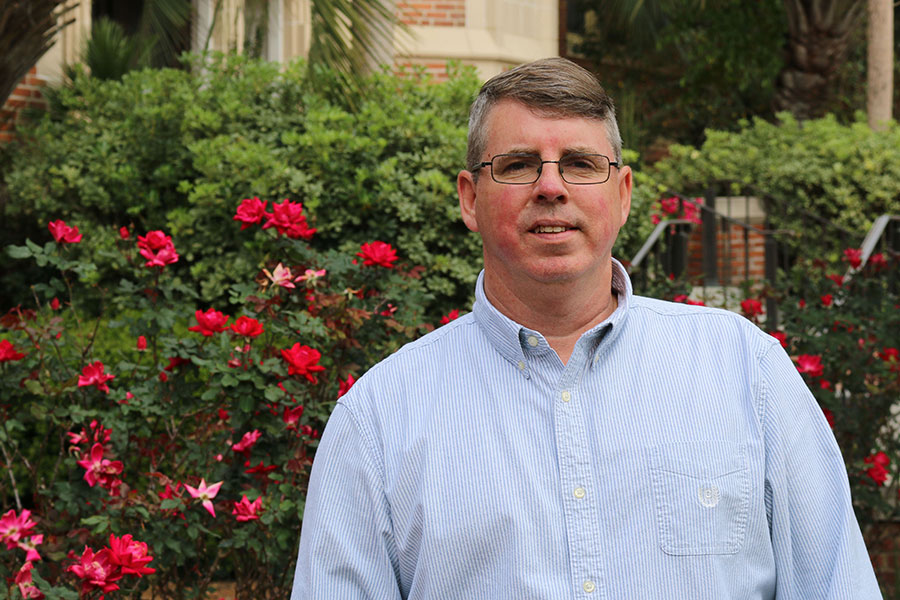 For more than 20 years, Andrew Brady has been an invaluable asset to the advancement of Florida State University.
Brady, who serves as associate director of Institutional Research, has transformed the way FSU capitalizes on data, and for his efforts, he's been selected as the 2019 Max Carraway Employee of the Year Award winner.
The annual award recognizes an employee who exemplifies a caring and sharing attitude and provides consistent service excellence to FSU customers. As the award recipient, Brady will receive a $1,000 stipend, a reserved parking space for one year and two tickets to sit in the President's Box during a football game this fall.
A business intelligence and analytics software expert, Brady is treasured for his efficiency-centered strategy as well as his devotion to training stakeholders across campus.
Praised by his nominators as down to earth and humble, Brady's comments on his award reinforced these sentiments.
"By winning the Max Carraway Award and having my name beside the distinguished FSU employees already on the list, I have created a higher set of expectations for myself and others," Brady said. "I will continue to do my best to meet these expectations."
Brady celebrated 23 years with the university this spring. He spent 10 years as coordinator for Institutional Research and 10 years as a data analyst before being promoted to assistant director and, subsequently, associate director in 2017. In addition to his service at the Office of Institutional Research, Brady runs statistical analysis for FSU Athletics.
Eleven colleagues wrote passionate letters in support of Brady's Carraway Award nomination. Several nominators referenced his pivotal role in FSU's ascension to the Top 25, including Institutional Research Faculty Data Coordinator Joshua Jordan.
"Mr. Brady developed vital reports related to the class sizes across the entire university in an effort to reduce the number of students in each class and to maximize our chances to reach Top 25 status," Jordan said.
Institutional Research Business Analyst Heather Epstein echoed Jordan's praise of Brady.
"At the institutional level, Andrew is the foundation of Institutional Research's efforts for submitting data to U.S. News and World Report," Epstein said.
Nearly all of Brady's supporters acknowledge him as the "go-to person" for data on campus, and they do not stop there. Director of Institutional Research James Hunt wrote that Brady is also heavily regarded for inspiring his colleagues to use their data efficiently.
"Through his own initiative, Andrew became the university's go-to expert for Oracle Business Intelligence and analytics of student data," Hunt said. "But what makes Andrew most deserving of this award is not his own skills; it is his using these skills to make others' work more efficient."
Described as an empowering, congenial and supportive team player, Brady has positively influenced his colleagues as much as he has influenced FSU. His supporters identify him as one of the friendliest people they know and commend him on his constant willingness to assist others.
"For the past 23 and a half years, it has been my privilege to work for my beloved Florida State University," Brady said. "I count my blessings each day as I walk up the steps of the Westcott Building."
It is clear that Florida State University cherishes Brady's service as much as he values the opportunity to serve.