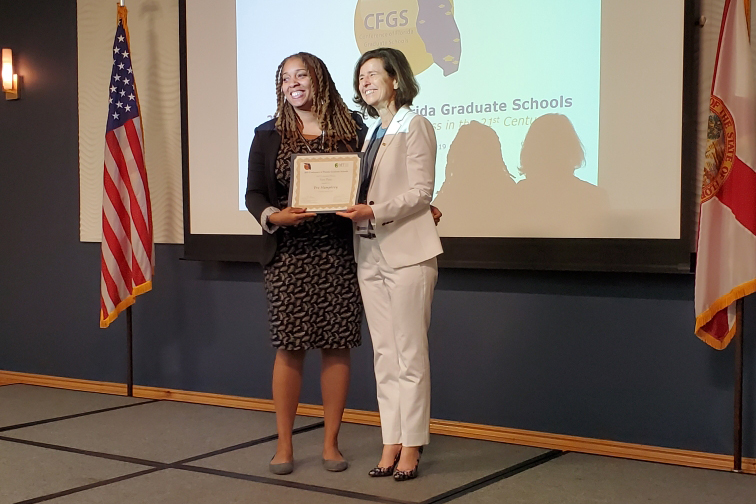 A pair of Florida State University students took home top prizes for their academic research in a recent meeting of the Conference of Florida Graduate Schools.
Eve Humphrey, a biological sciences student who won Florida State's Three Minute Thesis last November, won first place in the statewide competition in April. Her presentation, "Under Pressure: Stress and Coloration as Mediators of Behavioral and Physiological Variation," highlighted how differences within and between populations of Least Killifish and Eastern Mosquitofish influence their behavior, reproduction and stress responses with predators.
The Three Minute Thesis (3MT) competition charges graduate students to explain their thesis work in a compelling three-minute speech. The goal is for participants to effectively explain their research, which at times can be very complex, in plain language.
"Winning the 3MT at the conference was an amazing experience," Humphrey said. "I feel so very privileged."The conference, themed "Career Pathways and Preparedness in the 21st  Century," took place April 17-18 at Florida International University in Miami. The meeting addressed strategies that are being implemented at institutions across the state to better prepare graduate students for a variety of career pathways.
"I think the best part of going to the conference was meeting other graduate students and learning about their research and what other Florida universities offer for their graduate students," Humphrey said. "It also made me really appreciate the effort the FSU Graduate School puts into developing their students and providing programs for us."
Humphrey said talking about a dissertation in three minutes is difficult, but it is important for scientists to learn how to communicate their work to the general public.
"I am really glad I had the opportunity to represent FSU and honored to have won first place," Humphrey said. "But I am especially grateful for the opportunity to communicate my work in a way that entertains and encourages learning."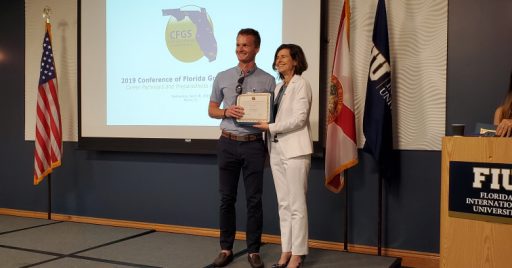 Nick Byrd, a doctoral student in philosophy, was able to do just that through his prize-winning poster on philosophers' viewpoints.
"I was thoroughly impressed and humbled by Florida's graduate student research," Byrd said. "As I told my fellow graduate students when discussing their research, it seemed outstandingly rigorous and important. So, it was thrilling to learn that my own research was considered superlative amidst its competition."
Each institution could send two graduate students to the 3MT competition and two graduate students per category to present their posters at the Statewide Graduate Research Symposium.
Byrd said he took a risk by presenting a poster that was different from the norm, having a more illustrative design.
"Some academics have questioned the standard poster template," he said.  "I decided to experiment by introducing an unorthodox poster design to a competition of almost entirely traditional posters. So, a major takeaway from winning the poster competition was that unorthodox poster designs can be well received."
The Conference of Florida Graduate Schools has met annually at institutions across the state since 2016.