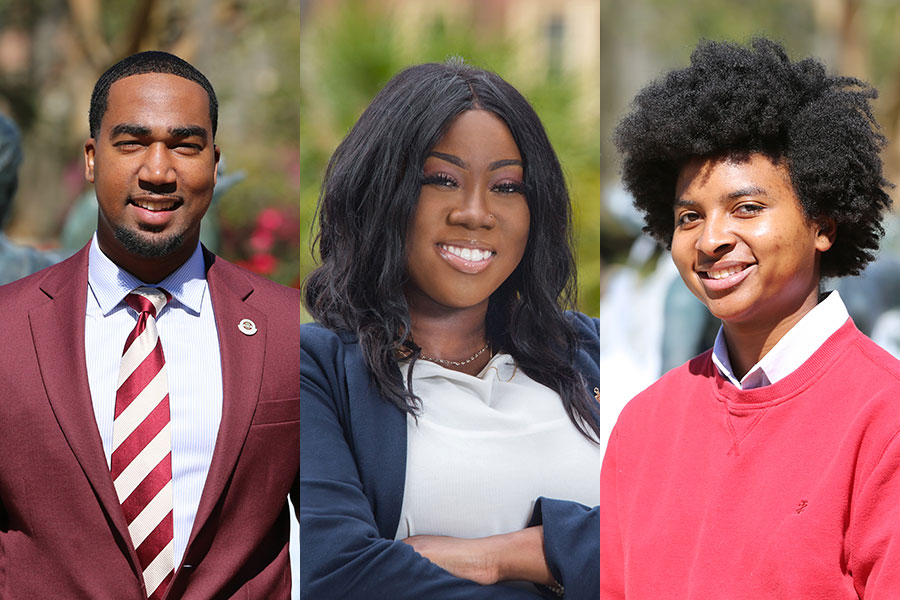 Three recent graduates of Florida State University received 2019 fellowships from Humanity in Action, an international organization that educates and inspires young leaders who are passionate about changing the world.
Beginning this summer, fellowship winners Brandon Brown, Saleshia Ellis and Kiara Gilbert will participate in the one-year program, which brings together international groups of university students and recent graduates to explore national histories of discrimination and resistance, as well as examples of issues affecting different minority groups today.
The program welcomes college and university students and recent graduates from Bosnia and Herzegovina, Denmark, France, Germany, Greece, Poland, the Netherlands, the United States and Ukraine. Fellows participate in intensive four-week educational programs located in cities across Europe and the United States. After the four-week onsite educational programs, fellows return to their countries to develop and implement action projects to address social justice issues in their own communities.
"We are so proud of our Humanity in Action Fellowship recipients and cannot wait to hear about their experiences," said Joshua Stanek, associate director of FSU's Office of National Fellowships. "We can all be proud that three of the 46 students chosen from American universities this year will be representing FSU."
Roberto Flores, FSU's 2018 Humanity in Action Fellow, assisted candidates during the application process.
Brown, a native of Hollywood, Florida, who recently served as FSU's student body vice president, has been selected for the program's John Lewis Fellowship in Atlanta, which focuses on issues of diversity within the United States, with a particular emphasis on Georgia and the American South. He graduated earlier this month with a bachelor's degree in family and child sciences.
As SGA vice president, Brown worked extensively with identity-based student groups to increase understanding and collaboration on campus. He also organized discussion-based events to provide students with a platform to express their concerns regarding discrimination, free speech and stereotyping. His involvement with the Black Student Union, the Student Senate and the SGA Executive Branch helped him develop his passion for social justice.
"As an African-American male, I have always been cognizant of America's oppressive history, and I believe that it is imperative to study that history in order to strive for a better tomorrow," Brown said. "The civil rights focus of the John Lewis Fellowship program in Atlanta is very significant to the push for social justice that I care deeply about within my community and that of other marginalized persons. It is truly an honor to be selected as a Fellow, and I am very excited about the opportunity to participate in dialogue concerning social issues in our nation with such a diverse cohort."
Ellis, a native of Fort Pierce, Florida, will travel to Copenhagen, Denmark, for her summer program. A first-generation college student, she graduated in May 2019 with bachelor's degrees in social science and African American studies. Ellis was a member of FSU Center for Academic Retention and Enhancement (CARE) Program, participated in the Undergraduate Research Opportunities Program, Service Scholar Program and Student Government Association and was recognized as a Social Science Scholar.
She also served as an Orientation leader, where she was a positive role model for first-year students, and as chief of the Student and Greek Conduct Boards. She thanked Stanek and the Office of National Fellowships for their support and assistance during the process.
"I am overwhelmed with so much gratitude and #BlackGirlMagic," Ellis said. "I cannot wait to not only contribute my voice and joy to the program but also to improve my skills as a servant leader."
Gilbert, a native of Jacksonville, Florida, who graduated earlier this month with bachelor's degrees in studio art and political science, will be attending the HIA program in Berlin.
Gilbert participated in LeaderShape in 2018, served as the Pride Student Union programming coordinator in 2016-2017 and led the FSU chapter of Queer Trans Intersex People of Color as its president in 2017-2018.
The FSU Department of Art honored Gilbert with the 2018 Ann Kirn Award in Visual Arts, given to undergraduates who demonstrate strong design skills, and the 2019 Janice Hartwell Award in Visual Arts.
"I am ecstatic to be offered such an amazing opportunity to discuss the issues that plague democracies on a global scale," Gilbert said. "I can't wait for my passion for creative problem solving and collective action to be nourished in a new environment."
Humanity in Action fellows are required to build upon discussions on social issues after the four-week program by producing Action Projects, which grapple with these issues in society.
For more information about the Humanity in Action Fellowship, visit http://www.humanityinaction.org/programs/14-humanity-in-action-fellowship.