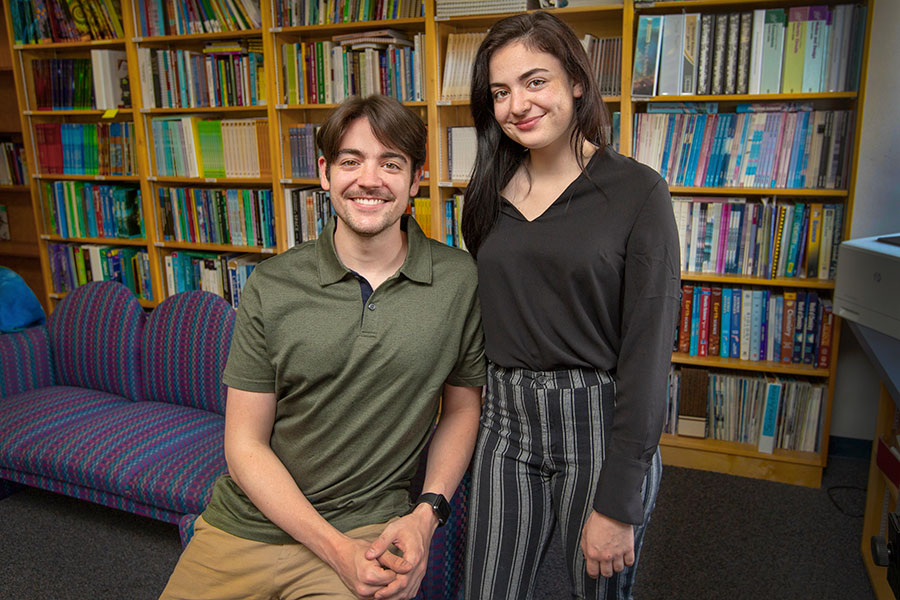 Florida State University student Kayleigh Wilson always knew she wanted to be a teacher, so when she learned there was a program that combined her love of math with teaching, she knew in an instant that Florida State University and the FSU-Teach program were right for her.
FSU-Teach, which recently celebrated its 10th year, is a joint effort between the College of Education and the College of Arts and Sciences that enables students working on bachelor's degrees in math or science to also major in secondary teaching at the same time.
The dual degree allows students to have more career options, funding opportunities and salary potential.
"FSU-Teach is my favorite thing," Kayleigh Wilson said. "I'm the strongest proponent of the program because it's incredible. We have our pure math and science courses, but we also have education courses that are specifically taught by professors who have taught high school and middle school math and science."
Those professors — or "master teachers" — focus on teaching at a student-centered level that ensures a student fully grasps the material, rather than just telling them how to plug and chug a formula.
That approach is one thing that attracted Kayleigh's brother, Jeremy, to the program. Inspired by his younger sister's passion, he transferred to Florida State in 2018 from the University of Florida with a new-found desire to share knowledge in a more official way.
"I guess I have a compulsion to share information with people," Jeremy Wilson said. "Teaching has become a passion so quickly. This program has shifted the way I look at science as well."
Now, the siblings — who were three years apart in high school — are able to lean on one other as they pursue similar career paths.
"It's really cool to have somebody who gets it," Kayleigh Wilson said.
Jeremy is studying biology and education. Kayleigh's focuses are math and education.
After an opportunity to teach at every grade level, the Wilson siblings are both interested in teaching high school.
"I'm not an elementary school kind of person," Kayleigh Wilson said. "I got to middle school and was like 'All right I'm digging it,' but after I had the opportunity to teach at the high school level I said, 'This is it, this is what I want to be doing.'"
For those on the fence about the teaching profession, the FSU-Teach program allows students to take two introductory courses for free. This allows them to explore what teaching is like, while the program covers in-state tuition, books and fees associated with the courses.
"You will find you either like it or you don't," Kayleigh Wilson said. "Either way, with the idea of getting your money back, there's no pressure, and it's still an incredible opportunity."
FSU-Teach aims to help fill a shortage of math and science teachers in Florida, according to Associate Director of FSU-Teach Robin Smith.
Seventy-five percent of FSU-Teach graduates secure teaching positions in the year following graduation. The other 25 percent pursue opportunities with their science or math major. The program also broadens the scope of opportunities for students entering STEM professions because, with their training, teaching is always an option.
"FSU-Teach has been preparing highly qualified math and science teachers for the state of Florida and beyond for 10 years," Smith said. "We proudly note that for our graduates who enter teaching, there is an 83 percent retention rate after five years, compared to about 65 percent nationally."
Many graduates who land teaching jobs in Tallahassee go on to serve as mentor teachers to students in the FSU-Teach Program.
"They are paying it forward," Jeremy Wilson said. "It's really a community of FSU-Teach and WeTEACH program graduates who are helping each other out, helping other teachers out, all while giving their students the most efficient and optimized education."
FSU's WeTEACH group is a student organization that meets on a peer-to-peer level to interact, encourage and support local schools in the community.
"We have a fun time, we give back to the community and serve as a student resource for people in the program," said Carter Holt, president of FSU WeTEACH.
During WeTEACH meetings, students talk about upcoming events at grade schools throughout the city, volunteer opportunities at FSU events like the FSU Math and Physics Day or even paid tutoring gigs.
They also discuss hot topics in education, such as teacher strikes.
Kayleigh Wilson said, ultimately, she hopes her path will lead to a career in education policy.
"I'm a little biased but I think teachers are the most underappreciated profession," she said. "Everyone has a story of a teacher who changed their life and nobody would be where they are today without teachers."
That's what Kayleigh Wilson is looking forward to as a teacher — changing lives. She recalled a moment when a high school student told her that she helped him appreciate math and that she would make an excellent teacher.
"That's all that really matters to me," she said.
The Wilson siblings said they hope teacher conditions and pay will improve over time, but, for now, both are thankful for the experience and knowledge they will take into their classrooms after graduation thanks to FSU-Teach.
"Our motto is four years, two majors, a lifetime of opportunity," Kayleigh Wilson said.
"There are so many benefits of this program — two degrees and all this experience. The world's your oyster after that," Jeremy Wilson said.