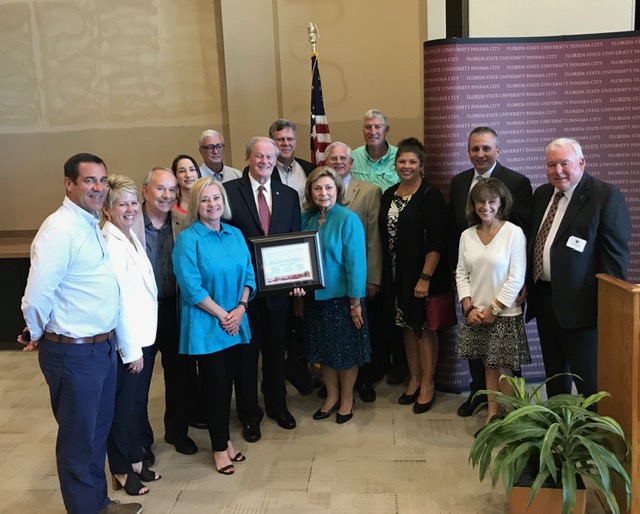 More than 100 FSU Panama City alumni and friends met Wednesday to recognize FSU President John Thrasher for his dedication to the campus and the community, surprising him with a scholarship in his honor for local students.
In all, 15 donors raised $25,000 to establish the John E. Thrasher Endowed Scholarship at FSU Panama City, which will fund one scholarship per semester with criteria to be determined by Thrasher.
"President Thrasher has played an integral part of the success of our campus," Dean Randy Hanna said. "We have accomplished so much thanks to his leadership, and our supporters wanted to recognize him in a way that will continue to give back to students within this community. This scholarship proves what an impact his leadership has had on the university and this campus."
Donors originally were set to announce the scholarship during a campaign celebration planned Oct. 9, the day before Hurricane Michael made landfall in Bay County.
"Under President Thrasher's leadership, FSU Panama City has flourished and we have seen unprecedented support from Tallahassee," said FSU Foundation Trustee Lisa Walters, who initiated scholarship fundraising. "We are here today even more thankful for your leadership, especially after your response to our campus, our students and our community after Hurricane Michael."
"To come over here and see the passion, to see the concern, to see the caring, it's amazing," Thrasher told the crowd before the announcement.
During the event, Hanna also announced the campus' final fundraising total for its portion of FSU's $1 billion Raise the Torch campaign. FSU Panama City raised $10,057,768 since the campaign began in 2010. The original $5 million goal was doubled in 2015 after a $3 million planned gift from Bob and Judy Fleming.
Since Thrasher became Florida State University's 15th president on Nov. 10, 2014, he has advanced the university's academic and research mission, championed diversity and inclusion, and welcomed the best and brightest students in the university's history.
He also has helped FSU Panama City add new bachelor's programs in crime scene investigation, mechanical engineering, entrepreneurship and hospitality, and master's programs in law enforcement intelligence, nurse anesthesia and systems engineering.