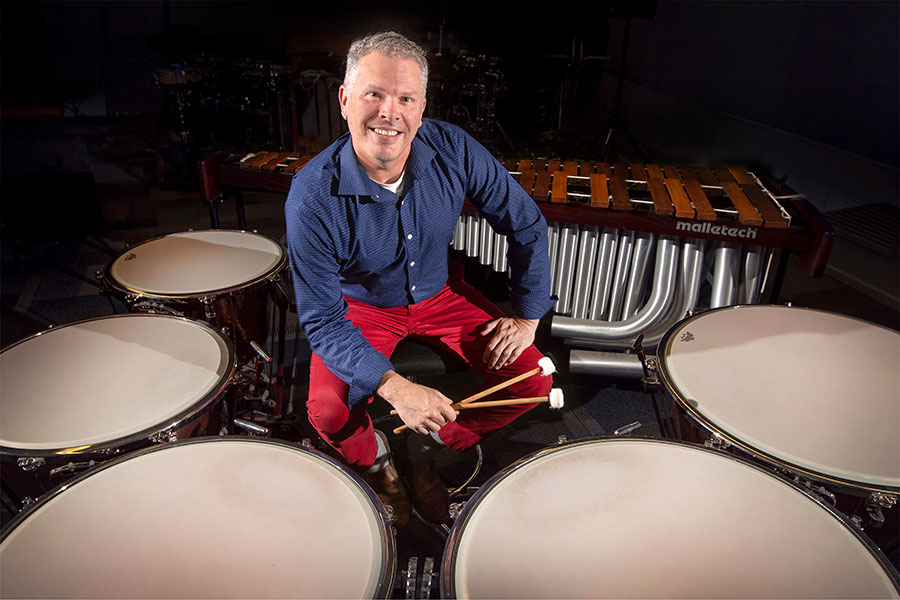 John W. Parks IV received Florida State University's 2019 Distinguished Teacher Award during the annual Faculty Awards Dinner April 30.
The Distinguished Teacher Award, the university's most prestigious honor for teaching, includes a $7,500 stipend funded by FSU.
Parks joined the College of Music faculty as assistant professor of percussion in 2003 and was promoted to full professor in 2016. He teaches a select group of 20 undergraduate students and six graduate students who are admitted after a highly competitive audition process.
Through Parks' efforts, the program now boasts the only conservatory-competitive university percussion studio in the United States that includes recording technology and entrepreneurship as part of cutting-edge applied instruction.
"My basic philosophy is to prepare students for any professional musical opportunity that speaks to them," Parks said. "We work within a variety of genres, master the major percussion instruments, and perform literature that reflects classic programming and embraces modern trends, preparing our students for the professional music world."
While most of his students come to FSU with a very focused idea of becoming professional performers and educators, Parks said he believes the skills they learn as musicians are transferrable to any field.
"Yes, they become formidable players and teachers, but also advocates, and above all, amazing people who understand the value of art in their communities, our country and our world," he said. "To that end, the values and habits I instill in every student prepare them for life after FSU, no matter what shape that life may take."
College of Music Dean Patricia Flowers said Parks is truly deserving of this recognition.
"John Parks is an amazing musician, pedagogue and colleague," Flowers said. "He has created one of the foremost percussion studios nationally and brings highly talented students to FSU from across the United States. Dr. Parks is fully committed to his students and their success, and he serves as a role model and mentor for them as they launch careers in music. His presence on our faculty brings distinction to the College of Music and FSU."
Parks received the University Teaching Award in 2006 and led the FSU Percussion Ensemble to wins at the Percussive Arts Society International Percussion Ensemble Competition in 2007 and 2011. As a performer, Parks made his Carnegie Hall solo recital debut in Weill Recital Hall in May 2007. In 2014, he joined the Production and Engineering Wing of the National Academy of Recording Arts and Sciences as a voting member of the Grammy Awards.
But for Parks, teaching isn't about personal recognition. It's about the joy he experiences from seeing his students do great things.
"I've been teaching college for a long time, and the benefit to me has always been student success," Parks said. "To be only the third person from the College of Music to receive this award is pretty overwhelming."
Other outstanding FSU faculty members recognized in other categories during the Faculty Awards Dinner were:
UNDERGRADUATE RESEARCH MENTOR AWARD
Paul Conway, Department of Psychology
UNDERGRADUATE TEACHING AWARD
Elizabeth Coggeshall, Department of Modern Languages and Linguistics
Angela Davis, School of Teacher Education
Adam Gaiser, Department of Religion
Michele Garber, Department of Nutrition, Food and Exercise Sciences
Kristen Greene, Department of Family and Child Sciences
Birgit Maier-Katkin, Department of Modern Languages and Linguistics
Bruce Manciagli, College of Social Sciences and Public Policy
Paul Marty, School of Information
Austin Mast, Department of Biological Science
Landon Mauler, Department of Accounting
Brian Miller, Department of Chemistry and Biochemistry
Michael Neal, Department of English
Marcía Porter, College of Music
Benjamin Smith, Physician Assistant Practice
Paul Trombley, Department of Biological Science
Nora Underwood, Department of Biological Science
Miranda Waggoner, Department of Sociology
Steven Webber, Department of Interior Architecture and Design
GRADUATE TEACHING AWARD
Darren Brooks, Department of Management
Ronald Honn, College of Motion Picture Arts
Adam Jolles, Department of Art History
Daniel Mears, College of Criminology and Criminal Justice
Maria Mendoza, School of Teacher Education/CIES
Michael Roper, Department of Chemistry and Biochemistry
Lisa Schelbe, College of Social Work
Robert Tomko, Physician Assistant Practice
GRADUATE FACULTY MENTOR AWARD
James Elsner, Department of Geography
Carl Kitchens, Department of Economics
Giray Okten, Department of Mathematics
Lara Perez-Felkner, Department of Educational Leadership & Policy Studies
Elizabeth Plant, Department of Psychology
Debajyoti Sinha, Department of Statistics
DISTINGUISHED RESEARCH PROFESSOR AWARD
Richard Bertram, Department of Mathematics
Elizabeth Slate, Department of Statistics
Kun Yang, Department of Physics
DEVELOPING SCHOLAR AWARD
Andrea de Giorgi, Department of Classics
Eugene DePrince, Department of Chemistry & Biochemistry
Kevin Huffenberger, Department of Physics
John Schwenkler, Department of Philosophy
Zhi Wang, Department of Computer Science
RALPH STAIR PRIZE FOR INNOVATION IN EDUCATION
Andrew Opel, School of Communication
2019-2020 ROBERT O. LAWTON DISTINGUISHED PROFESSOR
Timothy Cross, Department of Chemistry & Biochemistry