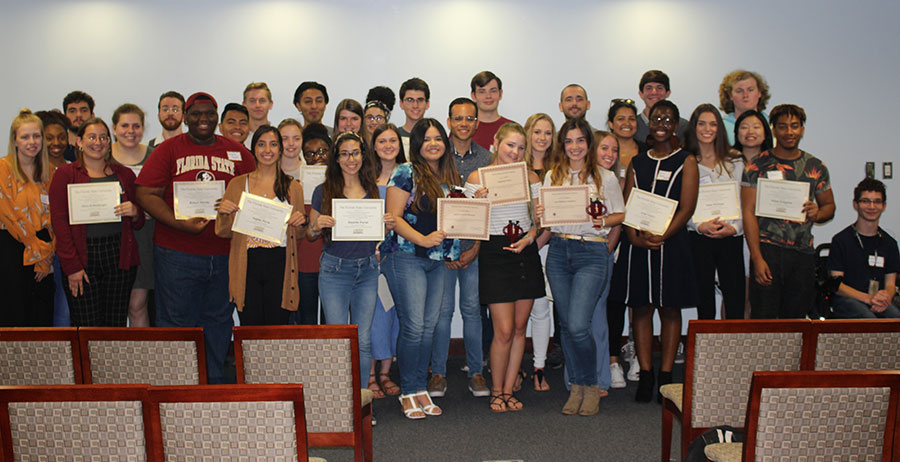 The achievements of Florida State University undergraduate researchers who participated in the Undergraduate Research Opportunity Program (UROP) Excellence in Research initiative were celebrated during a ceremony April 16 in the Bradley Reading Room at Strozier Library.
The UROP Excellence in Research initiative is a partnership between Florida State University Libraries and the Center for Undergraduate Research and Academic Engagement (CRE). The partnership allows students the opportunity to apply library resources and services to their interdisciplinary research projects.
The first annual awards honored students who demonstrated exceptional research skills and effectively utilized library resources. The winners were: First Place – Hayleigh Tilton (sophomore, psychology, Tallahassee); Second Place – Salma Garcia Moreno (sophomore, environmental science, Boca Raton; and Third Place – Ana Melissa Caballero (junior, psychology, transfer from FSU Panama).
"This collaboration is a wonderful example of the impact libraries have on students and research," said Michael Meth, associate dean of Research and Learning Services at Florida State University Libraries. "In their award nominations and broad range of research topics, the students in the UROP program demonstrated how their research was advanced through the help they received from the libraries and the access to the great resources we offer. We are proud of this collaboration and look forward to seeing our award winners and all the other students in the program go on to do great things."
More than 40 of FSU's 375 students in the UROP program were selected to participate in the UROP Excellence in Research initiative's pilot program during the 2018-2019 academic year. Pilot participants were assigned a librarian in their field of study who provided comprehensive research support and who will continue to serve as mentors. Participants also attended workshops that helped them cater the program to their specific projects and research needs.
"The pilot launch of the Excellence in Research initiative has allowed participating students to acquire important critical thinking skills, a deeper understanding of utilizing the libraries' resources and the ability to vet credible literature," said Latika Young, director of the Center for Undergraduate Research and Academic Engagement. "The CRE looks forward to scaling up this valuable partnership over the next few years, allowing all UROP students to experience this unique partnership and reap these vital benefits."
For more information on UROP, visit https://cre.fsu.edu/programs/urop.