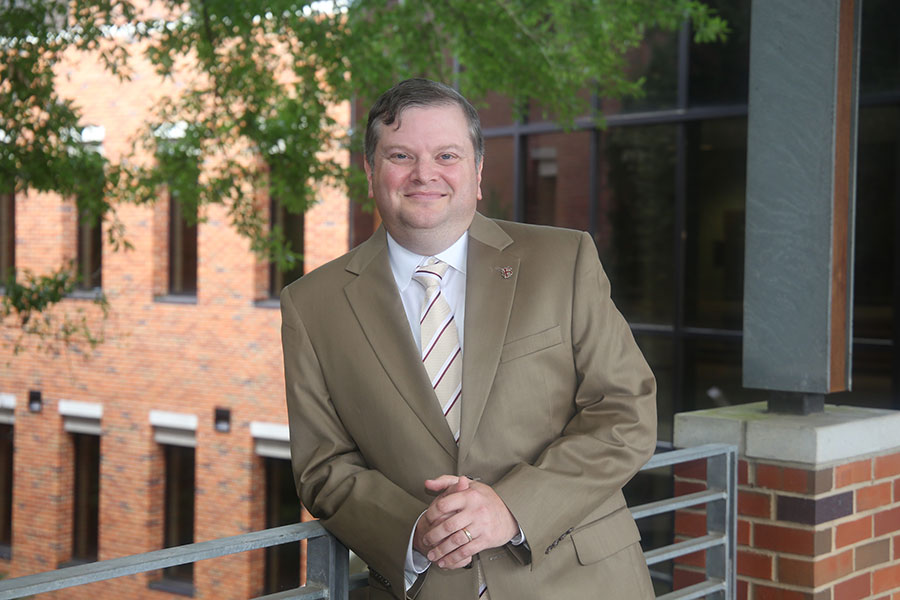 It's not hyperbole when Damon Andrew says the opportunity to lead the Florida State University College of Education is his dream job.
The native Floridian became dean of the college in August after serving as the first permanent dean of Louisiana State University's College of Human Sciences and Education. Prior to that, he spent five years as dean of the College of Health and Human Services at Troy University.
"It's a privilege to come back to Florida State," Andrew said, adding he was happy to share his alma mater with his wife and two kids. "I spent the previous 10 years in two deanships preparing for this moment in time."
When he began college at the University of South Alabama, Andrew had an interest in many fields of study. Then, a professor noticed Andrew's research acumen and encouraged him to consider a career as a university faculty member.
Andrew wasn't exactly sure how to do that, but he quickly developed a love and passion for working in the university environment.
"That's part of the reason why I have three master's degrees," Andrew said. "I loved learning and knew I wanted to work at a university, but my curiosity took me down different paths."
With master's degrees in biomechanics, exercise physiology and sport management, the avid tennis player came to Florida State University to pursue a doctorate in sport management in 2002.
His studies at FSU, which focused on organizational behavior in sport, translate well in his new role. In it, he can apply his knowledge of important concepts, such as job satisfaction, employee motivation and organizational commitment.
One particular similarity he draws between sport and higher education is the analogy of selling tickets to a sporting event. It's not the paper ticket that's important, it's the experience behind the paper.
Same goes for higher education, Andrew said.
"If you complete all the requirements for a degree, you receive a piece of paper that you can hang up on the wall," he said. "However, it's not the degree itself, but the experience behind it that truly matters — whether you had a quality experience and took part in something of value."
Andrew believes having the vantage point of a former student helps in his role as dean. He said the ability to connect with students and alumni as part of the FSU family has helped to ease the transition and provides an extra bit of motivation.
"Prior to returning to FSU, some colleagues who had returned to their alma maters warned me about the potential of returning to my alma mater and peeling back the curtain from an administrative perspective and maybe not liking what I see," Andrew said.
"I've found the opposite coming here — my affection for this university has only grown deeper after learning more about how it accomplishes its important mission. With FSU being such a research-focused institution and a preeminent university in the state, I'm so impressed that FSU never lost student success as one of its primary tenets."
As a doctoral student, Andrew also worked as a full-time academic adviser for the university. He's seen how the university operates through the lens of a student and a staff member and now as a faculty member and administrator.
Andrew is spending his first year as dean getting to know faculty and staff, as well as hearing from fellow alumni of the college.
Marcy Driscoll, Andrew's predecessor, served as dean for 13 years. Under her leadership, a five-year strategic plan into 2023 was developed. Andrew said prior to the dean selection process, he received alumni correspondence on the upcoming strategic plan. This allowed him to follow the process — and even make comments — on the plan he is now responsible for implementing.
"I think the plan was written in a way that really reflects the college's motto: Student Focused and Innovation Driven," he said. "I've been looking through our processes that we have in place to ensure we are truly living up to what we aspire to be and examining that from all levels."
Andrew also believes in the importance of interacting with a variety of supporting disciplines across the university. He said his experience leading other academic programs, including two social work programs, a school of nursing, a school of library and information science, and two schools of kinesiology, has underscored the need for interdisciplinary collaboration in order for the college and university as a whole to be successful in the future.
"The modern dean has to be aware of how a college and university functions internally and also how it connects to the community and uplifts the next generation of students," Andrew said. "That's especially important for colleges of education where a number of your graduates are going to go on to impact thousands upon thousands of lives, including the preparation of future Florida State University students in all disciplines."
He said what he's doing now as dean of the FSU College of Education is very much his career passion, evidenced by the number of books that line his office wall on how to be a better dean and college administrator.
And though it may be too soon to start thinking of his legacy, Andrew already has one trait he hopes his colleagues will use to describe him.
"I hope they say that I'm fair and equitable to all involved," he said. "Right now, however, I'm really interested in working with my colleagues to determine what the College of Education of the future is going to be like and how we can best position ourselves to make sure we are continually viewed as a cutting-edge college of education, committed to moving forward."