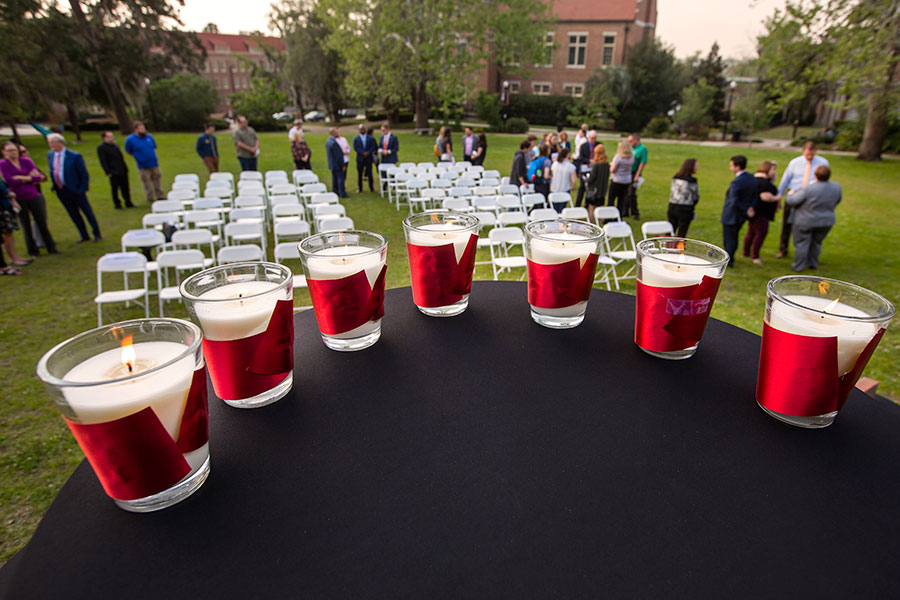 Florida State University honored the memory of those students who passed away over the past year with a special ceremony Thursday, March 28.
For the second time since the event's creation in 2018, students, faculty and staff gathered on the Mina Jo Powell Green to reflect on and celebrate the lives of seven fallen FSU students.
Brandon Bowden, assistant vice president for Student Affairs, presided over the ceremony offering condolences to the bereaved families and friends and leading those in attendance in a moment of silence.
"We have come together tonight as a community to honor the students we have lost in the past year and to remember that Florida State University was a better place for the time each of them shared with us," Bowden said.
President John Thrasher echoed those sentiments in his remarks.
"It is so important for us to come together in both times of celebration and in sadness." Thrasher said. "There is strength in a community such as ours, and I'm glad we can share the joy of our memories and comfort one another in our sorrow. The loss of these young people hurts deeply because our community will never be exactly the same as it was when these students were with us."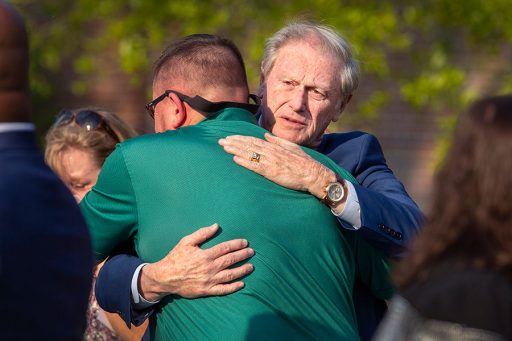 Angela Chong, associate vice president for Student Affairs, offered words of encouragement, and read a poem from an unknown author.
"May time soften the pain until all that remains is the warmth of the memories and the love," Chong read.
She reminded students of the resources that the university provides for students in need, such as the University Counseling Center and the Interfaith Council. She also encouraged students to support and take care of one another.
Student Body President Evan Steinberg urged his fellow students to be grateful.
"As we stand here gathered to honor the lives of the students we have lost, I want us all to be aware of how blessed we are to be gathered together and to have each other as a support system during challenging times," Steinberg said. "Most importantly, let us not forget to honor their legacies by living every day fully, treating each other with kindness and love, and working to make our FSU community and our world a better place for others."
Bowden closed the ceremony by reading the names of the students who were being remembered, while Steinberg lit a candle in their honor.
The students who were honored were:
Maura Binkley, editing, writing and media and German
Alex Brown, Physics
Chance Haegele, finance
Joseph Johnson, economics and urban planning
Hailey Mullen, visual disabilities
Allison Overholt, religion
John Vergo, computer criminology
A brick with each student's name will be placed in the Memorial Garden, also referred to as the Friendship Garden, adjacent to the Mina Jo Powell Green. The garden, marked by a granite stone and fountain, was created in 2001 as a private space for remembrance and reflection.