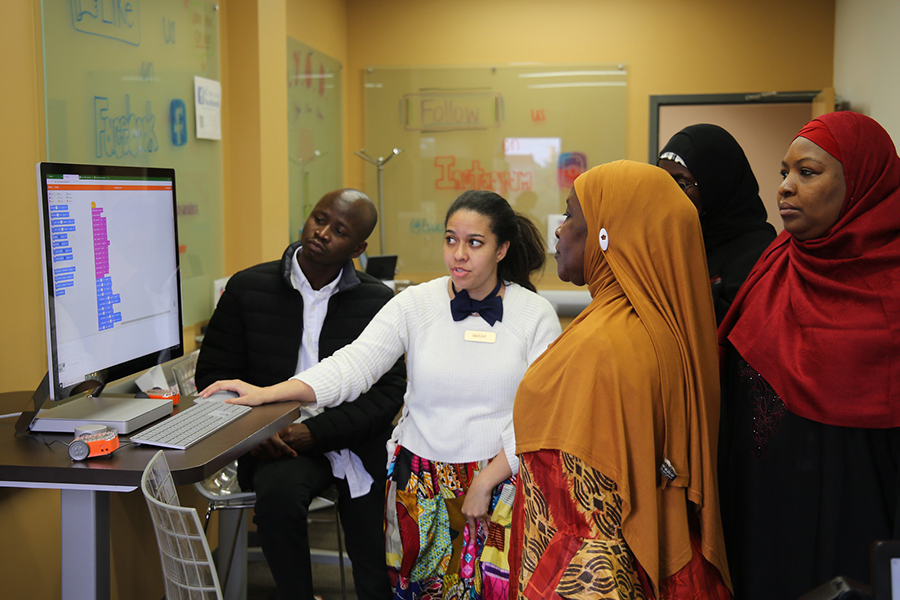 Florida State University hosted a delegation of senior administrators and faculty from Nigeria's Bayero University-Kano last month to continue their efforts in developing the Nigerian Center for Reading Research and Development.
Florida State's Learning Systems Institute entered a collaborative agreement with the Bayero University-Kano in May 2017 to form the center aimed at strengthening the country's ability to provide high-quality education and improve childrens' reading skills.
"It was an honor to have the Nigerian delegation with us for a week," said Stephanie Zuilkowski, associate professor of international and multicultural education at Florida State. "We've been working with Bayero University-Kano for several years on our USAID-funded project to develop the Nigerian Center for Reading Research, and we look forward to continuing this partnership."
The delegation spent the week touring campus and learning about the instructional and research technologies provided at Florida State. They also met with top FSU administrators and faculty and students involved in global engagement.
The center is being supported by the U.S. Agency for International Development (US-AID) — the lead U.S. government agency working to end extreme global poverty. Zuilkowski and Jeffrey Milligan, professor and director of the Learning Systems Institute, are the primary FSU faculty members involved in the partnership.
Faculty leaders said the center will ultimately be a setting for high-quality research on primary grades reading in the Nigerian context that allows for the dissemination of that expertise throughout Nigeria.
The delegation included Muhammad Bello, vice chancellor; Ismaila Tsiga, coordinator of the NCRRD; Mansur Kiyawa Saleh, senior fellow of the NCRRD; Talatu Musa Garba, senior fellow of the NCRRD; Aminu Danyaro, faculty fellow; Umar Kabir, faculty fellow;
Amina Adamu, faculty fellow and Aisha Umar Tsiga, faculty fellow.
Eventually, the center plans to host an on-campus conference in Nigeria that will include FSU faculty and fellows and faculty from Bayero University-Kano who will present research and help to establish a reputation of excellence for the Nigerian Center of Reading Research.