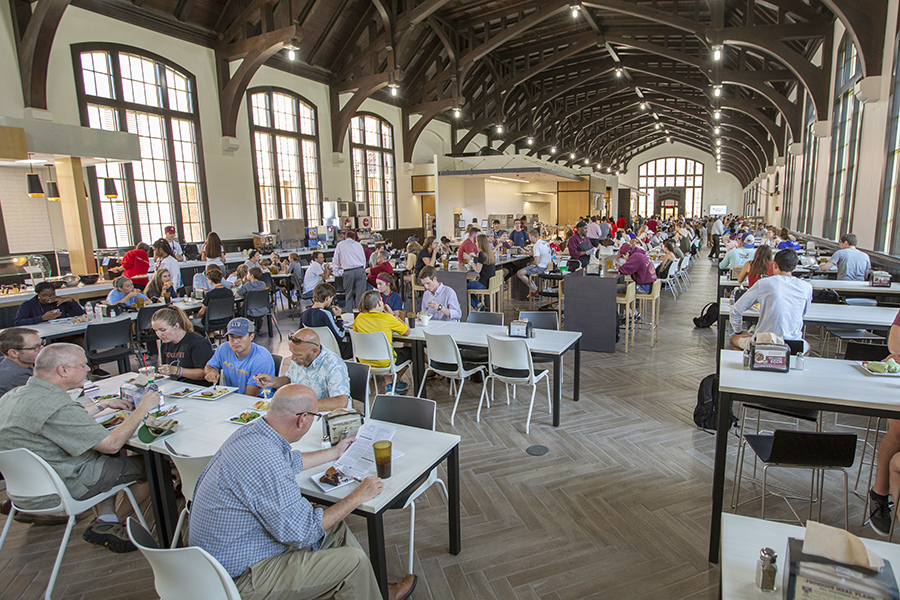 Seminole Dining is ranked among the best food service providers for colleges and universities in the country.
In October, The Daily Meal, an all-encompassing food website popular for its coverage of food and beverages, ranked Florida State University No. 45 in its annual "75 Best Colleges for Food for 2018 Ranking."
The article can be found here: https://bit.ly/2AIMHxn.
"Florida State University is focused on providing the very best learning environment for our students," said Kyle Clark, vice president for Finance and Administration. "An appetizing and nutritious dining experience is a big part of that, and contributes to student success overall. I'm very pleased to see our efforts recognized with this national ranking, and I anticipate our ranking will continue to rise in the future as we continue to enhance our campus dining experience."
Appearing in the annual list for the first time, Seminole Dining was lauded by The Daily Meal for a variety of reasons:
Seminole Dining employs 11 executive chefs "totally focused on fresh and healthy local products being used in their recipes."
Seminole Dining has adopted three farms — Full Moon Apiary (honey) in Monticello, Fla., West Coast Mushrooms in Quincy, Fla., and New North Florida Cooperative (collards) in Marianna, Fla.
A full-time sustainability coordinator "is on staff to ensure that sustainability practices are followed."
Students have access to more than 20 on-campus retail locations and three dining halls.
The Suwannee Room — Seminole Dining's largest residence dining hall — reopened in July 2018 with an $8.4 million makeover "that resulted in an open-kitchen layout so that students can see just what is going into their food." The Suwannee Room also houses My Zone, an enclosed pantry for students with special dietary needs.
Seminole Dining also proudly boasts 1851, four micro-restaurants and a convenience store attached to Azalea Hall, and numerous retail operations, including Subway and Steak 'n Shake, which recently opened in the first floor of the Woodward Garage.
Seminole Dining is operated by Sodexo, a global leader in delivering facilities management and food service operations around the world. Florida State partnered with Sodexo in early 2017 with a shared goal of elevating the dining experience on campus for students and visitors alike.
"Just as Florida State has made significant progress in its goal to rank among the top 25 public universities in the country, we also set a similar goal for Seminole Dining to rank in the top 25 for dining services as well," Clark said. "This is a great start."
Sodexo Universities East CEO Jim Jenkins echoed that sentiment.
"We are proud of our early accomplishments at Florida State and look forward to adding even more quality to the Seminole experience of living and learning," Jenkins said. "We're thrilled to be recognized among the top 45 but plan to climb even higher."
Seminole Dining Regional District Manager John Teeple said the goal is to ensure Florida State University students, faculty and staff have high-quality food and beverages with excellent customer service and for an affordable price.
"Being recognized as one of the top 45 college dining operations in the country is a testament to the nearly 800 employees who work here," Teeple said. "We have an amazing partnership with Florida State University, and we will continue our effort to provide the best possible dining experience for everyone who visits a Seminole Dining location."