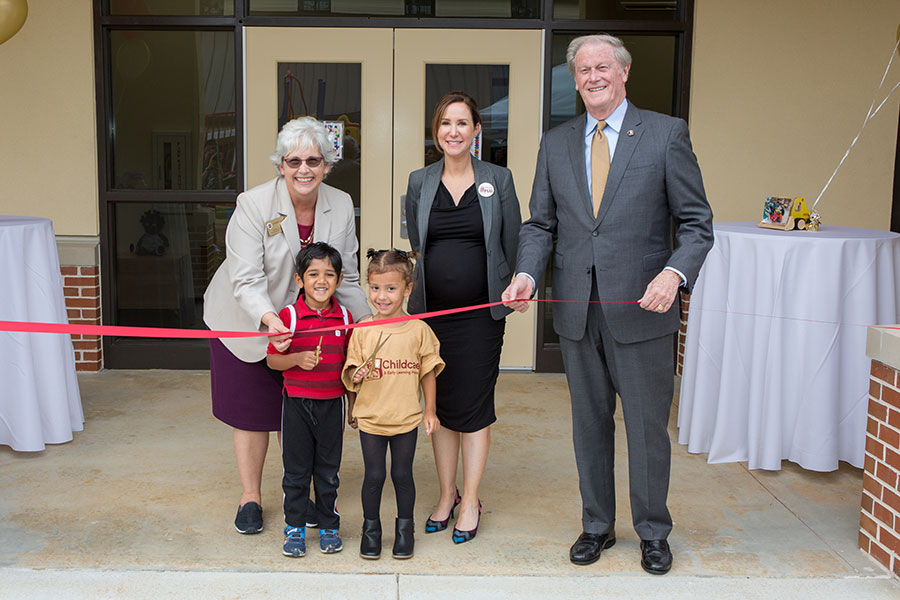 Florida State University President John Thrasher and administrators officially opened the doors to a new child care facility Monday, Oct. 22, hosting a ribbon cutting to mark the occasion.
The facility serves as a place for FSU's Childcare and Early Learning Program employees to care for and nurture the young children of FSU students, faculty and staff. Florida State has provided some sort of care for the families in its community since 1935.
"This is a place that moms, dads and kids can feel good about," Thrasher said. "When we cut the ribbon today, we're continuing FSU's tradition of educating and caring for young children as well as providing an extension of the classroom where FSU students can develop professionally."
Many of the center's staff and volunteers are students majoring in areas such as education, social work and psychology. All full-time employees working at the center are certified teaching faculty, along with several supervised student interns.
FSU first began the project in 2016 after acquiring a building and site on South Copeland Street. The renovated building opened in August 2017 to provide care for babies and toddlers up to 2 years old. A new wing was constructed and opened this past August to care for children 2½ to 4 years old — many of those children previously received care at the former location in Alumni Village.
"We were providing a quality, excellent care program with our teachers, faculty and staff, but doing it in buildings that were not the best," said Shannon Staten, executive director of University Housing. "So, when we got the chance to buy this we said 'let's turn it into a state-of-the-art child care facility for our campus.'"
The completion of the wing represents the final piece of construction of the 15,000-square-foot facility. With the addition of the new wing, the program can now serve up to 133 children, nearly double the amount the program served previously.
The increased capacity was certainly appreciated by graduate student Nicole Newell, who spoke at the event. She and her husband Graham, also a full-time graduate student, have two children in the program.
"Having this facility, allowed us to be students and parents, and I can't imagine anything more helpful," Newell said. "I know this place really cares about caring and teaching my children, and to be in a place where I don't have to worry about them makes me love FSU even more. It shows they care about their students in every level of their life and not just academically, but personally." 
Tours of the new facility were provided for attendees immediately following the program.
The new building is already receiving accolades. The interior design was recently recognized by the Association of University Interior Designers, receiving first place in the 2018 Specialty Award category.
For more information on FSU's Childcare and Early Learning Program, visit childcare.fsu.edu.