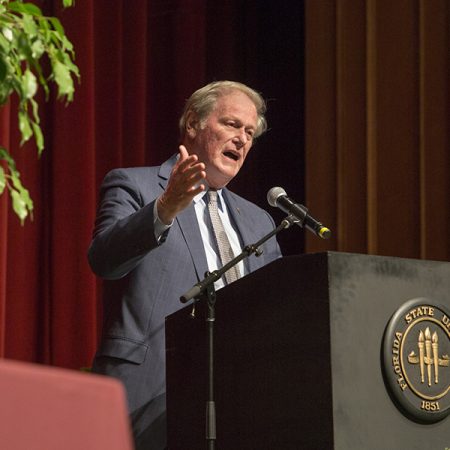 Florida State University's Reubin O'D. Askew School of Public Administration and Policy will feature FSU President John Thrasher at this year's Joe Cresse Ethics in Government Lecture Series.
Thrasher, a former Florida legislator, will deliver the lecture "From Politician to President: Politics, Public Policy and Higher Education." He will discuss his experiences in both fields and offer insights on the conjunction of government and higher education. Thrasher also will participate in a panel discussion on "Politics, Public Policy and the University Presidency" prior to his talk.
Both events are free and open to the public. The Cresse panel disclusion will take place at 10:15 a.m. Thursday, Oct. 25 at the Devoe Moore Conference Room, 150E Bellamy Building.
The lecture will take place at 3 p.m.Thursday, Oct. 25 at the College of Law Rotunda, 308 Martin Luther King Blvd. S.  
Thrasher is uniquely suited to speak on the subject of politics, policy and education. After a successful career as a state legislator, business leader, lobbyist and lawyer, he assumed the presidency in November 2014. As president, Thrasher has focused his efforts on elevating FSU's reputation as a preeminent research institution. He has presided over a $1 billion fundraising campaign, advanced the university's academic and research mission, championed diversity and inclusion and welcomed the best and brightest students in the university's history.
Thrasher earned a bachelor's degree in business from Florida State in 1965. After serving in the U.S. Army, he returned to his alma mater to earn a law degree with honors in 1972.
Thrasher's political career began with his 1986 election to the Clay County School Board. He was elected as a state representative in 1992 and served four terms, the last as Speaker of the House. He was a key supporter of legislation that brought funding to the development of FSU's College of Medicine and a building at the college is named in his honor. Thrasher won a seat in the Florida Senate in 2009 and served as chair of the Republican Party of Florida in 2010.
From 2001 to 2005, Thrasher served as the first chair of Florida State University's Board of Trustees.
Joining President Thrasher on the Thursday morning panel will be FSU President Emeritus and Professor of Law Talbot "Sandy" D'Alemberte; U.S. Rep. Al Lawson of the 5th Congressional District; and Carol Weissert, Leroy Collins Eminent Scholar, professor of political science and director of the Leroy Collins Institute. Stephen MacNamara, professor in the FSU College of Communication and Information, will moderate the panel.
Established in the College of Social Sciences and Public Policy, the Cresse Lecture Series hosts distinguished speakers on a variety of topics that focus on ethics in government. The lectureship honors and preserves the memory of Joe Cresse and his 45 years of service to the people of Florida, including an eight-year tenure as state budget director and a long term on the Public Service Commission.
The Cresse series provides the university and Tallahassee community with an educational tool that encourages high standards of public administration and policy.