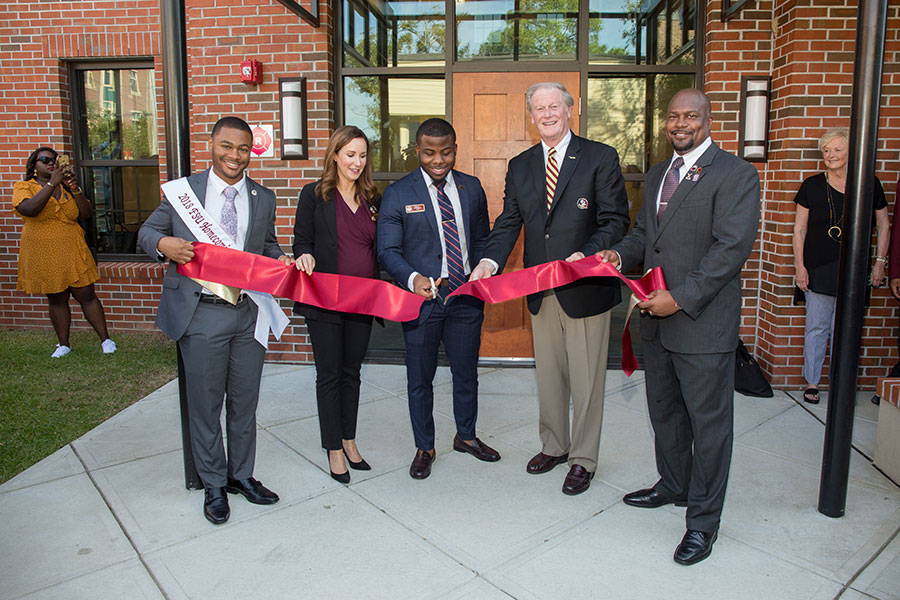 Florida State University marked the opening of the university's new Black Student Union building during an official ribbon-cutting ceremony Friday, Oct. 19.
The event welcomed students, alumni and friends to tour the 5,600-square-foot, fully furnished facility as a part of Homecoming Week.
Maurice Wedderburn, president of the FSU Black Student Union, said the BSU is more than a campus organization.
"We've really become a family," Wedderburn said. "I'm excited for you to see how we've made this place our home."
Wedderburn, FSU President John Thrasher and others cut a garnet and gold ribbon in honor of the occasion.
"It feels kind of like a family reunion here today," Thrasher said. "I'm so happy to be a part of it."

Thrasher encouraged attendees to continue the BSU's history of service by helping those in Panama City and surrounding communities devastated by Hurricane Michael just a week ago.
"Let's channel that energy into helping our neighbors in the Panhandle by volunteering our time, donating supplies or giving to the FSU relief funds as we count our many blessings during this Homecoming weekend," Thrasher said. "This new Black Student Union is certainly one of those blessings. It's a fitting home for a student government organization that has a proud history of involvement and activism on campus."
Established in 1968, the Black Student Union is an agency that offers black students a form of identity and a social life and functions as a vehicle of communication to the FSU faculty and administration.
In 2016, the Florida Legislature awarded the university $1.5 million to support the construction of the new BSU. Ground was broken for the new location in January 2017 and a preview of the building was held during Homecoming last year.
"There's definitely a different feeling here at this official opening," Wedderbun said. "This is also the 50th anniversary of the Black Student Union, so there are so many alumni, black faculty and donors here to show their support. It's just wonderful to see so many people come out."
The BSU had been housed on Woodward Avenue since its creation, along with the African-American Studies program for the interdisciplinary study of the history, culture and socioeconomic well-being of African Americans. The new building will continue to be a space for the African-American Studies program, with two classes scheduled to take place there in the spring.
The event also included remarks from Amy Hecht, vice president for Student Affairs; Charee Williams, president of the FSU National Black Alumni; and FSU Black Alumni Vice President Ahli Moore, who served as BSU president in 1992.
"During my administration the BSU House went under a renovation," Moore said. "We were happy just to get new furniture — to have desks in each office, a new couch and table, not even a boardroom table. Just a table. So, to see what we have here today as the Black Student Union house at Florida State University is a tremendous accomplishment."
Moore challenged the students to treat their new home with respect. He also encouraged them to become active members of the Alumni Association after their time at Florida State is complete.
Wedderburn said he is excited for more of his fellow FSU students use the new facility that includes exhibit space, a student lounge, a large multipurpose room for classes and events, kitchen, conference room, and student leadership and staff offices.
The BSU has already opened the facility for other student organizations to reserve the space. To date, more than 70 events have taken place in the new facility. It also is a welcome spot for students to hang out, have lunch, study and meet their peers.
"I love to see people just come into the house to just sit and relax," Wedderburn said. "There are so many students who come here for no reason other than to just fellowship within the house. That really warms my heart."
Wedderburn said he hopes to bring formal tutoring opportunities to the building and host workshops to help students prepare for advanced degrees by offering preparation courses for exams such as the GMAT and MCAT.