Members of the Florida State University Class of 2022 were welcomed, challenged, inspired and introduced to university traditions during New Student Convocation Sunday, Aug. 26, at the Donald L. Tucker Civic Center.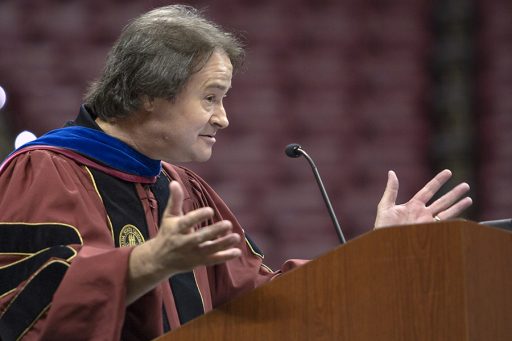 Mark Riley, dean of the FSU Graduate School and 2014-2015 Robert O. Lawton Distinguished Professor, gave the keynote address to thousands of freshmen at the ceremony, many of whom donned matching garnet shirts that read Florida State University – Class 2022.
"Coming to FSU will transform your lives forever," Riley said. "You have made a very wise decision to come to this great institution. FSU is a community of incredible faculty, brilliant staff and amazing students. In the words of Skipper from 'Penguins of Madagascar,' 'You are the elite of the elite!'"
Riley went on to tout the success of the university in recent years, including moving up in the U.S. News & World Report rankings and boasting the best four-year graduation rate in the state.

He told the students that FSU was a real family. That even though it is a big campus, it felt like a little village in its sense of community and belonging. Riley reminded students while they should enjoy their college years, they also will be challenged.
"You want to be challenged," Riley said. "As I tell my students, 'if it is too easy, it is no fun.' You want your minds to be pushed and exposed to new ideas and new ways of thinking. This is how we grow intellectually as human beings. This is how you will learn to change the world."
The annual convocation ceremony officially welcomes first-year students into the university's community of scholars and introduces them to the university's values and traditions on the eve of the first day of the fall semester. This year's convocation centered on the theme, "Discovery: Discover Yourself, Your Passion, Your Home."

Many of Florida State's 6,400 incoming first-year students attended the hour-long ceremony, joined by friends and family. Among them was FSU freshman Nicole Nunez who plans to study management information systems. She agreed with Riley's message.
"It's exciting, but scary to start college," Nunez said. "FSU is a big school, but the assistance I've already received since orientation has made it feel small. I feel confident. I feel safe. The help that the university offers is amazing and it makes it feel like home."
"It's exciting, but scary to start college," Nunez said. "FSU is a big school, but the assistance I've already received since orientation has made it feel small. I feel confident. I feel safe. The help that the university offers is amazing and it makes it feel like home."
President John Thrasher welcomed the new students, and Provost Sally McRorie encouraged the Class of 2022 to take full advantage of the academic opportunities that are available to them. FSU Student Body President Stacy Pierre challenged the new students to use all the university has to offer before introducing Riley.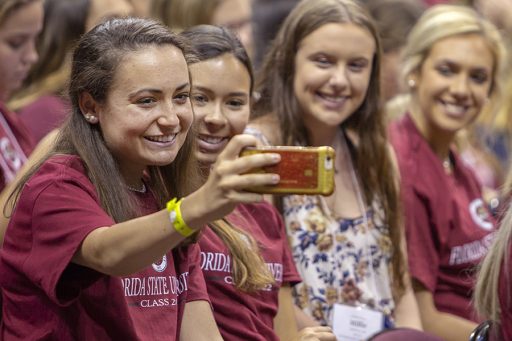 "As you think about this journey you are about to begin, remember that you are joining a legacy of Seminoles past, present and future," Pierre said. "Take pride in your university and go forth, knowing that you will forever have a place in our Seminole Nation."
Dean of Undergraduate Studies Karen Laughlin called upon students to commit to live by the values embodied in the torches on the university seal. During the torch ceremony, three upperclassmen passed torches representing Vires (strength), Artes (skill) and Mores (character) to a trio of incoming students, symbolically passing the university's ideals from one class to the next.
Participating in the ceremony were FSU national softball championship team member Meghan King, who passed the Vires torch to Jackson Destine; Nia Harmon who passed the Artes torch to John Suarez; and Omar Pimentel Marte, who passed the Mores torch to Luke Reosti.
The first-year students were chosen based on essays they wrote about the qualities of the three torches and how they connect with the history and culture of the Seminole Tribe.
Students also were taught the alma mater, "High o'er the Towering Pines," with assistance from College of Music Professor Kevin Fenton and incoming choral music education student Nate Caldwell.
McRorie offered a challenge to all students to think about how they would embody the Florida State University ideals, and talked about how students should maximize their choices academically, beyond the classroom and personally.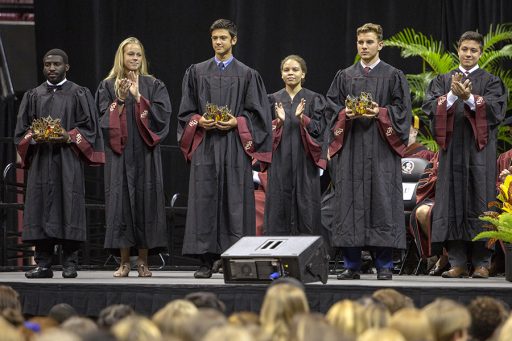 Thrasher concluded his remarks by encouraging students to heed Riley's advice and keep in touch with their families during their time at FSU. He also encouraged parents to reach out to their students.
"Parents, I have a message for you, too," he said. "Please stay in touch with your students, particularly during these first few weeks, to make sure the transition is going smoothly. I'm not advocating for helicopter parents here. We certainly don't want you to hover or try to solve all your child's problems, but you know your child best."
Thrasher told parents if they felt their student needed support to encourage them to visit the counseling center or check out the resources available through FSU's new Student Resilience Project — an online, evidence-informed trauma resilience training tool to help incoming students adjust to campus, improve mental health, advance resilience and reduce stress.
The ceremony ended with FSU's Marching Chiefs leading the newest members of the FSU family in the War Chant and fight song — a convocation first.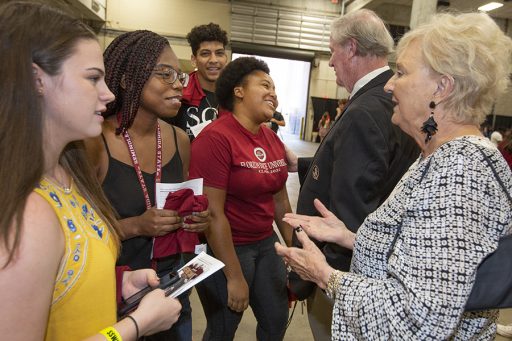 Following the ceremony, thousands of new students joined President and First Lady Jean Thrasher and college deans for the President's Welcome at the Civic Center exhibition hall, which featured free food and entertainment.
Tommy Collins, a freshman from Miami who plans to major in psychology, said he was grateful the university brought his class together. He's proud to attend a university that takes the time to bring its new students together and give them the tools to get them started on their FSU career.
"It's extremely surreal to be here," Collins said. "I've been dreaming about this moment my whole life. Growing up as a small boy in an inner city, I didn't think I would be able to go this far out, to a huge university like this. I'm extremely blessed to be here and can't wait to get my journey started."