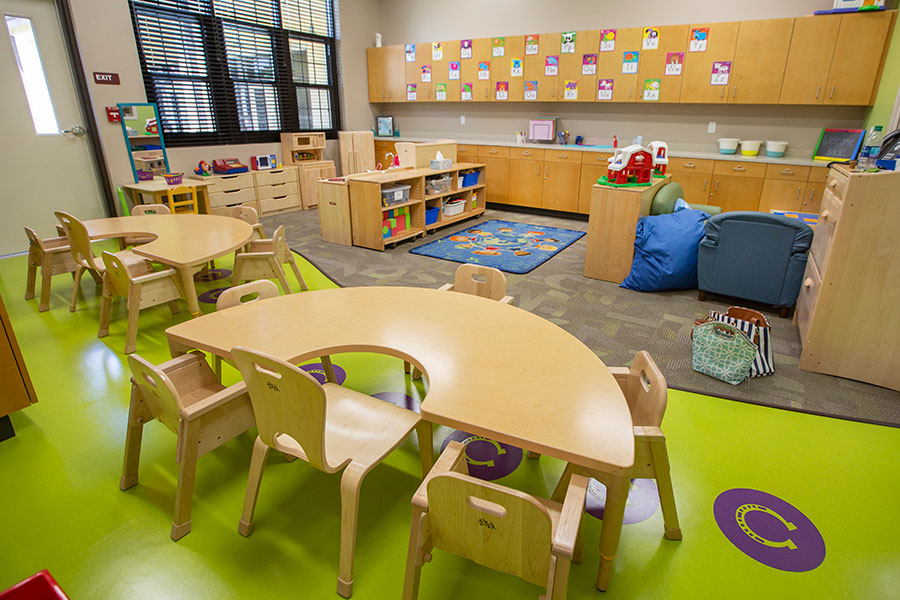 Florida State University will welcome some of the tiniest members of the FSU family when the FSU Childcare and Early Learning Program reopens for business Aug. 27 with a new toddler wing.
The completion of the wing represents the final piece of construction of the 15,000-square-foot facility. FSU completed construction on the Infant and Toddler Child Development Center last year. With the addition of the new wing, the program can now serve up to 133 children.
"We are providing a state-of-the-art building for our children," said Shannon Staten, executive director of University Housing. "We are one of the top programs in the state for early childhood learning and care and we needed the facility to match the caliber of teachers and the overall program."
The new wing will house children 2 ½ to 4 years old, who previously received care in Alumni Village. The new space includes six classrooms, a training room, a teachers' lounge, kitchen and playground. The 8,927-square-foot wing was completed by Mad Dog Construction at a cost of approximately $2 million.
"We're really excited about this expansion," said Tiffany Karnisky, associate director for Family Services. "We have designed the wing carefully, painting the new location with colors that young children are attracted to and including elements in each room that they can interact with and use their imagination."
In October, the center will reach capacity, nearly doubling the number of children the center could accommodate previously.
Staten said increasing the capacity for care aligns with the university's strategic plan, which encourages addressing staff and faculty needs in order to recruit top scholars and retain current faculty. Before, about 81 percent of the child care spots went to children of enrolled FSU students. The new wing will allow more children of faculty and staff to receive spots.
"It's definitely a draw when you can tell potential faculty and staff that there's a certified child care center right on campus," Staten said.
The expansion also means the center can serve as a place for more FSU students to receive training outside of the classroom. Many of the center's staff and volunteers are students majoring in areas such as education, social work and psychology. All full-time employees working at the center are certified teaching faculty, along with several supervised student interns.
"We have learning curriculums and intentional outcomes," Staten said. "We are not just babysitting, we are a university-based child care center, providing a safe space for children to learn as they grow."
The center, located on 612 S. Copeland St., is open Monday through Friday from 7:30 a.m. to 5:30 p.m.
For more information, visit housing.fsu.edu.