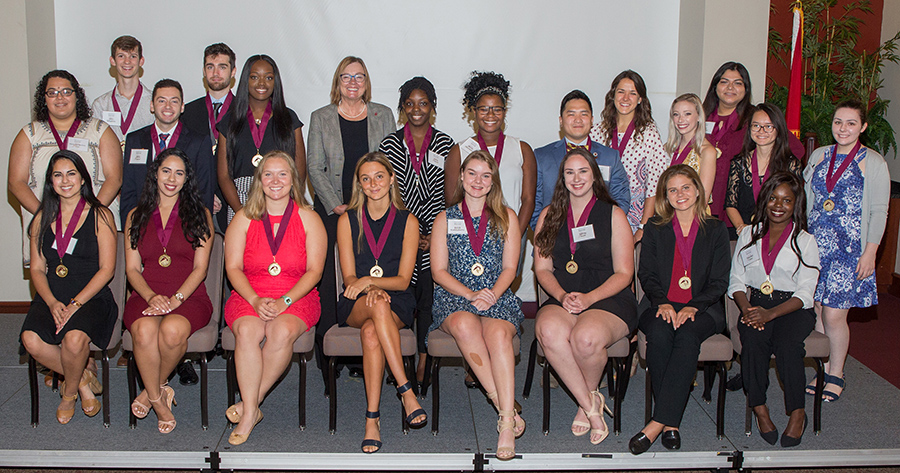 Florida State University welcomed 28 new inductees into its prestigious Garnet & Gold Scholar Society this summer.
Established in 2010, the Garnet & Gold Scholar Society facilitates student involvement and recognizes undergraduate students who excel within and beyond the classroom in at least three of five areas: international experience, internship, leadership, research and service.
"We are proud to welcome this new group of inductees to the Garnet & Gold Scholar Society," said Amy Hecht, vice president for Student Affairs. "They are a wonderful representation of the university, and we are pleased to give them recognition for their involvement bettering the campus and community."
To become an inductee of the Garnet & Gold Scholar Society, students must meet the engagement area criteria and submit a synthesis reflection project in their final semester before graduation. Participants are recognized during graduation and receive a designation on their official university transcript, both of which make the students more marketable to potential employers or graduate programs.
The students were inducted into the Garnet & Gold Scholar Society during a special ceremony Wednesday, July 25.
The inductees, along with their hometowns and academic majors, are:
Broward County, Florida
Harlee Onovbiona, Biological Science
Charlotte, North Carolina
Valerie Scott, Psychology
Cochabamba, Bolivia
Mariana Villarroel Rojas, Biological Science
Davie, Florida
Michaelle Cayard, Theatre
Fort Lauderdale, Florida
Edna Valcin, Finance
Hartville, Ohio
Jake Tompkins, Actuarial Science
Jacksonville, Florida
Jake Lance, Management and International Affairs
Key Largo, Florida
Kelsea Volland, International Affairs and Economics
Lakeland, Florida
Kristen Neville, Criminology
Miami
Cameron Floyd, Political Science
Aileen Morales, Accounting
Amber Sagastume, Criminology and Psychology
Miami Beach, Florida
Taylor Goggin, Editing, Writing and Media
Miramar, Florida
Christina Toussaint, Criminology
Owings, Maryland
Megan Gates, Hospitality and Tourism Management and Psychology
Port Saint Lucie, Florida
Maria Auxiliadora Diaz, International Affairs and Political Science
Rogersville, Alabama
Paisley Snowden, Psychology
Sarasota, Florida
Stephen Sardelis, Social Work
Sebastian, Florida
Carolyn Dang, Biological Science
Tallahassee, Florida
Mona Ighani, Psychology
Scotty Pham, Exercise Physiology
Brook Roddenberry, Psychology
Kalyn Kelso, Psychology
Tampa, Florida
Yousdad Celne, Management
Valeria Rigobon, Psychology
Hannah Taylor, Exercise Physiology
Vero Beach, Florida
Rebecka Arizpe, Biological Science
Winter Haven, Florida
Jenna Volpe, Recreation, Tourism and Events Management