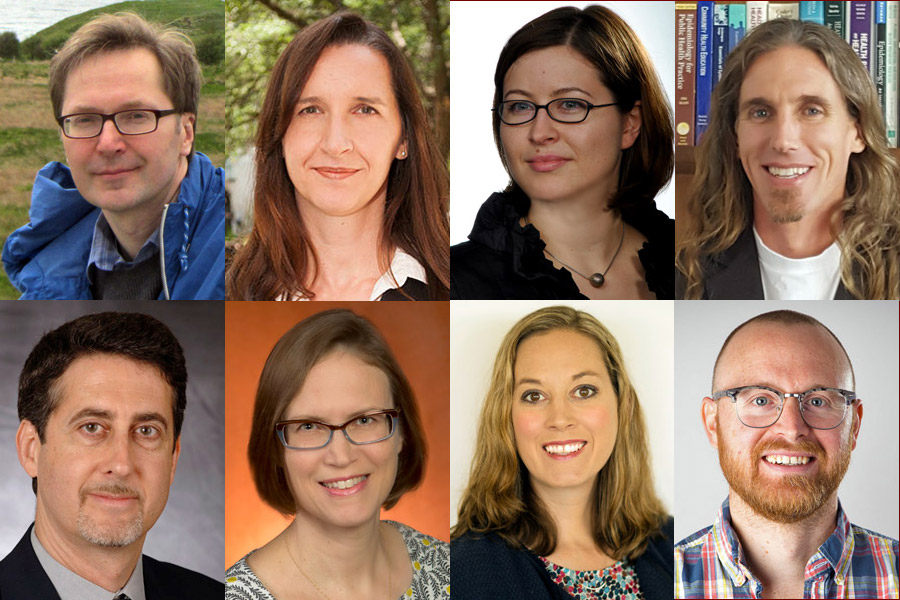 Florida State University can add a new distinction to its academic record books as eight faculty members have earned grants from the Fulbright Scholar Program this year.
The Fulbright scholars will head out during the 2018-2019 school year to locations around the world to teach and conduct research in the United Kingdom, Ireland, Poland, Malawi, France, Italy, Canada and Denmark.
Igor Alabugin, the Cottrell Family Professor in the Department of Chemistry and Biochemistry, has received a Fulbright U.S. Scholar award to lecture and share ideas at universities in the United Kingdom.
Alabugin's Fulbright plans will include collaborations at the University of Sheffield, where Nobel Laureate and former FSU Professor Sir Harry Kroto earned undergraduate and doctoral degrees in chemistry.
"The Fulbright grant will allow me to share new ideas from my book on stereoelectronic effects," Alabugin said. "These lectures will discuss orbital interactions in organic molecules as they pertain to the formation of cyclic structures present in 90 percent of molecules found in nature."
Alabugin said he's looking forward to venturing into a new field of research and exploring the rich scientific and cultural heritage of the British Isles.
"The fellowship will start a collaboration that extends stereoelectronic ideas to one of the most important reactions of biology — the phosphate group transfer," Alabugin said. "Together with Professor Nick Williams at the University of Sheffield, we will test for the role of orbital effects in phosphate transfer reactions."
Iris Junglas, associate professor in the Department of Business Analytics, Information Systems and Supply Chain, has received a Fulbright U.S. Scholar grant to conduct research in Ireland on the Internet of Things (IoT).
IoT is a network of billions of devices, including electronics, home appliances and cars, that are connected and able to share data. Junglas will work with scholars at Maynooth University outside Dublin, Ireland, to study how the Internet of Things is reshaping cities and companies.
"Ireland is a forerunner in the use and development of IoT environments, so it provides a rich and unique research environment and opportunity," Junglas said. "The city of Dublin, for example, is currently on its way to becoming one of the leading smart cities in the world. This is an incredibly exciting opportunity for me and Florida State University."
Katarzyna (Kasia) Bugaj, assistant professor of string music education in the College of Music, has been awarded a Fulbright U.S. Scholar award to conduct research at the Fryderyk Chopin University of Music in Warsaw, Poland.
Bugaj said she will study the teaching tradition of late violinist Tadeusz Wronski.
"He was one of the leading forces of rebuilding the 20th-century violin school in Poland post-World War II, and he also taught violin at the Indiana University School of Music for two decades," Bugaj said. "This makes his pedagogy one of the more widely disseminated, and mostly unknown, cultural exports of Poland."
Bugaj plans to spend time researching the original writings of Wronski for a future book.
"His pedagogical tradition has been carried on by his former students, who now comprise a pedagogical incubator of sorts at the Fryderyk Chopin University of Music in Warsaw," Bugaj said. "With that new understanding of Tadeusz Wronski's work, I intend to create a critical edition and English translation of his final and most comprehensive pedagogical work."
Christopher Coutts, associate professor in the Department of Urban and Regional Planning, has received a Fulbright U.S. Scholar grant to teach and conduct research at Mzuzu University in Malawi.
He will conduct research aiming to advance understanding of the relationship between nature conservation and people's health in developing countries.
"The natural environment is the earth's life-support system, and I will work with Malawians in the field to identify and inventory natural elements that support citizens' most fundamental daily needs," Coutts said. "Malawians can then prioritize these elements for conservation in ecologically sensitive land-development plans."
In addition, Coutts will present a series of lectures on the myriad health benefits of land conservation.
"I was a U.S. Peace Corps volunteer in Malawi from 1998-2000, and this transformative experience inspired my current research focus," he said. "I made myself and my Malawian friends a promise when I left that I would return to contribute to the sustainable development of Malawi and the well-being of its people. This Fulbright grant is the first step in fulfilling that promise, and I am sincerely grateful for the support from FSU to help me achieve this honor."
Joseph Schlenoff, Robert O. Lawton Professor of Chemistry and Mandelkern Professor of Polymer Science in the Department of Chemistry and Biochemistry, has received a Fulbright U.S. Scholar grant to conduct research at the University of Strasbourg in France. Founded in 1536, the University of Strasbourg is the second-largest in France and has produced 18 Nobel Laureates, including many chemists.
Schlenoff, whose research focuses on developing ultrathin films that repel water and other corrosive substances, calls the research opportunity an honor.
"I'll be working with my friends and colleagues on designing new enzymatic fluids," he said. "These systems use a mix of modern polymer science and biochemistry to create droplets mimicking some of the actions of mammalian cells."
Anne Barrett, professor of sociology and director of the Pepper Institute on Aging and Public Policy, has been awarded a Fulbright U.S. Scholar grant to conduct research at the University of Trento in Italy.
Barrett, who has frequently taught at FSU's Florence, Italy, academic program during summers over the past eight years, will conduct research focusing on how Italy's rapidly aging population — now among the oldest in the world — has affected the health networks providing paid and unpaid care to older Italians.
"Traveling around Italy, I was constantly struck by signs of the country's demographic transition: the boarded-up elementary schools, the eerily quiet playgrounds and the shrinking hill-towns where older residents remain," Barrett said. "I wondered what these trends meant for older Italians. Who was around to provide care when they needed it? How did they feel about these new arrangements?"
Barrett said her international teaching experiences have given her a more global perspective on aging issues.
"Most countries are aging, a trend propelled by shrinking family size and lengthening lives," she said. "Many are responding in ways that are different and sometimes better than the United States. I see the Fulbright award as an exciting opportunity to begin a new, more globally focused stage of my research career."
Miles Taylor, associate professor in the Department of Sociology, has received a Fulbright U.S. Scholar grant to teach and perform research at McGill University in Montreal, Canada.
She will work with Professor Amélie Quesnel-Vallée, an expert on international health care systems and health inequality. The research, using secure data from Canada's National Population Health Survey, will compare health and aging in Canada and the United States.
Taylor wants to investigate why health inequality develops over a person's lifetime based on education and income in Canada. That data will help show whether Canada and the United States share similar trends.
"If you look over people's life spans in the U.S., the health gap between the 'haves' and the 'have nots' widens considerably, even to very old ages," Taylor said. "These health disparities impact Americans in a variety of ways, such as rising health insurance premiums or how people voted in the last presidential election. It's not clear if this pattern is unique in the U.S., and it is also unclear what drivers cause health inequality."
Taylor met Quesnel-Vallée in graduate school and learned the pros and cons of the Canadian and U.S. approaches to health care. Taylor said their respective expertise and interest in gerontology and health care will make for a "great meeting of the minds" on this research project.
Micah Vandegrift, formerly FSU's director of digital scholarship for University Libraries, has received a Fulbright-Schuman Innovation grant to research open science policy at Maastricht University in the Netherlands and at the Royal Danish Library in Copenhagen.
Vandegrift recently left Florida State to join the library at North Carolina State University as its first Open Knowledge Librarian.
Vandegrift will research how science and education policies of the European Union affect the work of research librarians, and he will join a national Digital Humanities working group exploring technology infrastructure for new research methods.
Vandegrift also plans to develop a "policy-to-praxis" toolkit with colleagues at host institutions.
"Librarianship is an applied discipline, so I intend for my research project to feed directly into a resource that can be utilized immediately," he said.
While he will fulfill his Fulbright opportunity as an employee of NC State, Vandegrift credits Florida State's Office of Faculty Development and his time working for University Libraries Technology and the Digital Scholarship department as formative and critical to having won the fellowship.
"FSU Libraries created an environment for me to form the ideas and questions that led to this award through my work since 2011," he said. "I am forever indebted to that organization and its central role in my Fulbright experience."